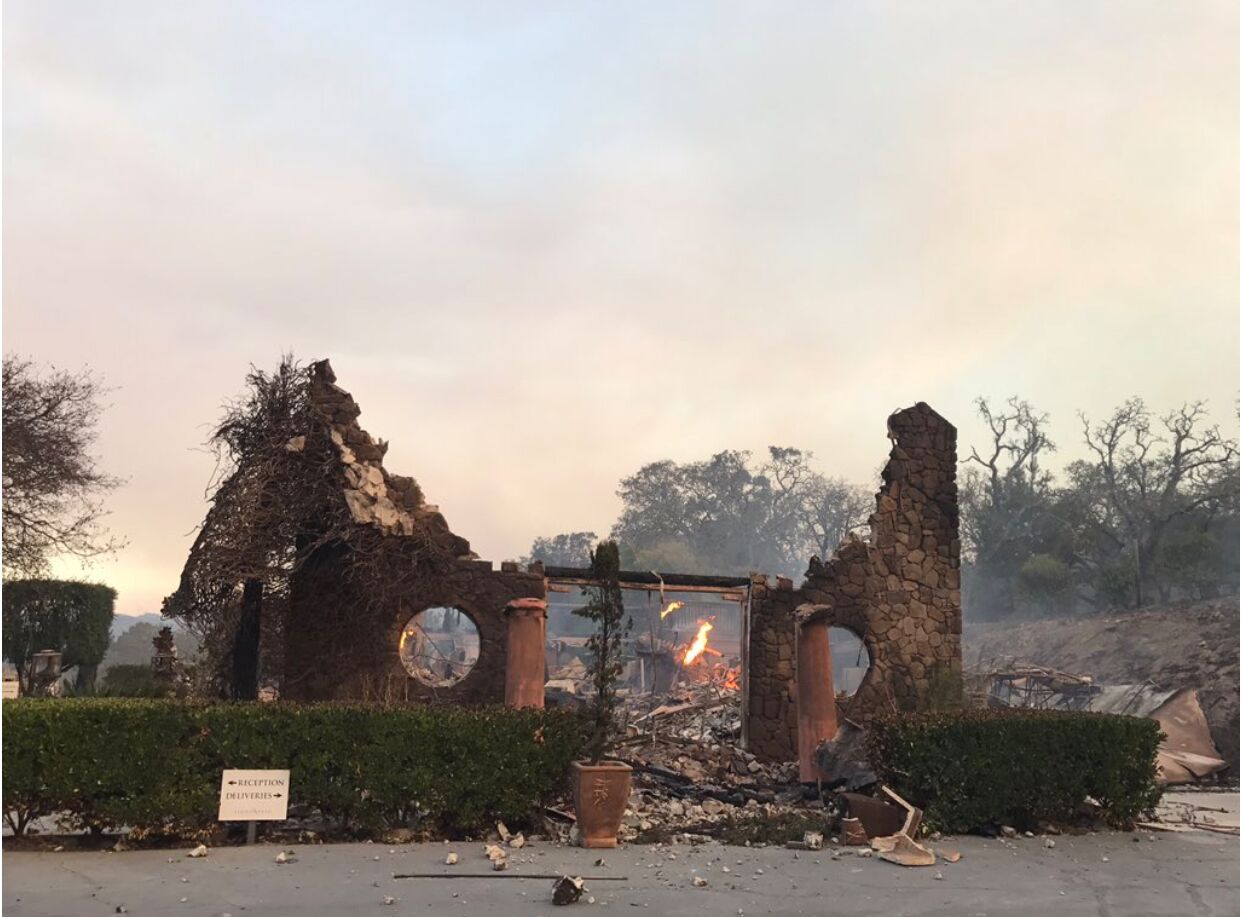 A trial by fire these days usually doesn't literally mean that anything flammable is involved in the testing of someone's commitment or endurance. However, in the case of Ray Signorello Jr., 54, unfortunately, his resolve to craft and sell highly rated, sought-after wines has been tested by flames--twice.
Signorello Estate, which his family built on 100 acres it bought in 1977 on the Silverado Trail in Napa, burned to the ground in the fires that began in Northern California on Sunday. Pictures of the burned-out shell of the Italian-style winery and the rubble from one of the family's homes on the site have come to symbolize the destruction in Wine Country for the world.
However, Signorello's first trial by fire came in 2005, he told me Thursday night, when his winery lost 15,000 cases of wine in an arson-set fire that destroyed 4.5 million bottles of wine at the Wine Central Warehouse in Vallejo, California, in the North Bay region of the San Francisco Bay area.
"I had all of my wines stored in Wine Central," Signorello told me. "Two vintages of wine. I had insurance and got paid for it, but it put me out of business for two years. I had no wine to sell.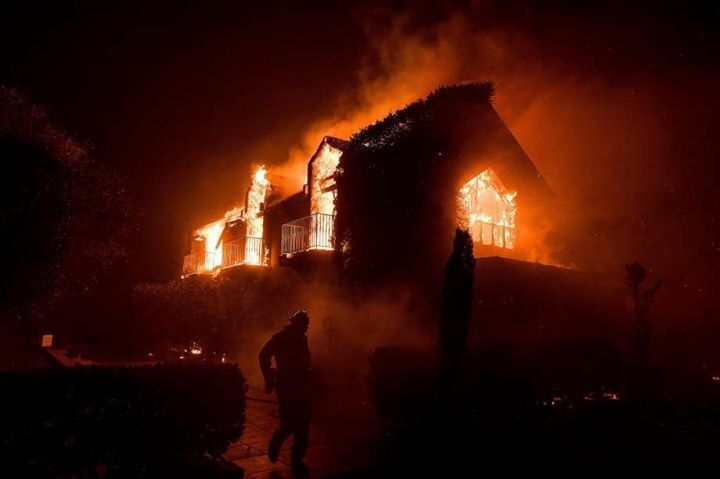 "So I thought I'd paid my dues on that one," he said wrly of fire creating havoc and pain. "But I always look at the bright side. I can rebuild the building."
At the time of the North California wildfires, he and daughters Athena, 6, and Alessandra, 4, were in West Vancouver, Canada, where the family has a permanent home and a wine import business. Signorello was born in San Francisco, but raised in Vancouver, where his father was in the mining and natural resources business. Signorello's wife, Tanya, was at the 6,000-case winery when the fire broke out, he told me.
"We were asleep when I got a frantic call at 10:45 from my wife, who was at the winery, the estate," he told me. "She said, 'There's a fire on the ridge [on the Vaca Mountains] coming our way.' I thought she might have been overreacting. We've had fires on the ridge before. But she was frantic, panicking. She threw some things into a suitcase and put it in the car and got out of there.
"I called the winemaker, Pierre [Birebent], and the vineyard and production teams started hosing stuff down but eventually got beaten back and had to retreat off the property," he said. "My wife. She's been smashed by it. Fire is terrifying, to actually see it. It's not like watching it on television, on National Geographic."
He saw the destruction for the first time on Wednesday, walking through what was left of what he and his father, who died in 1998, had built. A lot of people lost their homes, some lost their lives. I feel fortunate, to be honest with you. There's a lot of carnage out there. I've had lots of offers of help from the wine industry."
"The greatest thing is that no one was injured," he said. And he has what he needs to rebuild, he said. The 42 acres of vines "looked like they were intact, about 99.9% intact. The vineyard acted like a great firebreak. We had a bonfire that went up to it and then stopped. It's kind of miraculous. Sunday night, not sleeping, rolling around, what I was thinking is if I don't have any vineyards, I'm out of business."
Also as luck would have it, he said, the barrel cellar that had the 2016s in it and crush pad where the just-made 2017 are were untouched by the fire.
Signorello's father had bought the property as a family retreat and father and son had planted grapes there in 1980 "for the ambiance; the vineyards made for a regal retreat." They also sold the grapes to neighbors like Cakebread and Caymus. In 1985 the family decided to produce their first wine at a custom-crush facility and in 1987, it built the winery, "the one that just burned down," he said.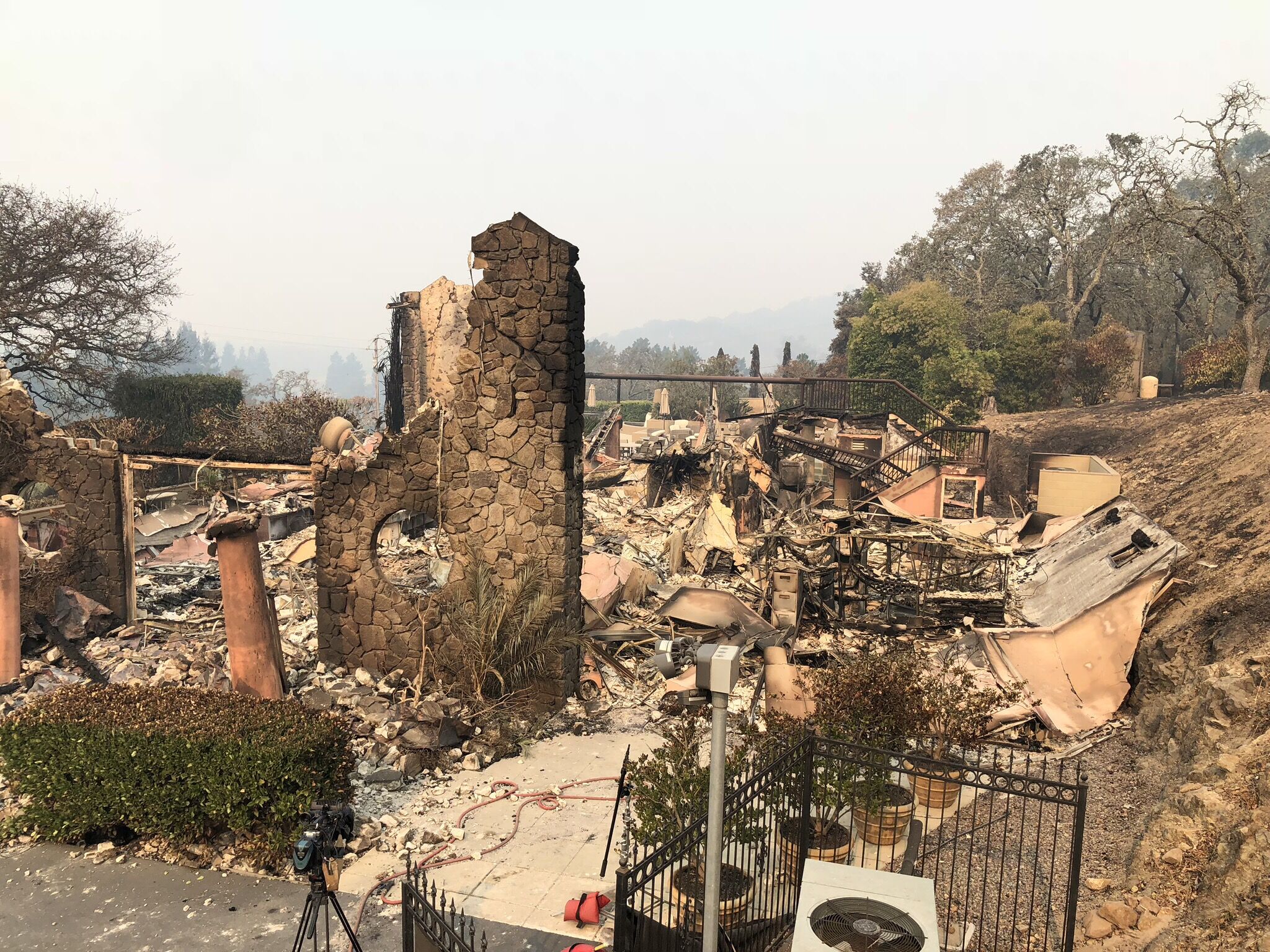 Signorello, who has a business degree from the University of British Columbia, has also worked in commercial real estate for years. In 1990, while sitting in his real estate office in San Francisco, his secretary told him that "Bob Parker is on the phone."
"I thought it was a friend pranking me. I was young, around 25, so I nonchalantly answered, Hi Bob, and then he started talking. It was Robert Parker, calling little old me. I gulped," Signorello recalled.
"He said, 'I just tried one of your wines and I think it's a great example of wines coming out of Napa. I'm going to be in Oregon for the Pinot Noir festival and would like to showcase one of your Pinot Noirs,'' Signorello said. "I fell in love with the business."
Overnight, his wines became famous. Since then he and Parker have done dinners together to support Meals on Wheels. Although some of his wines are available by allocation to wine-club members, two are distributed nationally, he said: Padrone, a Cabernet Sauvignon named in honor of his father -- "Padrone means head of the house," he told me -- and Hope's Cuvée, a Chardonnay named for his mother, who died in 1995 at 54. Wine-searcher.com puts the average price at $161 for the Cabernet and $82 for the Chardonnay.
On the website of the Napa Valley Vintners association, an advocacy group, there's a link to a "Meet Our Vintners" feature. Its last question for Signorello years ago was this:
What advice would you offer someone trying to get into the Napa Valley wine industry?
His answer: "Be prepared for a very rewarding but highly competitive business, with Mother Nature having the last say."
For more on how to help read Dorothy's column With Fires Devastating Wine Country, Here's what You Can Do.
Dorothy J. Gaiter conceived and wrote The Wall Street Journal's wine column, "Tastings," from 1998 to 2010 with her husband, John Brecher. She has been tasting and studying wine since 1973. She has had a distinguished career in journalism as a reporter, editor, columnist and editorial writer at The Miami Herald and The New York Times as well as at The Journal. Dottie and John are well-known from their many television appearances, especially on Martha Stewart's show, and as the creators of the annual "Open That Bottle Night" celebration of wine and friendship. The first bottle they shared was André Cold Duck.
Read more of Dorothy J. Gaiter on Grape Collective.