Saint-Joseph, on the right bank of the Rhône River, covers more than 1,200 hectares and is the largest wine appellation in the Northern Rhône Valley in France. Vineyards in the region sit upon the 45th parallel and vines are planted on steep hillsides carved into terraces since ancient times. Saint Joseph is considered a red wine region as 91% of production goes to red while only 9% is devoted to white. Saint-Joseph reached its AOC status in 1965 and according to AOC guidelines, Syrah is the only red grape permitted in the region. Despite this regulation, up to 10% of Marsanne and Roussanne can be added to the wine and white Saint-Joseph wines can be made of Marsanne and Roussanne in any ratio. The majority of the area's producers destem and ferment their grapes in stainless steel tanks. Wine is generally aged in either new or used French oak barrels for at 12 to 15 months before releasing.
Climate and Terroir
In the northern part of Saint-Joseph, the climate is semi-continental, while the southern portion experiences more of a Mediterranean influence. Because of these variations, wine from Saint-Joseph shows the combination of these two climates. In winter, the mistral, the cold wind blowing through the Northern Rhône, is another important factor in the terroir. In addition, the soils act a critical influence on Saint-Joseph wine. The northern area is known for soft gneiss and granites mostly on hillsides; the southernmost area is made up of complex, thin, acidic granite and marl. Together with vine age and vineyard management, all these unique factors allow Saint-Joseph to produce some of the most elegant Syrah in the Northern Rhône characterized by strong flavors but refined notes of pepper and spices, subtle floral aroma, herbal tea flavor and minerality. They also drink well when they are young.
The best vintages for Saint-Joseph are 2015, 2012, 2010, 2009, 2007, 2005, 2003, 2001 and 1999.
Aurelien Chatagnier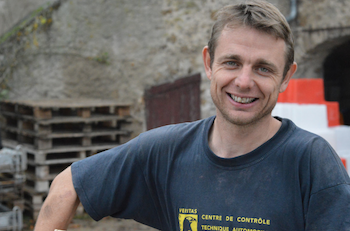 Located in the northern part of Saint-Joseph, Domaine Aurelien Chatagnier was established in 2002 by Aurelien Chatagnier when he was in his early 20s. He began by renting just over one hectare of vines, then steadily increased in size to what the estate is today. Although Mr. Chatagnier doesn't come from a winemaking family, he developed a passion for the craft at a fairly young age. He first worked with vines for Domaine Jamet while he was just a teenager and then spent several years with Francois Villard, who eventually encouraged him to go solo. Mr. Chatagnier focuses on winemaking with minimal human intervention in an effort to let the wine shine on its own. Earning a reputation as an up-and-coming winemaker to watch, Aurelien Chatagnier has been called "one of the best young winemakers in the region" by Josh Adler of the Paris Wine Company.
The estate is characterized by steep vineyards featuring soil dominated by granite. Grapes are cultivated using organic practices and are hand-harvested, 100% destemmed and fermented using native yeasts. There is limited extraction, aging occurs primarily in used oak, and the wine is bottled without fining or filtration.
Currently, Domaine Aurelien Chatagnier produces three whites and six reds. Whites are Viognier, Saint-Joseph Blanc and Condrieu. Reds include IGP Syrah, IGP Le Cret Louison, Saint-Joseph Rouge, Saint-Joseph 'La Sybarite,' Cornas, and Côte Rôtie. Only a limited quantity of bottles have been produced each year. The biggest production is 5,000 bottles per year for Viognier, second is the IGP Syrah at 4,800 bottle per year. You can only find a few of Domaine Aurelien Chatagnier's wines in the US market.
The 2015 Aurelien Chatagnier Syrah is 100% Syrah from 30-year-old vines, 100% destemmed with natural yeast fermentation.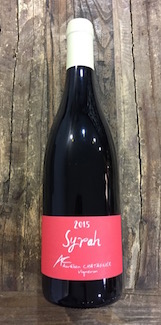 Aged mostly in new barrels with limited extraction and bottled without fining agents added or filtration. Only 4,800 bottles are produced annually.
The wine is a wonderful yet classic example of an elegant Syrah from the Northern Rhône. It is marked by delicate dried rose petal and subtle earl grey tea on the nose, balanced red fruit on the palate, and a noticeable but not overpowering oak note with pepper and some spices. It shows medium plus acidity, moderate plus minerality, and medium plus body with moderate grippy tannin present. Refreshing with a velvety texture, it is both alluring and intriguing. Braised leg of lamb, beef stew, even steak will go very well with it. A bottle might not be enough for a table of four so make sure you have at least two bottles on hand for a dinner party. (The 2015 Syrah is available at Grape Collective for $19.99/bottle).
For more information on Saint-Joseph, see A Snapshot of Saint-Joseph.