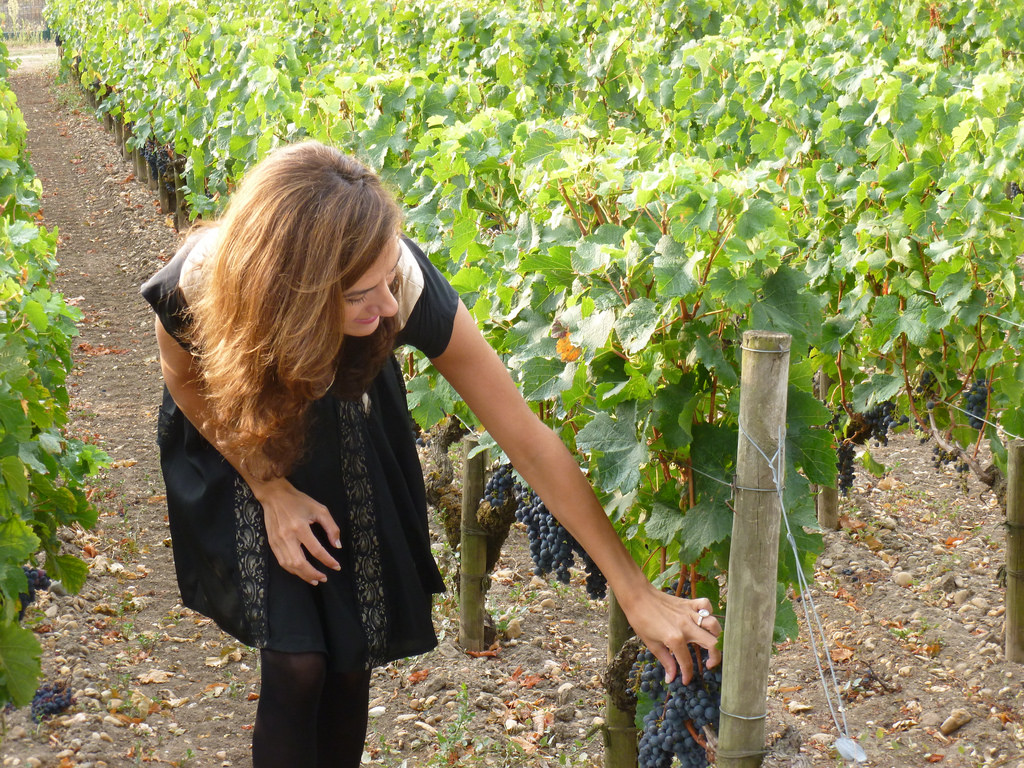 Oh, you should get to know Monique Soltani. Founder and Host of Wine Oh TV, she's helping people elevate their taste via informative and entertaining videos shot throughout the country and the globe. And when Monique is not in front of the camera, she's generous with her time as you will see in this interview with her as part of our ongoing SpeakEasy series of informal chats with notables who bring wine knowledge and adventure to your world.
Discover the journey of a seasoned journalist from Pocatello to Pomerol, why saying "Tuscany" can be a soothing, transportive mantra, and how veggie taco fatigue relates to wine-themed television shows.

In your broadcasting career you've covered courts and crime, breaking news, health and fitness, entertainment, traffic, and even weather. How did this prepare you for the world of wine and does it inform how you approach topics and interviews for Wine Oh TV?

My broadcasting experience taught me you don't need to be an expert in every field in order to tell a compelling story. My approach to covering wine is the same way I would go about covering a house fire, a medical story or an entertainment piece. Gather the facts, focus on the character (the person, people or place impacted) and find the heart of the story.

As a broadcast journalist you have to be prepared to be an "expert" in just about every topic imaginable. I remember one of my first assignments as a general assignment reporter in Pocatello, Idaho was covering a city council meeting about an aquifer debate. Not only did I not really know what an aquifer was, I could barely pronounce it on camera. I struggled to understand the issue because I was new to the city so I didn't really know my audience yet. I had just moved from Los Angeles a few days earlier and from my perspective at that time Pocatello was no place like home. On top of that, the issue was really really complicated with tons of nitty gritty details and I was by no means anything close to resembling a hydrogeologist.

Needless to say, I was 22 and terrified. My slick Emmy award winning News Director at the time offered up a piece of advice that I still use today. Mr. Burns (yes that was his real name) told me that my job was to help the community (TV viewers) understand how the "Great Aquifer Debate" affected them. How would a vote for or against change peoples lives. My job was not to show people how much I knew about aquifers. My job was to tell the story. Then he said something that I have continued to remind myself before every story whether I'm covering the red carpet, giving traffic updates, or talking to a winemaker in Tuscany. He said, "Monique news is about people."

For me covering wine is no different. Yes, I do the research and gather the facts but my broadcast journalism experience has taught me that my job isn't to show viewers how much I know about oenology, viticulture or wine snobbery. I want Wine Oh TV viewers to meet the men and women behind the bottle and put a face to the place. You will never hear me ask a winemaker at what Brix they pick their grapes at.

What is your most popular video and why do you think it resonated so greatly with your viewers?

Two of my most popular videos are 10 Things You Don't Know About Merlot (starring* the one and only Jameson Fink) and Traveling in Tuscany Wine Tasting and Tours. These videos are so different but I think they resonated with viewers because they are fresh, fun and informative. Take the Tuscany video, just saying the word Tuscany brings a smile to my face and probably yours. I also think these videos are both popular because they dispelled a few misconceptions.
With the Merlot video, my goal was to help show viewers that it's OK to drink Merlot, and that despite the bad press Merlot can be cool, and some of the best wines in the world are made mainly with Merlot. With the Tuscany video, not only did viewers get to take a virtual trip to Tuscany which is on just about every wine lover's bucket list but they I also learned the difference between the wines of Chianti and Chianti Classico. My goal was to show them that the amazing wines of Chianti Classico are very different than that wicker basket wine some people associate with the C word. Note to self: videos starring Jameson Fink + debunking myths ='s eyeballs! [*More of a bit player than a star, but flattery will get you everywhere. Thank you. --JF]

We both took part in the "Hands on Harvest" trip to visit Gloria Ferrer in Sonoma. And, when it came to picking grapes, I think we both operated at the same speed: glacial. Describe what the experience was like. Could you do it for an entire harvest?

I adore the wines of Gloria Ferrer, am seriously in love with their fearless leader Eva Bertran whose personality sparkles as much as their wines do, and their Sonoma County location is to die for. So the hands on harvest was a dream come true despite my speed or lack thereof. Ha! I have a motto that I learned while working as a bartender in college at the Red Robin in Brea, CA, "Aces in their Places." I have the utmost respect for the men and women on the front lines of the grapevines. I don't think I have the patience or skill set to do their job justice. However, my mom likes to remind me that she picked grapes to earn some extra cash while she was pregnant with me. She attributes that to my love affair with wine. She could have a valid point but I'll stick to reporting on wine and leave the Aces in their Places!

Speaking of sparkling, you've been to Franciacorta in Italy. What makes these sparkling wines unique and why should bubbly lovers have it on their radar?

When I traveled to Northern Italy last fall I had never tasted the wine of Franciacorta. I could barely pronounce Franciacorta (pronunciation problems seem to be a real issue with me) let alone describe the wines. Now I might as well be their brand ambassador! Franciacorta is located between Milan and Verona and produces Europe's most distinguished sparkling wines. It's the official wine of Milan Fashion Week and the La Scala Opera, these wines are literally the Toast of the Town!
Since my trip I have seen Franciacorta on wine lists and in wine shops here in San Francisco. I was in the Lombardy region for four days and happily sipped Franciacorta sparkling wines with every meal. I thought for sure by day four I would have visions of red wine dancing in my head but instead long after leaving Franciacorta I found myself longing for more. After traveling to Italy's best sparkling wine region I found the stylish wines of Franciacorta's fresh, fun and food friendly.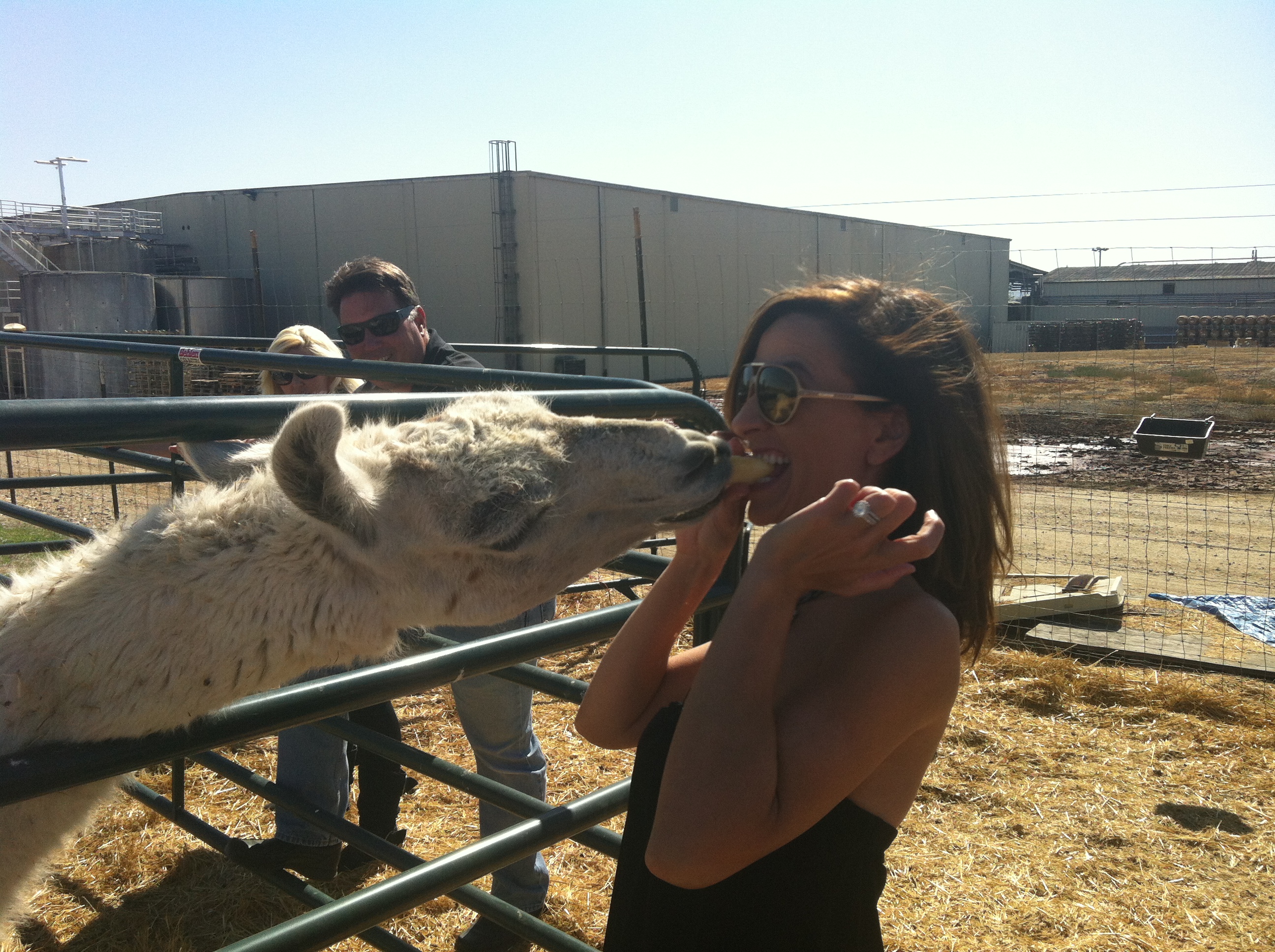 There are so many half-hour and even hour-long television shows about food on cable networks and public television. Why is it so hard for wine to break through? Are you hoping to turn Wine Oh TV into a longer format show or do you think the future is shorter videos with a strong focus?

This is such a great question! It's one that I get often and think about a lot and now that I'm married I think I have finally figured it out. I make dinner at home for the two of us four nights a week on average. I have exactly four recipes in my rotation. I can make them without blinking and eye and I think they are quite tasty.

However, about one year into the marriage I could hear a slight hint of horror in my husband's tone when he said "Oh good veggie tacos AGAIN." Again? Was that a dig? Does he not like my tacos? Am I a horrible cook? (insert various insecurities here)

You see I'm the kind of person who can eat the same thing over and over again and never get sick of it. I have been eating pita chips with cottage cheese every day for 8 years and love it. My husband on the other hand is like most people, he wants a little variety on his plate. So now I find myself desperately pinteresting, epcicuriousing and not stop searching for new recipes.
Bottom line: People need to eat and they need to eat every day sometimes even three times a day!!!! Here is where the cooking shows come in. They provide new recipes, from experienced and often hot chefs with great personalities who can work their way around a kitchen. Can wine ever compete? The answer is simple. NO! People do not need a new recipe for wine every night and they don't need to learn how to make wine. A few people might want to make wine but the majority of Americans just want to know what kind of wine they should serve with their veggie tacos.

However, I do think hope is a place for wine in a long term format. I just don't think the powers that be have found a financially successful way to tell the story of wine to a mass audience yet. My husband once told me saying he heard in the business world and I think it applies to the TV wine world. "Sell to the classes eat with the masses. Sell to the masses eat with the classes."

In 2007, when I originally came up with the treatment for Wine Oh TV the idea was always to produce it as a half hour show. I am currently working with a fabulous team and shooting the half hour pilot this year. The half hour show will focus heavily on storytelling with wine as the throughline. I will use the same skills I learned working in broadcasting and my experience producing live talk shows and hopefully create the recipe for success. BAM!

Who are the people who served as mentors in your broadcasting career and who continues to inspire you as Wine Oh TV grows?
When I was studying Broadcast Journalism in college we were required to pick and write about a mentor. I picked Barbara Walters and read a bunch of books on her. Just yesterday, I was reading a feature on her in the New York Times as she prepares to retire this year. She inspired me then and continues to inspire me now because she was a trailblazer for women, asked the tough questions, and found the human side to the story.

I've grown older I still admire what Barbara Walters has done to blaze the trail but I look to other women whose careers I admire. I watch Robin Roberts and Oprah Winfrey and am in awe. I see two women who not only broke down barriers but who continue to change peoples lives on a daily basis either by providing hope or telling a story that changes the way we look at the world. I got into the broadcasting business because I wanted to make a difference.

Today I cover wine and often wonder whether I'm making a difference. Covering wine does not have the mainstream significance or solidarity as covering heartbreaking stories on hashtag activism like "#BringOurGirlsBack." When I interview winemakers, my videos don't get the views they did when I interviewed celebrities like Jennifer Lawrence or Kate Hudson.
But then, I interview someone like 16 year old Colby Groom who after enduring two open heart surgeries decided he wanted to help people. So he asked his winemaker Dad if they could make a wine together and donate the money to heart research. Last month, Colby Red celebrated donating $500,000 to heart charities and research. Meeting someone like Colby Groom doesn't just touch our hearts it shows us how meaningful wine can. And I know without a doubt I'm making a difference.