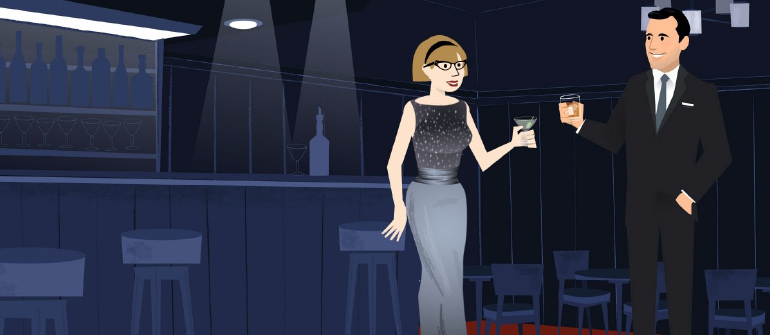 If you met Pamela Heiligenthal for lunch in the cafeteria at Nike's Beaverton, Ore., campus, where she directs mobile applications and emerging technologies, you would have a lot to chat about. You might learn that she studied chemistry at Harvard and earned her master's in Computer Science at University of Maryland. You'd find out she worked at Boeing as an enterprise architect before coming to Nike in 2010.
But then you would come to the wine. That's because Pamela also trained as a sommelier, and worked service at properties in both Boston and San Francisco, including a four-year stint as manager and sommelier at Kimpton Hotels and Restaurants. These gigs let her rub well-tailored shoulders with notable American somms, who served as her guides and mentors. In 1996 she passed the Level I Master Sommelier certification, and started judging wine competitions, too.
Pamela's passion for wine also led her to start Enobytes that year, first as a consulting service and later as a website offering wine reviews, vintage charts, maps, and pairing insights. The website, now in its ninth year, serves thousands of passionate consumers and wine professionals worldwide, and has won and been short-listed for a raft of awards.
We caught up with Pamela to talk about wine, tech, the future of wine apps, and a wine professional's wackiest day of the year.

What was your first Enobytes post about? When you first hit that Publish button, what did you hope the site would become—and how has that vision changed today?

In 1996, Marc, my husband (and executive chef) and I (sommelier) founded Enobytes in San Francisco as a restaurant and winery consulting firm. Many of our friends, colleagues, and clients had wanted to know what we were drinking, so we started an online diary with a list of wine recommendations. Once blogging turned mainstream, we redesigned our site to incorporate wine, restaurant, and tasting room reviews.
I believe our first blog post was a restaurant review, but our early work was largely forum-based, and we would invite wine pros like Randall Grahm, Craig Camp, and Clark Smith to chat about wine-related topics with our readers. In 2006, we didn't see many sites offering this collaboration, so we tried to fill a gap that consumers wanted—to collaborate with industry pros.
Every year, we look back and continuously reinvent ourselves to meet reader interests. Although technology platforms have changed, the vision to promote the exchange of ideas that benefit professionals and enthusiasts alike has not; we simply add and adjust services to support the readership based on demand and curiosity from our readers.
You have a keen interest in wine and technology. Unfortunately, Nike doesn't make wine. But if you could build a wine app—and get a blank check from Nike—what would the app feature, and how would it be different from what's out there already?
Wait a minute! Nike doesn't make wine? I'll have to talk to Phil Knight about that! Joking aside, what I love about Nike is that they allow me to play in two vastly different worlds: wine and mobility. By day, I play as the mobility director coach, and from the sidelines, I play as Nike's (first and only) sommelier, assisting purchases for all-star athletes and special campus events. By night (and other off-times) I travel and write about wine and food.
Mobility is a key initiative that every company should embrace. If you are not planning for it, you are missing an opportunity to grow your business and build your brand. From a Nike perspective,* internal and consumer-facing apps such as the Fuel Band have catapulted Nike into a new world of services that directly affects Nike's bottom line and carves out an interesting niche of the market related to mobility and innovation. They are leading the space in terms of originality, productivity, and cool product initiatives.
Concerning the wine industry, I see many interesting apps, but we are lacking the "kung fu factor," as my friend Paul Mabray likes to call it. We need innovators in this space to push the limits. Everyone wants to download a new wine app and have a "Wow, now this is cool!" moment. We are not there yet.
If I had capital funding, I would build an app that makes consumer purchasing easier, with the intent to engage beyond the traditional models we use today. I have a vision of what this looks like (and where it might go), but technology is behind the curve in terms of supporting this conceptually. On the other hand, I'm confident the technology will catch up soon. I'm looking for partners to secure funding, and innovators who can work with me to execute the plan.
Has wine blogging helped you in your career?
Absolutely! Excellent written and verbal communication skills are vital to life's success in whatever we do, and blogging has helped me master the fundamentals, which helps me to succeed in my day job. Blogging also inspires me to be a better storyteller. Every day I practice writing meaningful stories that have a sense of purpose and resonate with my readers. It sounds easy, but I am a computer science geek who wrote many technical papers early in my career, so I struggle to break out of that mold to be more imaginative and engaging with my writing. I struggle with this at every turn, and try to improve with every post I write.
What were the highs and lows of working as a sommelier in the 1990s? Does that experience inform you as a blogger?
My most memorable experiences as a sommelier shaped who I am today. I was fortunate to meet amazing people—like Fred Dame, MS; André Tchelistcheff; Leonardo di Cassio; and Clark Smith—who guided me early in my career. I am also forever indebted to the wonderful Janet Dyer, who really kick-started my wine judging track during that time. She introduced me to Anthony Dias Blue, which, in turn, lead me to sit as one of the youngest judges for the San Francisco International Wine Competition. From there I met many fascinating wine personalities, like Wilfred Wong; Dan Berger; Tim McDonald; Alan Goldfarb; David O'Connor, MS; Steve Pitcher; Joel Butler, MW; and Frank Prial. They taught me the ins and outs of how to taste wine, identify flaws, and talk about wine with confidence and authority.
As for the lows: Sommeliers spend long hours working the floor, meeting with distributors, and pushing paperwork. December 31st is the wackiest of all dates. We prepare months ahead and then easily work a 16-hour day, with inventory starting after the guests leave early in the morning. Nevertheless I am not complaining, because experiences like this make better storytellers.
You recently edited a book: "A History of Pacific Northwest Cuisine: Mastodons to Molecular Gastronomy." What did you learn about Pacific Northwest cuisine that surprised you?
It was surprising to learn about the amount of turkey consumed in the early days. Many of the early pioneers had turkey farms. Landowners then converted them into wineries!
You live in Hillsboro, a region not too far from the Willamette Valley. What are some of your favorite wineries to visit and why? Where do you like to eat in Hillsboro? And when heading to Portland, what are some of your favorite spots for drinking wine?
My friends always ask me this question, so I recently wrote a post on the topic. Check out Portland's Best Food and Wine: Great Restaurants and Wineries. It is a living document, and I continue to revise and add to it.
When it comes to blogging, did you have any mentors? Who inspired you and continues to do so?
My readers inspire me. Without them, the blog would not exist. I mean, seriously, if there is no audience, what is the purpose of writing when no one is listening? Other than from my readers, I obtain inspiration and thoroughly enjoy the writing styles of Anthony Bourdain, Joyce and Evan Goldstein, Matt Kramer, and the late Frank Prial of The New York Times.
I also pull inspiration from a diverse group of industry experts—from Carole Meredith, to the ever-hilarious HoseMaster Ron Washam, to the talented Meg Houston Maker. Then there are countless viticulturists and winemakers. Because of their awesome products, they motivate me to find the stories behind the bottle. I am also grateful for the support I receive from friends and colleagues who encourage me to push the envelope to do great things. After all, life is about taking it to the next level of awesomeness—always!
* The opinions expressed here represent my own and not those of my employer.