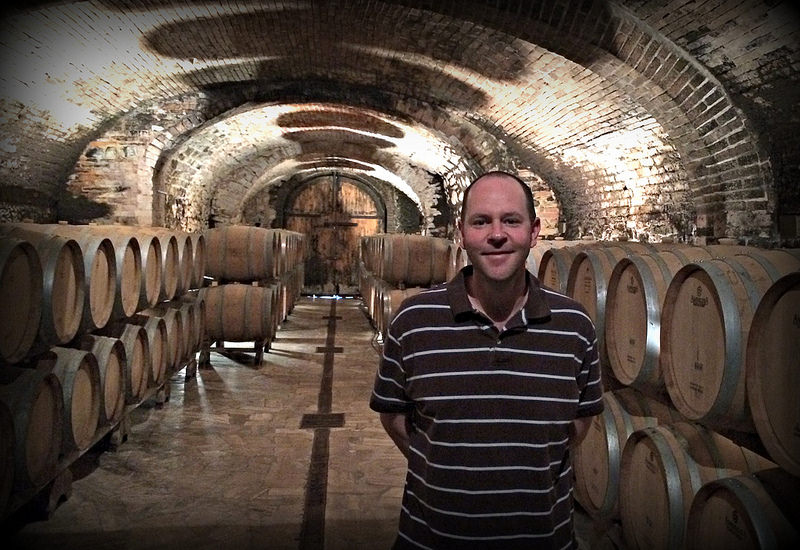 From the peaks of Flagstaff, Arizona, to the heights of Brunello di Montalcino, Robert Dwyer has travelled a long path in order to fuel his blog, The Wellesley Wine Press. In the latest of our SpeakEasy series of interviews with bloggers, Robert talks Tuscany, Spain, and muses on why Northern Arizona University has produced a group of wine-centric alumni (including myself).
You just got back from a trip to Tuscany. For those considering staying at an agriturismo as you did, what advice would give give them? Pros and cons? (Besides the perils of half-and-half shopping.)
Ha! What you're referring to with the half-and-half is interesting. I had a really hard time discerning which product in the dairy section of the grocery store would be good to use as coffee creamer. That was a challenge in itself but the fascinating discovery is this: Which products do we use as Americans that have absolutely no place in European culture? Although our villa had a drip coffee maker, it is hard to find ground drip coffee in Italy – 99% espresso. Similarly, even though Pinot Grigio is pretty popular in the US there was hardly any available in the wine section of the grocery store. Evidently they export it all to us!
The agriturismo we stayed at (Borgo Iesolana in Bucine) was pretty posh. A while back the Italian government rolled out a program intended to preserve the nature of the countryside by incentivizing farms to offer lodging options to tourists. Although Borgo Iesolana produces wine, olive oil and honey (and it's novel to enjoy it while you're there) the production is off-site so the connection from farm to table is a bit lacking. But the property is gorgeous nonetheless and I'd highly recommend it.
Two Brunello producers you visited showcased a contrast in styles: the more modern approach of Cassanova di Neri versus the traditionally-styled La Gerla. Did you find you preferred one over the other or was it more of an exercise in stylistic comparison?
It worked out really well as a stylistic comparison. Brunello is traditionally produced in large barrels (5,000+ liters) but Casanova di Neri takes a more modern approach with their Tenuta Nuova bottling which they produce in 200 liter barriques like we'd see in Napa/Sonoma wineries. That specific bottling is spectacular – I'd encourage anyone who leans new world to check it out if they're having a hard time getting into Italian wines.
Though more traditional, La Gerla (pronounced "La Jerla") has attained international respect for their well-crafted wines. They've gotten some pretty big scores from Spectator and Galloni. When I'm trying to find my way through a new region I like to taste reference wines like these to help guide my next steps of exploration.
I liked both producers but the bottom line is if you're new world biased tasting in the old world you're likely to enjoy modern producers more and Casanova di Neri's Tenuta Nuova lived up to that expectation for me.
One of the non-wine activities you undertook was visiting the Ferrari Museum with your nine-year old. How do you keep a kid (or kids) interested on a wine-centric trip?
That's a great question Jameson. I'm a huge fan of family vacations, and a firm believer in making decisions through the lens of "what will maximize the sum of our collective happiness?".
I find that "a little for them, a little for us" works well for us. Our boys are 9 and 7 now so they understand negotiation. The carrot of the trip for our 9 year old was the trip to the Ferrari factory since he's car crazy.
For our 7 year old, who isn't into cars but did accompany us to visit Fattoria di Felsina, he was enticed by a promise of "the biggest helping of gelato you can imagine" if he showed good behavior. There's a time and a place to bribe a kid with a treat. And this was the place and the time.
But really, bringing along family that can help with babysitting is the best trick.
[THE TIPPLER TEN: FIND OUT WHERE ROBERT GOES FOR FOOD AND WINE IN AND AROUND BOSTON]
You've been called a "deal hound" when it comes to racking up points and miles, And this is possibly in your genes as your grandmother got an electric organ by signing up for a checking account. So for all those wine geeks thinking about racking up points and miles to get on an airplane to Burgundy, what advice do you have for people (like me) who think the rules are too confusing and the task too daunting?
Points & miles and wine pair really well actually. A lot of us got into wine when our kids were young and we wanted to vicariously explore the world through wine. As kids get a little older you can visit these amazing wine regions with them. But it can be expensive to fly with a family and that's where points & miles can help.
What I'd recommend is asking yourself where you'd go if the cost of travel wasn't an obstacle. Then work backwards from there trying to find a way to get there for a lot less with points & miles.
For example, I originally got into points & miles because I wanted to travel to Germany to pick up a BMW on European Delivery. At first the prospect of racking up 240,000 United miles to fly the four of us to Germany in economy class was daunting. But after reading about points & miles a bit I found that racking up miles (without ever flying) was easier than I thought. And I'd earned over 1,000,000 miles that I was able to use some of to fly all of us to Italy in Business Class on Lufthansa. Lufthansa does a great job making families feel comfortable in Business Class and it made the journey there and back a pleasure. The lie-flat beds didn't hurt either!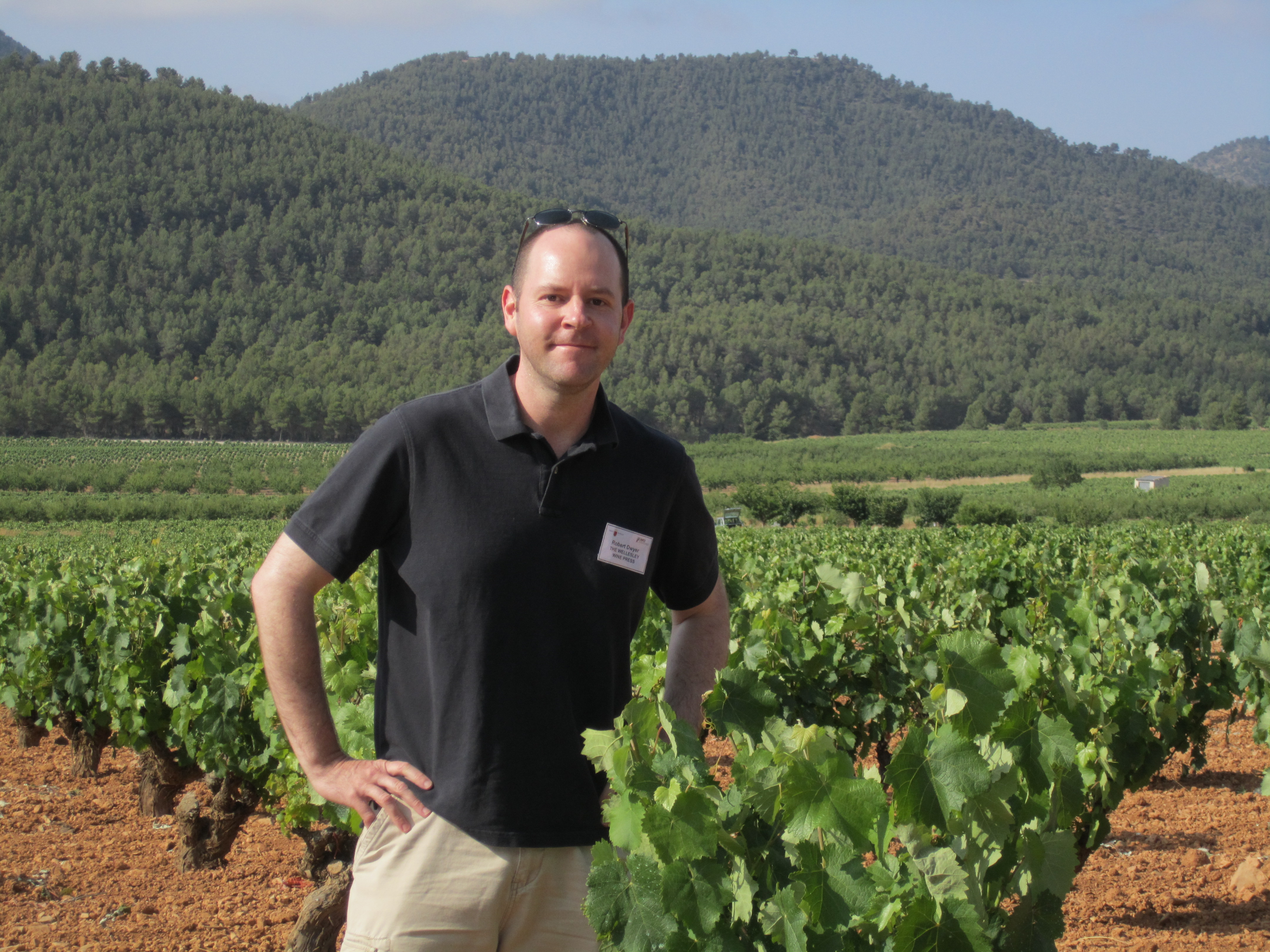 What surprised you about your Monastrell-focused trip to Spain last year?
Specifically I wasn't aware that Juan Gil and El Nido were both owned by Gil Family Estates. Their wines are the class of the region and I love the value proposition their lineup offers. If there's a wine enthusiast out there who loves Napa Cab and is looking for a region to flank to for a similar flavor profile at a lower price point Spain is the answer. Monastrell from Jumilla/Yecla/Bullas in particular is a great place to start. Try Juan Gil Silver Label (around $12) and El Nido Clio (around $35) as a starting point then explore from there.
The Northern Arizona University and wine connection fascinates me. Myself (M.A. History 1998), Mary Cressler of Vindulge, and you are all alumni and bloggers. Elaine of Hawk Wakawaka Wine Reviews taught there. Not to mention not one but two Master Sommeliers--Richard Betts and Bobby Stuckey--are also graduates of NAU. Any theories?
Wow – I'd forgotten that Richard Betts went there. I've enjoyed his Betts & Scholl OG Grenache. If I had to guess I'd say there's a vibrant beer culture and enthusiasm for small restaurants that cultivate later wine exploration from alumni. I mean – if you spend 4(+?) years enjoying Oak Creek Nut Brown Ale and sandwiches at Crystal Creek how can you not naturally graduate to greater enthusiasm for the world of food & wine?