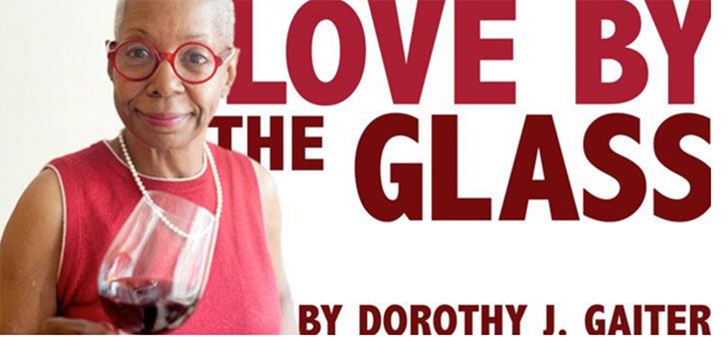 Last week at The Jazz Standard in New York City, we heard Tierney Sutton and her band perform a beautiful medley of "April in Paris" and "Free Man in Paris," and I just can't get Joni Mitchell's line "I deal in dreamers" out of my head.
Yes, it's definitely better than "telephone screamers" or stuff I've read recently about tweeters, but when I couldn't shake it, I started looking at some of the 10 wines below in the context of dreamers, people pushing against barriers, risk-takers, which, I guess, in a sense all good winemakers and winery owners are.
Consider Ignacio Recabarren, who has been hailed as a founder of the modern wine industry in Chile and apparently is renown as something of a bad boy for breaking with traditions in the service of making wines that speak of their terroir. He's head winemaker for Concha y Toro's four winery lines in cool-climate Casablanca Valley: Carmín de Peumo, famous for its world-beating Carménère; Trio, for which he blends either three grape varieties or one grape variety from three vineyards; Amelia, his single-vineyard Chardonnay; and the fourth line, Terrunyo. "Terruño" means "terroir" in Spanish and the focus here is on intensive attention to each parcel to coax out what's there.
Our socks rolled up and down when we tasted his 2016 Terrunyo Sauvignon Blanc ($19), which was grown in a cooler, granite-rich area of the Casablanca Valley, toward the Pacific. Made from 100%, hand-harvested Sauvignon Blanc, it was aged in stainless steel sur lie for nine months and two more months in the bottle. Recabarren early-on railed against Chile's oxidized whites and was quick to embrace temperature-controlled stainless steel. The minerality and acidity of this wine took us straight to the ocean. Recabarren, who was named by Decanter magazine one of the world's top 30 winemakers in 2015, has a degree in agronomy and worked for wineries in France and in California. But here his time in New Zealand, at Morton Estate, Matua and Cloudy Bay wineries, shines.
Hansjörg Wyss, owner of Halter Ranch Vineyards in the Adelaida District of Paso Robles, California, is a dreamer of another sort. Forbes magazine named him the 121st richest person in the world with a wealth of $5.6 billion, and he uses some of that to make dreams come true with money for medical research (Harvard, University of Zurich, NYU School of Medicine) and for the environment (The Trust for Public Land). In 2000, Wyss, who is Swiss, purchased 900 acres of what had been a 3,600-acre property in 1880. A previous owner had planted grapes there in 1996 and Wyss had a dream of making world-class wines. Following his initial purchase, Wyss went on to purchase more land so that now he owns 2,000 acres with only 281 growing grapes, in limestone soil. Wyss named the ranch Halter, after his mother's family. The vineyards grow 13 varieties of grapes best known in Bordeaux and the Rhône Valley.
The 2015 Halter Ranch Vineyard Grenache Blanc ($27) was stunning. It's made from 80% Grenache Blanc, 14% Picpoul Blanc, 4% Roussane and 2% Viognier and aged sur lie for four months. Winery information includes the dates the blocks were picked and the date the wine was bottled, Feb. 15, 2016. Kevin Sass has been the winemaker there since 2011, but he's made wines from Halter Ranch's grapes for 17 years, making wines at Justin Winery from Halter grapes. The ranch features a state-of-the-art gravity flow winery and is certified sustainable.
"Crisp with a hardness to it. Picpoul is strong. Lime and earth. Focused, pure, with almost biting acidity that is quite charming and great with food, especially fatty fish. Zingy and fun," we wrote in our notes.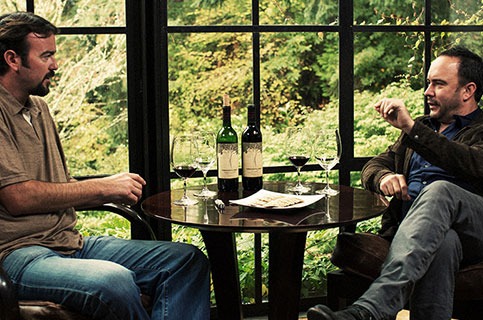 Nowadays when I see a celebrity's name on a wine bottle I roll my eyes a bit. I do. We reported that trend's birth and of course all of those famous people swear that they really do have some input into the way the wine tastes. Some do. Truthfully, the only thing I care about is how it tastes. The 2015 Dreaming Tree California Pinot Noir ($14), from musician Dave Matthews and Sonoma winemaker Sean McKenzie, tastes pretty darn good. Easy-peasy, good fruit singing. And Matthews does have some wine cred. In 2000, he founded eco-conscious Blenheim Vineyards near Charlottesville, Virginia where he has a home. It is on the Monticello Wine Trail. Kirsty Harmon is winemaker there, having apprenticed with Virginia winemaker Gabriele Rausse and in France.
In addition to Dreaming Tree being an environment-friendly operation (dreamingtreewines.com/Sustainability), the winery in Geyserville, CA has donated $1 million to organizations that include the Wilderness Society and Living Lands & Waters. Matthews is listed as a winemaker on the site. The wine comes in at a food-friendly 13.7% alcohol. I like that tune.
I'm experiencing something of a crush on Cline Family Cellars in the Carneros district of Sonoma County. In addition to the mouth-watering 2016 Cline Pinot Gris ($12.99), I liked its rosé a few columns ago. The Pinot Gris, a grape I dream every wine lover will give a chance, comes from four sustainably farmed estate vineyards in the Petaluma Gap region of the Sonoma Coast AVA. Like the best Sonoma Coast wines, it has a piercing purity, with true fruit flavors and bracing acidity that's been preserved by 100% stainless steel aging. "Earth and lots of minerals with fine acidity and balance. Could be from Alsace. Nice weight but also bright. Not afraid to be gris," we wrote in our notes.
For many years, we were big fans of the sustainably grown, all-estate wines of Kunde Family Winery and Vineyards in Sonoma. When we did tasting of wines that were good values, as we did at a tasting years ago for Harvard's Neiman Fellows in Cambridge, we poured Kunde. Then something changed years ago and we were no longer fans. Among several wines the winery sent recently, the 2013 Kunde Sonoma Valley Meritage 202 (it's bonded winery number 202) stood out as a very good value at $35. It has the five major red Bordeaux varieties in it and our notes described it this way: "Rich, earthy and filled with very ripe plums and amazing acidity. Big but well balanced, great fruit with rich, dry, acidic finish. Great with rare steak." Marcia Kunde Mickelson, the COO of the winery and fourth generation winegrower, wrote me that they're on to the 2014 vintage now with a different blend and that it is available for purchase online also for $35 at kunde.com. The family owns 1,850 contiguous acres with 20 varieties of grapes growing on 700 acres.
2015 Poggio al Tesoro Solosole Vermentino, Bolgheri, Italy ($20), was a delight with takeout shrimp in garlic sauce and veal piccata. The Allegrini family founded it in Tuscany's coastal area with its maritime influences. Poggio al Tesoro's focus is red wines, like its super Tuscan neighbors, but this is a little white that dreamed big and has the stuffing to show for it. It's 100% Vermentino, gold from the sun, and packed with minerals. "Very good with weight yet plenty of acidity and life. Plump golden grapes. Great with veal, even. Real presence yet so easy to enjoy," we wrote in our notes.
Contrade is the second label of the Falvo family, owners of the well-reviewed winery Masseria Li Veli in Italy. Contrade was founded in 2015 with hand-picked grapes from long-time grape growers in the Salento region of Puglia between two seas, the Ionian and Adriatic, with the hope of highlighting indigenous grapes. So in the all-stainless steel 2016 Contrade Malvasia Bianca, the Malvasia is 90%, with its tropical, lush notes, and the remaining 10% Chardonnay contributes texture. The 2015 Contrade Negromaro made from 100% Negromaro, the ancient red variety, is fruity, earthy and grapey in the best sense, with a spritz of acidity. These are the winery's first releases and both are delightful and perfect with any dish you care to serve. If you're having guests buy more than you'd ever think you would need. At $10 a bottle each, you can't beat the value.
We've known Tim McDonald, founder of the Napa-based wine public relations firm Wine Spoken Here, for much of his 30 years in the business. The man even showed up for a reading we did of our memoir ages ago. He sent a press release recently that began, "I met Tawnya Falkner about three decades ago when her parents lived next door to ours in Benicia, California. Even as a teen, I always knew that she was going places."
And she did. Fulfilling a dream, she moved to France and launched a sparkling wine business, Le Grand Courtage, French for "the great courtship," which she says represents "French and Americans working together and blending grapes from key terroirs." I liked Le Grand Courtage Blanc de Blancs Brut NV ($18). It was surprisingly fun with a blend of Chardonnay, Chenin Blanc, Colombard, and Ugni Blanc from "top regions throughout France," she wrote, and produced in Nuits-Saint-Georges, Burgundy. "Unusual, with green apples, ripe lemons and a dash of yeast and honey. Lovely bubbles. Works as aperitif or dessert," our notes say.
Domaine Chandon has a summertime addition to its lineup, Chandon Sweet Star ($17) a not-too-sweet sparkler. Apparently it's part of a new wave to capture the interest of millennials. Shanken News Daily reports that "two sweeter line extensions—Moët & Chandon Ice Imperial and Veuve Cliquot Rich--are appealing to younger consumers, according to Rodney Williams, CMO at Moet Hennessy USA." The Sweet Star from Domaine Chandon in Napa, made from Chardonnay, Pinot Noir, and Meunier, is a great accompaniment to a fun summer evening. Tasty with fruit dishes or alone.
Dream on, Dreamers!
Dorothy J. Gaiter conceived and wrote The Wall Street Journal's wine column, "Tastings," from 1998 to 2010 with her husband, John Brecher. She has been tasting and studying wine since 1973. She has had a distinguished career in journalism as a reporter, editor, columnist and editorial writer at The Miami Herald and The New York Times as well as at The Journal. Dottie and John are well-known from their many television appearances, especially on Martha Stewart's show, and as the creators of the annual "Open That Bottle Night" celebration of wine and friendship. The first bottle they shared was André Cold Duck.
Read more of Dorothy J. Gaiter on Grape Collective.
As of publication the wines are available at the following locations: (via winesearcher.com)