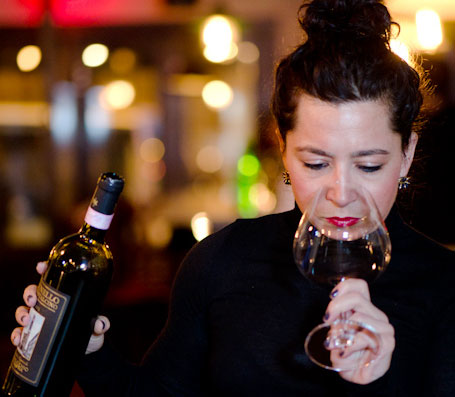 For 11 years, New York native Jen Sgobbo worked at Danny Meyer's beloved Gramercy Tavern where, she says, "wine education was part of the culture." She started off as a bartender passionate about wine, then rose to service director and maître d' before landing as assistant beverage director under the tutelage of acclaimed sommelier Juliette Pope. A little over a year ago, Jen left to become the first wine director of Gabriel Stulman's budding Little Wisco restaurant empire. Every night she's on the floor of Italian hotspot Perla, but she also helms the wine lists at Stulman's Japanese-inspired Chez Sardine and cozy bar Fedora.
Aha Wine Moment: "I got really into wine when I was a server at Ocean Grill on the Upper West Side. There was a lot of opportunity to taste and sell wine and it was eye opening. That's when I realized how fun and interactive it was getting live reactions from customers. It was empowering."
How She Builds a Wine List: "Perla has an expansive list of about 150 selections—half Italian and half French, which is unique for an Italian restaurant. It leans towards the quirky and esoteric. I have a funky palate, but I also like traditional Old World selections, such as quaffable Burgundies."
Favorite Pairing: "I tend to love pairing and experimenting with whites even more so than red. I would go for a rich, nutty, opulent white with steak, like Domaine de Montbourgeau L'Etoile Cuvee Speciale, a full-bodied Chardonnay from the Jura. Don't keep it on ice. Let it evolve and come up to room temperature as you eat your steak."
Next Wine Trip: "There are so many places I haven't been I'd like to: Champagne, Rioja and Jura are definitely on the short list."
Best Value: "I have a pretty cool 2011 Pallavicini Poggio Verde Frascati Superiore from Lazio, Italy, on the list. It's light-bodied with notes of orange blossom, tropical fruit and a creamy finish—great for summer drinking!"
Alia Akkam is a New York-based writer and editor covering food, drink, design and culture.
JENNIFER SGOBBO'S PICKS: