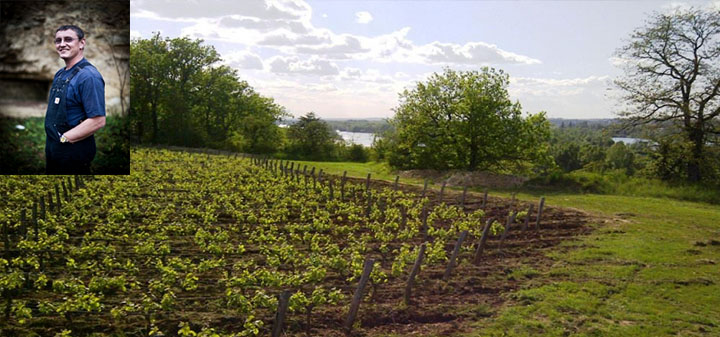 What happens when an eager young generation of vignerons takes advantage of cheaper real estate across the river from an iconic winemaking zip code—then transforms it into a hotbed of innovative viticulture?
If it sounds like I'm about to make a Brooklyn analogy, don't worry: This isn't going to be another silly "X is the Brooklyn of Y" story. But something quite special has been taking place in the tiny Loire valley appellation of Montlouis-sur-Loire, and the rest of the world is beginning to take notice.
Located just opposite the iconic village of Vouvray, right in the heart of Chenin Blanc territory, Montlouis has long been shadowed by its more illustrious neighbor. In recent years, however, the promise of more affordable vineyard land has lured a new wave of talent to the area, and they've dramatically redefined its public image. These winemakers have also found that Montlouis offers certain advantages in terms of terroir, and its wines display more leanness and mineral tension than the typical Vouvray.
"I think there's a fantastic energy in Montlouis-sur-Loire right now, which is less perceptible than in Vouvray," says Pascaline Lepeltier, who grew up in the Loire and now works as sommelier at New York City's Rouge Tomate, where she features a handful of Montlouis wines on her list. "You have an appellation with a fantastic spirit, which decided to go for quality."
This certainly applies to the wines of François Chidaine, one of the appellation's early leaders, who produces a diverse range of elegant, mineral-driven Chenin Blanc sourced from eight biodynamically farmed plots. There doesn't seem to be a style he hasn't yet mastered, whether it's his gorgeously yeasty, sparkling Montlouis Brut, his honeyed yet fresh demi-sec "Clos Habert," or his bone-dry "Les Choisilles," a densely concentrated effort named after the black flint that characterizes his soils.
Chidaine has paved the way for a subsequent generation of talent, including Franz Saumon—his crystalline "Mineral +" bottling is particularly outstanding—and Ludovic Chanson, whose first solo vintage was 2009.
Xavier Weisskopf of Domaine Le Rocher des Violettes is another. His obsession with Chenin drew him to Montlouis in 2005 after studying viticulture in Beaune and a spending a stint as chef du cave at Château de Saint Cosme in Gigondas.
Working with 22 acres of organically tended, hand-harvested vines, Weisskopf embodies the region's revitalized spirit. This is evidenced by his entry-level "Touche Mitaine," with its bright wash of orchard fruit and white flowers, all the way up to his powerfully structured old-vine "Negrette" cuvée, which is a prime candidate for a few a years of sleep in the cellar.
As an added bonus, when you finally pop that cork, you'll earn bragging rights as one of the cool kids who can claim to have been drinking Montlouis all along.