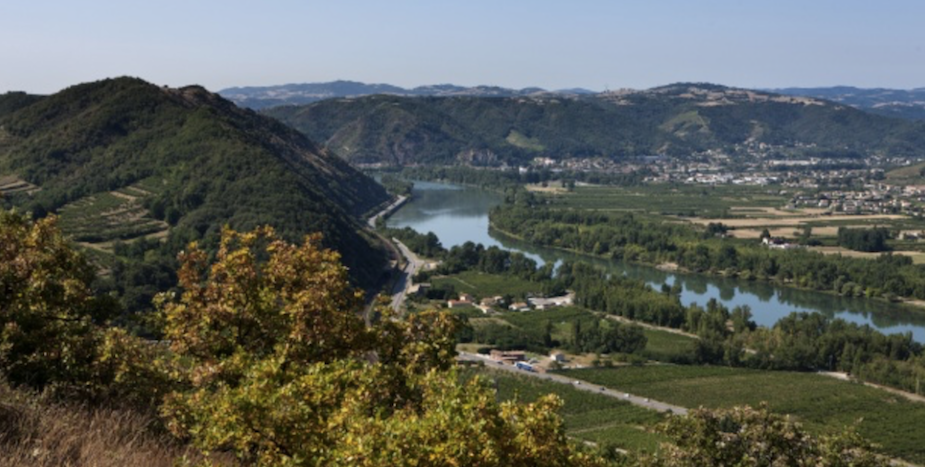 Crozes-Hermitage, the largest wine appellation in the Northern Rhône, is situated on the 45th parallel that runs through some of the great wine regions such as Bordeaux, Piedmont in Italy, and Willamette Valley in Oregon.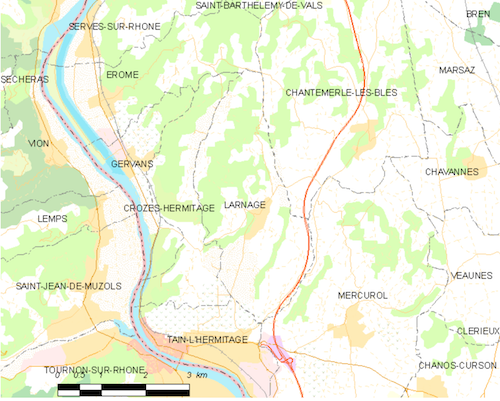 Sitting on the left bank of the Rhône River, Crozes-Hermitage lies 29 km to the north of Valence and 3 km to the north of Tain-l'Hermitage, producing easy-drinking to exceptionally fine wine.
The history of Crozes-Hermitage dates back to the 1700s. At the time, Larnage, a village in the appellation, started to export wine (aka vin de Mure at that time) to England via Bordeaux. By the end of the 1800s, Crozes-Hermitage wines were considered the third most expensive in the Northern Rhône Valley followed by Côte Rotie and Hermitage. Prior to the 1980s, most of the wine in the region was sold by negociación or the local co-operative. Jaboulet was one of them. From 2003 onwards, more and more growers than ever are making, bottling and selling their own wine.
The Crozes-Hermitage appellation was created in 1937, and is primarily a red wine region, with 92% of its production attributed to red wine and only 8% to white. Syrah is the main red grape variety but a maximum of 15% combined of Marsanne and Roussanne are allowed in the blend. Crozes-Hermitage Rouge is tender, elegant, balanced and a pleasure to drink. Usually it is dark ruby red in color with a subtle blue hue. On the nose, it often displays delicate red and purple floral aromas with red and black fruits and blueberry notes. The region's Syrah is also often marked by savoriness showing characteristics like cured meat and olives.
White wine in the region is made with Roussanne and/or Marsanne. It generally is golden-yellow hued with hints of green, shows medium-plus intensity with white and yellow flowers on the nose, such as honeysuckle. Roussanne and Marsanne work well with oak. Usually, Crozes-Hermitage Blanc is round, creamy, and buttery in the mouth yet dry. It also reveals nutty or brioche flavors. Crozes-Hermitage Blanc sometimes is a bit hard to find, not only because the production is limited but also because it isn't well known by the general public. Once you find a white Crozes-Hermitage, make sure you secure that bottle.
Climate & Soil
Crozes-Hermitage is influenced by two different climates. The northern portion of the appellation features a semi-continental climate. Winters are wet and cold and the strong and brutal le mistral winds could last into spring. A more Mediterranean climate can be felt to the south. The annual sunshine reaches 2,400 hours in Valence because of the hot and dry summers. Annual rainfall is modest; heavy rain could happen particularly at the end of summer.
Occupying 1,238 hectares, Crozes-Hermitage accounts for nearly half of the entire region's 2,400 hectares. A wide range of soil types can be found in the appellation. To the north, the soil lies on top of granite covered in loess. Hillsides are relatively steep in the northeast, with pebbly terraces covered with loess or kaolinic white sands. To the south and east of Tain-l'Hermitage, the soils are formed with layers of pebbles and mixed with red clay, known as plateaus or terraces.
Profiling Domaine Les Bruyeres
Domaine Les Bruyeres was established in 1955 by Georges Reynaud. To start his business, Mr. Reynaud planted 20 hectares of vines on a gentle slope along the Ise River in the southern part of Crozes-Hermitage. Since then, the family has been grown grapes and has supplied grapes to other producers in the region for generations. Approximately 87% of the land is covered with Syrah and the rest is planted with Marsanne, Roussanne, Merlot and Viognier. These vines are aged between 20 and 50 years old. The soil components of the vineyards are clay and alluvial pudding stone for top-soil with chalky limestone sub-soil. These pudding stones provide great drainage and benefits for the vines.
In 2000, David Raynaud, the grandson of Georges Reynaud, slowly began to get involved with the business.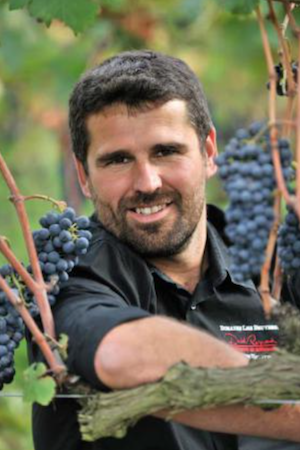 He started to introduce biodynamic farming practices into the vineyard and ventured into making and marketing the wine from their best vineyards. By 2003, the domaine earned certification by Ecocert. That same year, David inaugurated his very first vintage by using these certified organic grapes. Under David Raynaud's watch, Domaine Les Bruyeres earned Biodyvin certification in 2005. In a remarkably short amount of time, David Raynaud has shown his talent in winemaking by producing complex and elegant wines and has gained attention of the wine press not only in France but around the world.
Domaine Les Bruyeres produces four limited Crozes-Hermitage Rouge and a small amount of special Crozes-Hermitage Blanc. Manual harvest is mandatory for all the wines. Only indigenous yeast is introduced in the winemaking process. Red wines are moved and cleared only by gravity and unfiltered.
Domaine Les Bruyeres Crozes-Hermitage Rouge
*Crozes-Hermitage Entre Ciel & Terre:
Grapes are sourced primarily from the 2.47 acres of Mercurol and vines are an average of 35 years old. Wine is aged in 16hl egg-shaped concrete vats for 18 to 24 months. These special vats allow natural rotation of the wine which facilitates maximum lees contact and slow, uniform micro-oxidization without the mineral-masking effects of oak.
*Crozes-Hermitage Les Croix:
100% Syrah from the domaine's upper terrace planted in 1955. The must is fermented in 600L demi-muids, aged in four- to five-year-old barrels for a year. The wine is fresh, slightly fruity, floral with savory and spice notes both on the nose and palate. Medium-plus body and medium-plus tannin. Les Croix is balanced with complexity and will surprise you if you pop the bottle a few years later.
*Crozes-Hermitage Cuvée Georges Reynaud:
100% Syrah sourced from the domaine's lower terrace with an average age of 30 years. Vinified in cement vats for 32 days. Élevage on its lees for 12 months in neutral oak barrels then goes to cement cuves for six to seven months before bottling.
*Crozes-Hermitage Cuvée Beaumont:
100% Syrah from younger vines and purchased from certified organic grower-friends in the village of Beaumont-Monteux. This Cuvée is vinified in cement and aged in large cement. A little portion goes into barrel before assembling. Unfined and unfiltered
Domaine Les Bruyeres Crozes-Hermitage Blanc
*Crozes-Hermitage Blanc Cuvée Aux Bétises:
A blend of 55% Marsanne and 45% Roussanne. Hand harvesting and manual sorting. Aged eight months on its lees in cement eggs with one third in barrel with a little lees stirring. This Blanc cuvée shows intense ripe rich stone fruit notes with excellent depth and texture.