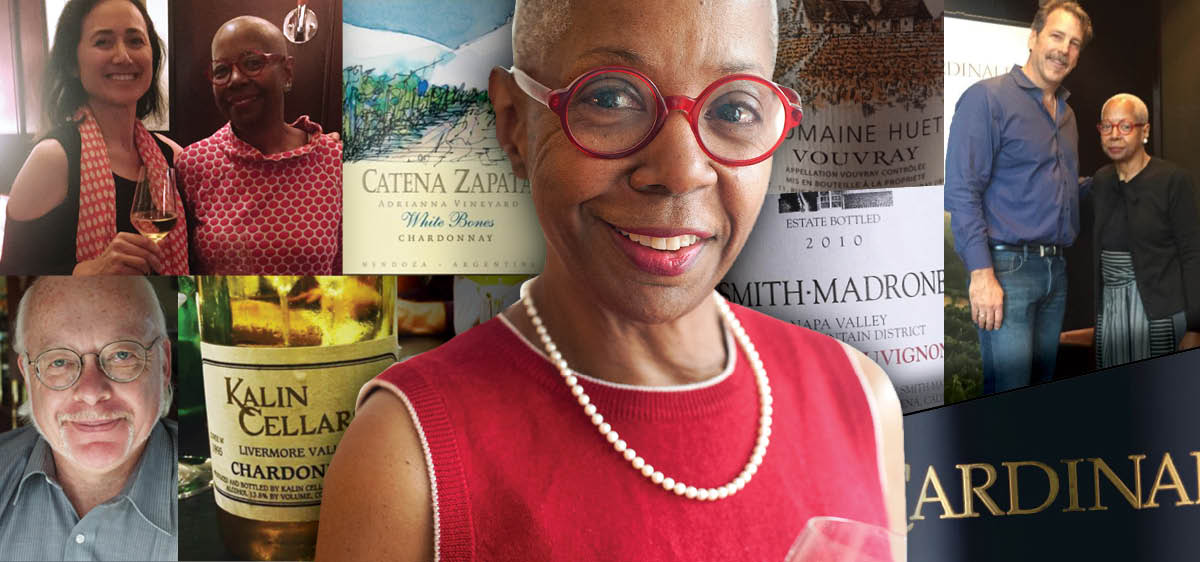 We taste a lot of bad wines every year. I'm not talking about wines that are corked or suffer from some defect in winemaking. Actually, maybe there is a defect: Like the Tin Man, they're made without a heart.
Many come from the U.S. It's as though winemakers here know that many Americans still will drink American wines uncritically, so they don't try hard. An increasingly large number come from France, Italy, Germany, South Africa and New Zealand. Far fewer bad ones come from Greece, even accounting proportionally for the smaller number of wines from Greece that we try. Whole categories have been affected. Could someone please recommend a truly dry Gewürztraminer?
This also has little, if anything, to do with price, though, like most people, we taste more $10 to $50 wines than $50 to $100 wines. Some were small-production though most weren't. A majority were sent to me to review, but some we purchased. It's not useful to name them. Partisans always have some excuse: You tried the wrong vintage, the wine was too cold or too warm, the store must have abused it, or your Zodiac sign was ascending.
There were wines I had last year that were truly exciting. Encountering these is one of the joys of this lifelong journey we're on with wine. I urge you to search for your own exciting wines this year, to constantly raise your standards and stay out of your comfort zone as often as you can.
My most breathtaking wines from 2017, from whites to reds, were well-aged Chardonnays from Kalin Cellars in Novato, California; a dry Vouvray from Clos du Bourg Domaine Huët in the Loire Valley; a Champagne from Leclerc-Briant in Épernay; and two Chardonnays from Bodega Catena Zapata's Adrianna Vineyard in high-altitude Argentina, its White Stones and its White Bones. The reds were Cabernet Sauvignon, one from Smith-Madrone Winery, atop Spring Mountain in Napa, and a new-to-me range of Cabernet Sauvignon from Cardinale, a cult winemaking enterprise in the Oakville District of Napa Valley.
I've interviewed or met most of the people who made these wines. If I had to choose one thing that they have in common, it's an unwavering respect, reverence even, for the place where their grapes grow. What's in the vineyard is in the glass. And, of course, they all have fascinating stories.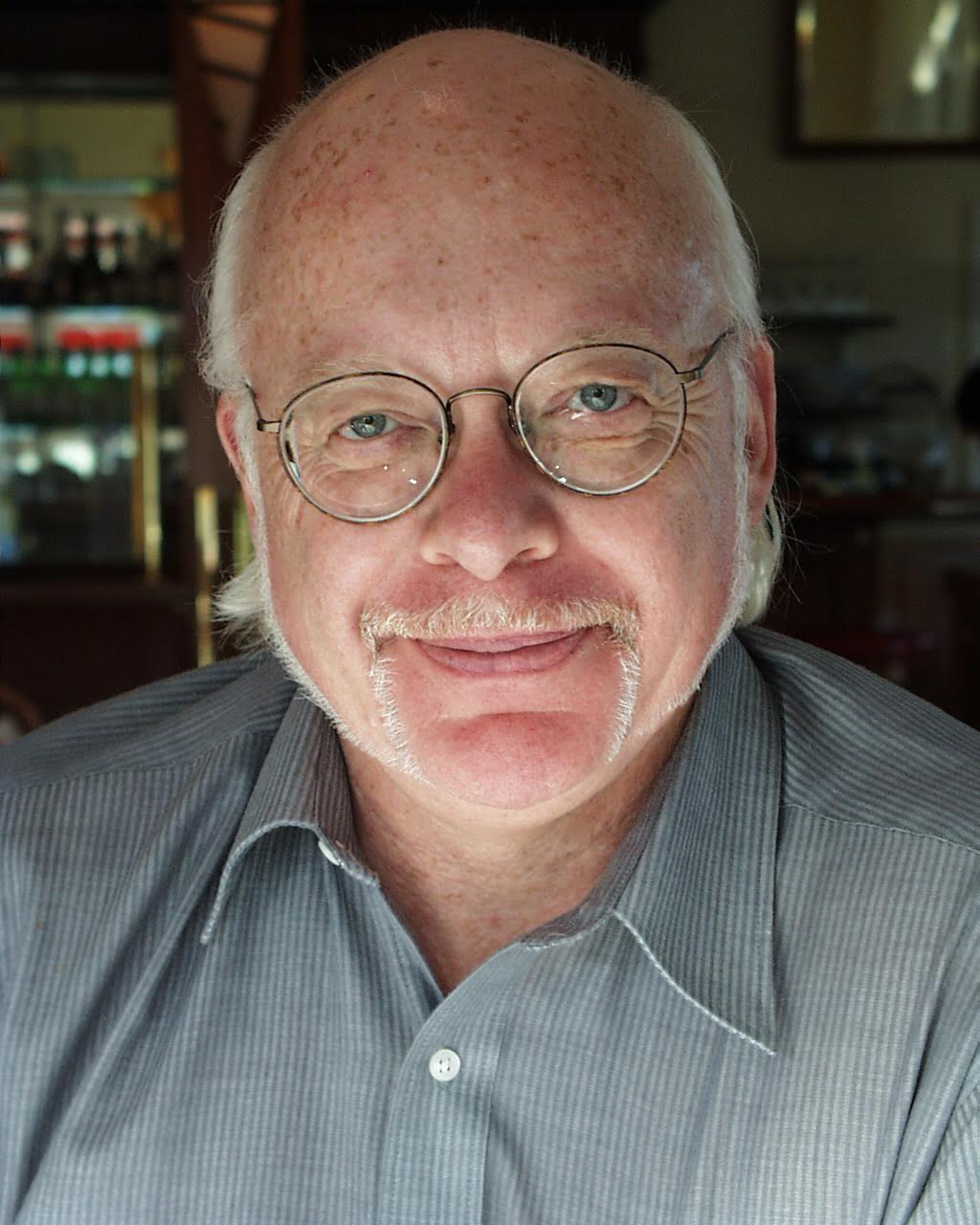 We bought Kalin Cellars's well-aged Chardonnays, beginning with the 1995 Kalin Cellars Cuvée W Livermore Valley Chardonnay, which was released when it was 20 years old. Robert Parker, a Kalinite, as fans are called, described Kalin Cellars's wines as "the wines of a genius," and we couldn't agree more. (Wine-searcher says Cuvée W's average price is $44.) We had had our first Kalin, the mind-blowing Cuvée DD Chardonnay (Demostene Ranch) Alexander Valley 1998, in 1990. John Fischer, then a sommelier at what was at the time the Hudson River Café in Battery Park City, had recommended it. We thanked him again a few months ago; that's how deeply connected we still are to that night's wines.
A smart sommelier who truly listens and is an excellent reader of people is worth his or her weight in gold, or bitcoin, if that had weight or whatever. If you haven't found a good restaurant wine professional, that's a worthy eating-out goal this year.
I spoke with Terrance Leighton (photo left), who founded the winery with his wife, Frances, both microbiologists, and wrote about the 1995 Kalin Cellars Cuvée W Livermore Valley Chardonnay.
That experience sent us on a quest to find other Kalins, including the 1995 Cuvée CH (the CH stands for the Charles Heintz Vineyard) and the 1995 Cuvée L (L for the Long Family of grape growers), both from Sonoma County and recently released. The W stands for old-vine Chardonnay clone from the Wente Estate. (See Kalincellars.com and wine-searcher.com )
Since I'd already written about the W for this site, John and I posted our comments about the L and the CH on Facebook and I continued my conversation with Terry by email. "The L seemed half its age, was so bright and minerally, a whole different profile. The W was unlike any wine we'd ever had and the L, while spectacular, seemed a little more familiar. Both knock-your-socks-off wines," I wrote to him.
The CH was "golden with an herbal, eucalyptus-like nose, honey, like Sémillon, a bit thinner than the first two. Maybe not as ripe as the W and the L, but lovely, with great acidity. Better with food. Fresh," we wrote in our notes.
José, our daughter Media's boyfriend, gave us the mesmerizing 2016 Sec Clos du Bourg Domaine Huët Vouvray for Christmas. (wine-searcher.com, $46, and yes, I appreciate that it's déclassé to look up the price of a gift.) It was the best Vouvray we've had in many years. According to Decanter magazine, "Domaine Huët is the most celebrated Loire producer, and the only one from the region ever to have headlined a Christie's auction, in 2004."
Clearly José has a fine future ahead of him! He was helped by the folks at The Brooklyn Wine Exchange. If you love wine, you should have a good wine merchant or several of them.
In researching Domaine Huët I discovered that Jancis Robinson had tasting notes going back to vintages in the 1920s, so long-lived are the Huët wines, which, being Vouvray, are made from the Chenin Blanc grape. She knew the late Gaston Huët, the son of its founder, Victor, and called Gaston "the most respected producer of Vouvray in the Loire." Gaston's son-in-law, Noël Pinguet, joined him in 1971, took over in 1976 and turned the domain into a biodynamic enterprise. Huët died in 2002 and the following year, the family sold a majority share of the business to Anthony Hwang, who was part-owner of a winery in Tokaji in Hungary.
In 2012, Pinguet abruptly resigned, three years ahead of his planned retirement, citing differences with the Hwang family. Mr. Hwang's daughter and son run the estate now. Jean-Bernard Bertholmé, who joined Huët as vineyard manager in 1979, became winemaker after Pinguet left.
"Sometimes Vouvray can seem a little heavy and a little sweet even when it's dry because it's so fruity," we wrote in our notes. "This one walks a line where it has real lusciousness to it but at the same time, it's unbelievably clean and crisp, with lime and grapefruit acidity and a touch of honey. Long, rich, tart finish."
A winery representative sent us the Leclerc-Briant Brut Réserve NV Champagne that I wrote about recently. Bottled unfined and unfiltered, this Champagne, from grand cru and premier cru villages, is 40% Pinot Noir, 40% Pinot Meunier and 20% Chardonnay, all organically grown. It was harvested in 2013, bottled in 2014 and disgorged in 2017 and hits all of the right notes. Hervé Jestin is winemaker of Leclerc Briant. Wine-searcher.com puts it at $55. Alcohol is 12%, residual sugar 4.0. We rated it Delicious and contemplated giving it our highest accolade, Delicious!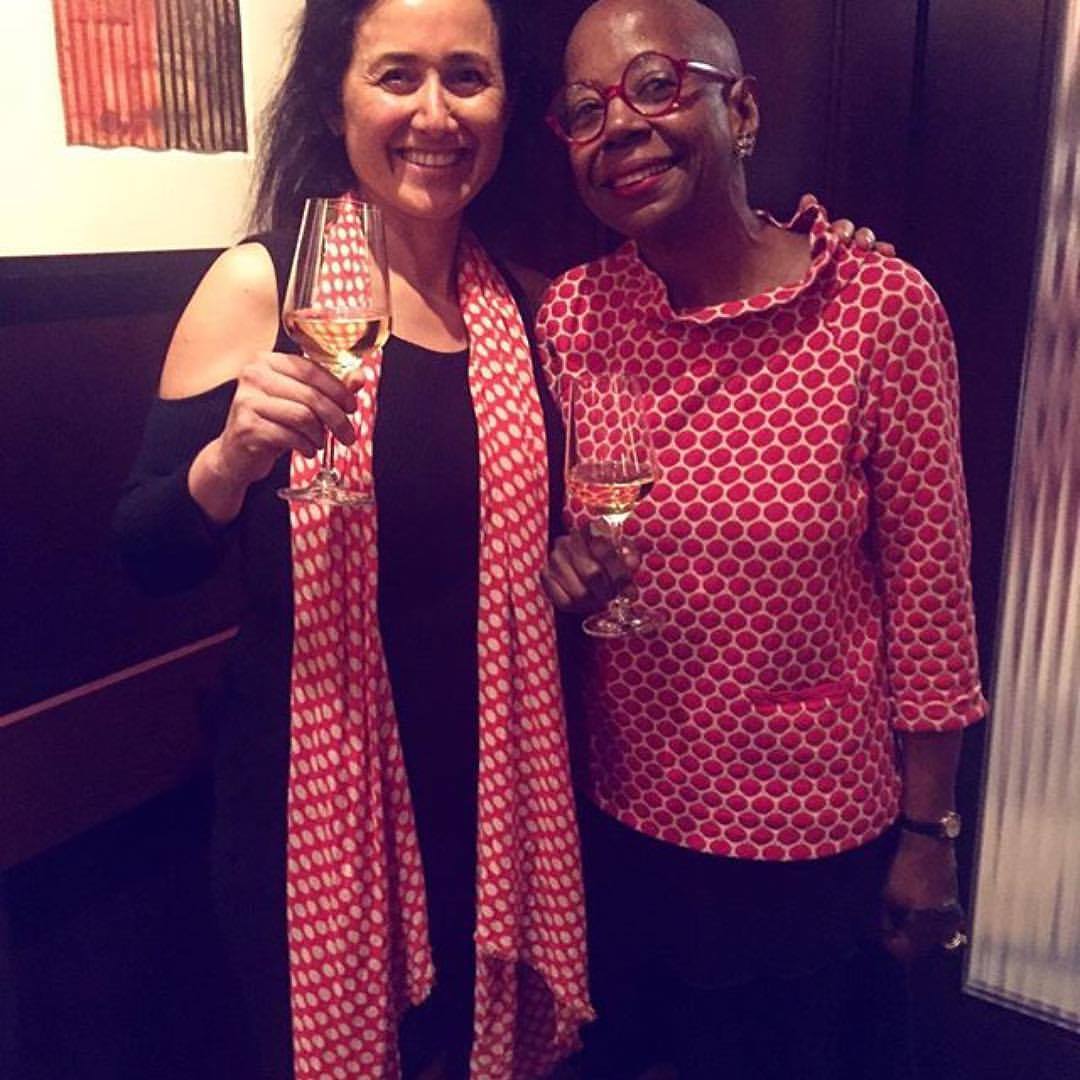 We go way back with the Catena family's Malbecs, the famous red wine of Argentina. Four years ago, when I ran into Laura Catena, she told me that our Tastings column in The Wall Street Journal in 1999 about Malbec had been the first major article about that wine in a big mainstream U.S. publication and had given the wine industry in Argentina a big boost.
While her family's name and wine empire are synonymous with Malbec, Laura and her father, Nicolás Catena, have long nursed a passion for Chardonnay. That's why the family brought Paul Hobbs over from America in 1989, in his first-ever capacity as a wine consultant. According to Wine Spectator in 2013, Hobbs made some Chardonnay for Catena but was uninspired by the outcome. He, instead, was taken with a neglected plot of Malbec vines they had. We all know what happened after that.
But the Catenas are a very stubborn and hard-working clan. Laura graduated magna cum laude from Harvard and earned a medical degree from Stanford. Last October, when she interviewed Jancis Robinson at the Women in Wine Leadership Symposium where I spoke, friends called her Dr. Laura because she's an emergency-room physician at one hospital in San Francisco and at another hospital handles very sick newborns. For four months every year, she's in Argentina as managing director of the family business, with responsibilities that she assumed from her father in 2009.
Her dad, who inherited the business that was started in 1902 by his grandfather, decided that to make the Chardonnay of their dreams, they needed to plant it in a cold, high-elevation region of Mendoza. In 1992, he found it, and while people told him he was crazy, he began planting grapes in Gualtallary in the Andes, at 5,000 feet elevation, where vines had never been planted before. He named the vineyard, a new terroir for growing grapes, Adrianna, after his youngest child, Laura's little sister. Planted to Chardonnay, Malbec and other varieties, it is now referred to by the Catenas as "South America's Grand Cru." Alejandro Vigil is director of winemaking and Ernesto Bajda is winemaker.
"Finding a site like Adrianna or La Tâche or Lafite is like finding gold," she told a group gathered in September in Manhattan to taste the wines of Adrianna Vineyard and some new releases of Catena Zapata. A nerdy scientist, she spoke passionately about the Catena Institute of Wine, a cooperative undertaking involving UC-Davis and the Universidad Nacional de Cuyo and the Catena team whose goal is to "elevate" Malbec and other grape varieties and help the nation's wine industry through science. Researchers study "every meter, every rock, every insect and microorganism in the Adrianna Vineyard, making it perhaps the most studied vineyard in the world," according to the Catena website.
"The soils were extremely poor," she said, but her father said "that place is perfect. If I don't test the limit of where I can grow, I'll never know. It was quite a gamble, but it had cool nights and perfect sunlight so you can ripen without too much sugar and get great minerality. It took about 10 years to figure that out."
The Chardonnays are a wonder. Called White Bones and White Stones for the size of the limestone rocks that are found in the dry riverbed and volcanic soils that nourish the vines, these are wines that command your attention. The first releases were in 2009 and Laura Catena poured the current vintage, the 2014 (wine-searcher.com puts the White Stone at $100 and the White Bones at $107.) The White Bones grapes are grown at a higher elevation and in soil with smaller limestones than the White Stones, she said.
"Great acidity and stunningly rich fruit. Minerals, apples, vanilla and lemon zest," I wrote in my notes describing the White Stones. "Nice weight, long, long fruit finish with a touch of honey." The White Bones got 10 more days of fermentation in barriques than the White Stones and seemed more minerally and less weighty to me. "Bright and clean, with some nutmeg and vanilla and orange blossoms. Both are triumphs."
"Five years ago, Argentinian white wines weren't written about," Catena told the group. "I think, literally, these two whites have changed the history of Argentina because if we can do this, others can do this. My father did this with Malbec."
The Grape Collective held its first holiday party last year and the boss, Christopher Barnes, opened some really good wines, including the 2010 Smith-Madrone Cabernet Sauvignon. Earlier last year, I wrote about Smith-Madrone's 2013 Cabernet, which wine-searcher.com puts at $50.
Stuart Smith, 68, founded the 4,000-case winery in 1971 after earning a degree in economics from Berkeley and taking some enology classes at UC-Davis. With the help of family and friends, the 22-year-old purchased 200 acres of forest that had been part of a 550-acre homestead that more than 100 years earlier had included vineyards. Talk about Kismet! About 40 of those 200 acres are vineyards now. Today, Stuart is general partner, enologist; his brother Charles is winemaker; and Stuart's son Sam is assistant winemaker. The Madrone part of the name comes from Madrone trees on the property, evergreens with red bark.
The 2010 was lovely. I love well-aged wines and this one had great fruit and rich earth with tannins in perfect balance. A stately, confident pleasure. I could have sipped it all night, but John had an early morning meeting!
I had never tasted Cardinale, so when I was invited to meet its winemaker, Chris Carpenter, who was giving a master class and presenting 10 vintages, I jumped at the chance. Cardinale was founded in 1982 by the late Jess Jackson, who started out making crowd-pleasing wines and later amassing, with his wife, Barbara Banke, famed vineyards and wineries. Carpenter is also the winemaker at other Jackson Family owned wineries, including La Jota and Lokoya.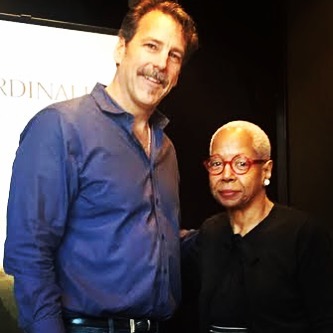 The invitation stated that Cardinale's mission is to make Cabernet Sauvignon by blending fruit the best Cabernet Sauvignon vineyards.
The vineyards included "the estate owned W.S. Keyes on Howell Mountain and Veeder Peak sitting at nearly 1,800 feet on Mount Veeder, as well as To Kalon, Les Pavots, Vine Hill Ranch, and J.J. Cohn," it continued. Its goal was to "express the unique nuance of each vintage," and ultimately, to source from mostly mountain sites, which it has done since 1995. It has long-term contracts and owns some sites.
We tasted the 1995, 1997, 1998, 2002, 2005, 2006, 2007, 2009, 2012, and 2014. At a suggested retail price of $275 and sold mostly in restaurants but also in selected stores (see wine-searcher.com), these wines were eye-opening. The early vintages contained some Sonoma County fruit. but with the 2002 vintage, a year after Carpenter was named winemaker, he began making Cardinale with 100% Napa Valley fruit at the suggestion of the marketing department, he said. In that case, he said he told them, "You'd better get your checkbooks out" and they did.
Look, if not for this invitation, I never could have tasted these wines because I don't have that kind of money just laying around. But I could appreciate them. They were exciting because they were part sensual experience, the taste and feel of them, and part intellectual experience. Having tasted Napa Cabernet Sauvignon for more than 40 years from those storied locations, drinking them and sussing out the flavors and textures and characteristics of those particular locations was like running into an old friend in a new surrounding.
The wines are unfiltered and blended with the juice from 30 to 40 lots that have aged in barrels for about two years first. Case production ranges from 2,000 to 4,000 and the wines are all aged in French oak.
I could have talked to Carpenter for hours about jazz and daughters. Blending the wines is like conducting an orchestra, he said, with each vineyard playing its part. The vintages with Sonoma fruit were complex and regal with age, elegant, and I kept being drawn back to them. The younger all-Napa wines were elegant, too, with pure, firm cores, herbs, fine minerality and acidity, with blue and black berries, and some chocolate. The finishes went on forever. These wines would be fabulous for special occasions or a wonderful gift to a lover of Napa Valley Cabernet Sauvignon.
Carpenter told me he owes his job, in part, to the late, genius saxophone player John Coltrane. Carpenter told me he went to a job fair in 1998 and somehow didn't catch the name of a man who was interviewing him, but they hit it off. They talked about Teroldego, an Italian red grape variety. He told the man that Marco DiGiulio, winemaker for Pepi and Lokoya wines, was making a Teroldego. They also talked about their shared love of Coltrane, especially the musician's masterpiece, A Love Supreme. Carpenter had just earned a master's degree at UC-Davis and was looking for work either as a winemaker or a vineyard manager. The man told him he'd have a lot more fun being a winemaker. Oh, and another thing: The man also turned out to be DiGiulio and hired Carpenter as an assistant enologist working for the Jackson Family brands.
There are stunning wines out there, waiting to be discovered. You'll know them when you taste them. Life is too short for you to drink bad wines or always fall back on your old go-tos. Find wines this year that excite you. Cheers!
Dorothy J. Gaiter conceived and wrote The Wall Street Journal's wine column, "Tastings," from 1998 to 2010 with her husband, John Brecher. She has been tasting and studying wine since 1973. She has had a distinguished career in journalism as a reporter, editor, columnist and editorial writer at The Miami Herald and The New York Times as well as at The Journal. Dottie and John are well-known from their many television appearances, especially on Martha Stewart's show, and as the creators of the annual "Open That Bottle Night" celebration of wine and friendship. The first bottle they shared was André Cold Duck.
Read more of Dorothy J. Gaiter on Grape Collective.