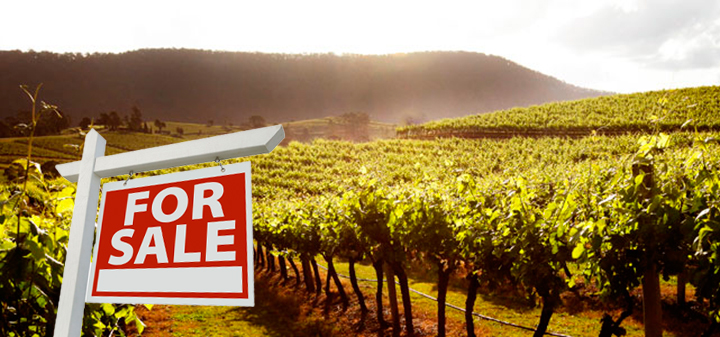 Vineyards are in. Reportedly on the rise, current sales indicate that not only are established and big-name winemakers entering the market, but so-called "lifestyle" buyers have returned after a brief hiatus, despite supposed grape shortages and a growing premium on farmland. And while exact figures are not readily available, vineyards and the grapes they grow are no longer as, well, bruised as they once were. In fact, quite the opposite. Mike Hucknell's Sicilian vineyard is the latest modestly-priced property to enter the market with high expectations. With an asking price of €650,000 ($890,000), you could expect to buy about four to five acres of new vineyard in Napa Valley at the standard rate of about $120,000 per acre, though many established properties would double or even triple that price. The point is, people are selling; and more so, people are buying.
"The general thoughts are: wine sales have been pretty positive for some time, and the market for existing vineyards is certainly robust right now," explains Michael Crain, Founder and President of Michael Crain Properties in California. "I've seen a lot of sales over the last year, year and a half with what Foleys has bought, and [Kendall Jackson] has bought. That is kind of on the heels of the recession that was really, really difficult. Two or three years ago, you could hardly give vineyards away. Through that whole period, even though there were unit pricing issues in wine, the overall amount of sales didn't diminish at all. Of course, the industry hasn't been able to plant from 2006 and 2007 until relatively recently 'cause the banks put a lot of pressure on and wineries had to deleverage — the environment for planting new vineyards was not a very friendly one."
Where are people buying? Depends on what they are looking for. Rough numbers would identify Argentina and Australia as the major draws, while Germany and parts of Eastern Europe are closely behind. Argentina may be seeing the most movement as local winemakers, largely made up of multi-generation farmers, are eager to sell with rising expenses and general exhaustion, and investors are more anxious than ever to step in and buy given the widespread popularity of the country's wine. In the famed Mendoza region, acres go for $75,000 to $100,000, but averages for other top appellations are closer to $50,000. Tuscany ranges from $10,000 at the bottom end, to $180,000 for Montalcino, with Chianti a middle six figures in between. Spain's La Rioja sees around $30,000 to $35,000, with cheaper terroirs marked at $5,000 to $10,000. France sees the most expensive appelations, with Bordeaux topping off around $800,000 per acre, and Champagne garnering about $600,000 per acre. Burgundy's grand cru vineyards? Upwards of $2 million per acre. These rates depend and reflect heavily on the prestige of the region's grapes. Yet buyers must keep in mind that these values don't represent the sizable per-acre rate for farming and upkeep.
And then there is California, where top vineyards have demanded as much as $325,000 per acre. You see, in Califorina's recent market, it is all about supply and demand. Previously, there was high bulk inventory. But this was all before the crash; following the crash, planting more or less stopped. It took the marketplace a few years to go through this extra product, but as abrupty as the downturn happened, everyone soon woke up to discover, or perhaps simply recognize, that they had gone through all the wine that had accumulated — and with no one planting, they simply didn't have enough grapes to go around. All of a sudden, vineyard lands were at historic lows, and demand for wine grapes was continuing to go up; with opportunity and temendous upside in mind, a handful of the bigger wineries were out there buying up industry assets, including vineyards and land for vineyards. As the economy recovered, the real estate market also made significant progress, and with those bigger wineries buying, others of similar means but different motives were encouraged and similarly pulled back in — basically signaling that lifestyle buyer was back.
"The way these recoveries tend to happen," Crain continues, "is that when there is a shortage of grapes, wineries go up and for fruit, locking it up in long-term purchase contracts. And then they buy up existing vineyards that are producing. And the last thing they do is buy up land for planting new vineyards. And the reason it happens that way — as this is a capital-intensive industry — is that the cheapest way to assure yourself supply of grapes, etc. The permit to plant, along with the three to four year wait until harvest, make the buying of land the most expensive. When wineries were out buying up contracts (three to four years ago), the lifestyle buyer wasn't back at that point. Then as they started buying up existing vineyards, it stabilized prices, but word gets out and it pulls the lifestyle buyer back in."
Scott Bergman of Bergman Euro-National agrees with Crain that there is no hard set of one type — for them, there are actually three categories: lifestyle, investment, and farmers. And he has also seen an influx lifestyle buyers.
"Lifestyle buyers want a gorgeous house with a vineyard view, and then possibly a small source of income," Bergman says. "They'll generally take their grapes to a custom crush house and either sell or simply give away as business gifts."
However, there are others who use the custom crush houses as well, such as the international buyers, the Chinese being the most notable, who have also started getting back into the market as well.
"The biggest push we're getting right now is from China," Bergman continues. "The Chinese are wanting Napa Valley, specifically Pope Valley in the northeast: the land is a lot cheaper than downtown Napa, but the benefit is that you have similar climates and soils — difference is that you're out there further, which they don't really care about. What it has to say is Napa Valley; it has to say Cabernet Sauvignon; and they are going to sell it in China. They don't want to sell it in the States. They don't even want a tasting room."
Yet Crain disagrees. He sees lesser influence in the Chinese.
"They have had an impact and are certainly out there," Crain argues, "but in my view, it feels like there is more hyperbole, more talk than actual deals – though there are definitely deals. Nine out of ten probably don't buy. They buy trophy properties, larger scale deals; there are a lot of different reasons, for Chinese import to immigration reason. They like the idea of investing in wineries and vineyards, but don't really understand them. Those who figure out the the strategy, and preserve capital or even make money, those are the ones shaking hands. There are a lot looking around without ever developing anything."
What they do agree on, though, is that if you are interested in buying a vineyard, you need to be thoroughly prepared. With everything from hiring an agronomist to do an appraisal (modestly priced between $3,000 and $6,000), to hiring managers and farmers to take care of the land (between $20,000 and $85,000 depending on the amount of work), this isn't one-time upfront cost you're considering.
"Understand what you're going to get into," Bergman implores. "There is always good and bad in everything. The glamour of owning a winery or vineyard and being a gentleman farmer is attractive, but there are always financial realities that they need to be prepared for. Usually these guys have an idea of what they want to accomplish with the winery, vineyard, or both. And until you know what they want to do with it, you really can't find what they want.."
"I'm always on the lookout for people who understand what it is they're trying to do," Crain says. "If you have a lot of money and you come to the wine country and you're buying these kinds of assets with the understanding or maybe not caring about making money, then hell you can do what you want. But you're not coming in with this high level of expectation about it."
"If you do have an expectation that you're going to build a business, and you're looking at this at least as much as an investment as a lifestyle, then I want you to be open as a buyer to developing a business plan, or to already have one. And then I like to see people who understand the reality of the situation— a lot of them come in thinking they're going to be caring for the vines, tip-toeing through them and pruning… if they get into the wine business, that's not how it is going to work. There is going to be a farm manager out their farming the vineyard, and people working the winery; what you're going to be doing is going out on the road selling the wine."
"It's all about selling the wine," Crain explains. "It's a nice notion, a romantic notion — and it is a great place to live, beautiful up here, and a great, dynamic business — but you have to be realistic. The way you make wine in the business is by selling the wine."
So what is the current landscape looking like? Who is buying the vineyards?
"I would say by category the current group is the same as before the recession," Crain says. "But there isn't as much debt — you can't go out and get a loan unless you are financially sound. Before, people were approaching it more as a second career. They would come into the business and be focused on it as a business, and they were more reliant on banks. But these days the same banks are cautious, meaning there are more cash buyers, which is unlike it was years ago before the recession."
"Almost all buyers are cash buyers," Bergman agrees. "Nothing is being financed."
But with the drought, and increasing presence of climate change in the conversation, especially surrounding the coastal regions in California, the situation is certainly more than merely a financial one. Yet, according to Crain, droughts are at least predictable to an extent. There are larger concerns to be had.
"There was phylloxera, and then there was the Pierce's disease, and today we have red blotch," Crain begins. "These are all potentially very serious issues. When phylloxera was an issue, it was estimated that 80% were planted on the root, which ultimately increase of vineyard values in the 90s. Red blotch is estimated to be another 80 to 90% percent. If that continues to develop, it is also going to be a an issue. I don't want to downplay droughts, they are a big issue, but it's always an issue."
"I think the bigger issue, and the far more threatening issue, is the permitting and the regulations, the hurdles you have to clear to plant a vineyard."
This bigger issue is what Crain refers to as "environmental and regulatory atrophication."
"We've seen problems with diseases. We've seen problems weigh droughts. That is agriculture. It's concerning, but I have to believe we will get through this in the same way we have always gotten through this — by getting better: we are going to get better at using water, and we get better at managing for certain diseases; the thing I don't see an immediate solution for is the regulatory stuff."
But if you have the capital and patience, that $350,000 per acre investment looks to pay more than its fair share of dividends if history is a sign of things to come.
"We did market research on 1950 to current vineyard values," Bergman shares. "One acre in Napa-Sonoma Valley will either double or triple in ten years time, no matter what the ten years were. Obviously things changed in that 2008-2009 downturn, but what we'reseeing now is a similar uphill continuation, and we expect that to go for at least another couple decades. If it continues in that route, buyers are going to have to get even more creative in the purchase and funding."