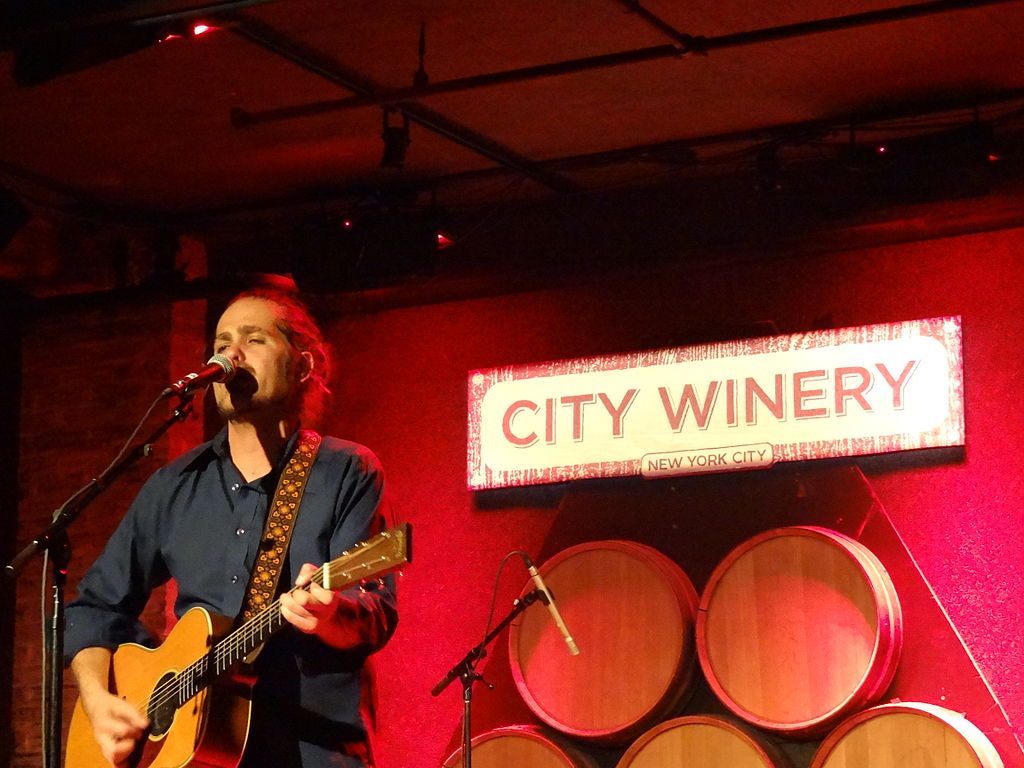 Wine and music have an intrinsic connection for many reasons. To list a few, they both get into your gut and affect your mood, wine festivals (as in festivals that primarily feature wine and music) are becoming more commonplace, and wine bars often have live jazz music. In fact, The Birth of Cool was popularized by Cabernet Sauvignon. Not really, but this is nonetheless relevant because recent research suggests music changes the way you taste wine.[i] Music even has implications for winemakers. Paradiso di Frassina and DeMorgenzon wineries, for example, are firm believers that playing music to their grapes prevents pests and improves growth. As Jancis Robinson once said, wine is about the concept of authorship. You can pick up a bottle off the shelf, look at the label, and immediately see where it comes from, when it was made, and try to make meaning out of it. The same goes for music, it is just on the back of an album. Put the wine and music together and you have a harmonious occasion.
Casal Ventozela Vinho Verde and Rainha Ginga
This wine is meant for easy drinking with friends. Usually Vinho Verde is a blend of the main grape varietals of the Alentejo region in Portugal and can be rather dull. However the wine of Casal Ventozela dismantles this construct. Their single varietal Vinho Verde features Loureiro from the northwest of Portugal, which offers highly aromatic notes of citrus and laurel. Perfect to kick off spring and outdoor celebration, this wine is a chum. To see our interview with Pedro Campos, the winemaker, follow this link:https://grapecollective.com/articles/pedro-campos-casal-ventozela
Waldemar Bastos, the Angolan-raised and Portuguese-based singer/songwriter, is also known for dismantling constructs. He grew up under colonialism, was briefly imprisoned by Portuguese authorities for his anti-government views, and in sight of other musical artists being murdered, he fled Angola. Bastos traveled throughout the Soviet bloc, performing in in Poland, Czechoslavakia, Cuba, and the former Soviet Union; something no one in his position had ever done before. Bastos briefly lived in Brazil and France, but eventually relocated to Portugal to make his international debut in 1998. One of his most famous songs, "Rainha Ginga", pays tribute to his upbringing with love, not contempt. Bastos describes the most beautiful woman of his land, (Queen) Ginga, and humbly admits:
I have no poem
To sing to you
I only have the
Rhythm to give
To you
Even when faced with hardship, we must learn to discover anew. For many, spring is the marker of new growth. Vinho Verde alongside "Rainha Ginga" helps facilitate such moments.
Olga Raffault Chinon Les Picasses and Sketches of Spain
Cabernet Franc from Chinon in the Loire Valley is classic, and Olga Raffault is a legend. Famously, Olga Raffault started the domaine over sixty years ago and championed organic farming techniques. Her Cabernet Francs have consistently been celebrated with enthusiasm ever since. Les Picasses is among the most prestigious vineyards of Chinon, habitually displaying the terroir with undoubted excellence. Traditional winemaking at this estate means grapes are hand picked, fermented in stainless-steel vats, and then aged in a large neutral oak barrel, sometimes customary chestnut, for two to three years. The more than 50-years-old vines yield wine that is dark berry fruit, has a smoky and earthy character, with soft tannins, suitable structural acidity, and mineral complexity. Her wines could be considered France's benchmark Cabernet Franc – they are that good.
Another masterpiece of modern art is Miles Davis' Sketches of Spain. The work was originally intended to be just a cover of "Concierto de Aranjuez", a classical composition for Spanish guitar, but evolved to be an entire album grounded in Spanish folk tradition. It opens with Davis on the flügelhorn modulated by a Harmon mute, which creates sounds of brilliant iridescence. Also noteworthy, "Solea", one of the most outstanding technical solos of Davis' career, conceptually tells an Andalusian narrative about a woman encountering a procession taking Christ to Calvary. The Rolling Stone Album Guide calls it "a work of unparalleled grace and lyricism".[ii] The album was also ranked 358 among Rolling Stone's list of the 500 greatest albums of all time.[iii]
Both Olga Raffault Chinon Les Picasses and Sketches of Spain are excellent representations of human craft informed by history and culture. The difference between them being this: the terroir of the former shines through grapes, while that of the latter through tunes.
Castello di Verduno Basadone Pelaverga and Io Che Non Vivo (Senza Te)
Pelaverga is an indigenous grape belonging to the village of Verduno in Piedmont. On the northwest edge of Barolo territory, growers have resisted temptation to eradicate vines of Pelaverga for the more profitable Nebbiolo. Borolo is made from the Nebbiolo grape and is known to be among the greatest of Italian wines. So why settle for anything less?
Because Pelaverga is enchanting, it has grown in popularity. Pelaverga tends to be soft with a delicate bouquet of bright red fruit and spice. If Pelaverga was a lover, it would be Agape. Borrowed from ancient Greek thought, Agape lovers are unselfish and more focused on giving rather than receiving. With unconditional love, Pelaverga will lure you in, make an admirer out of you, and transform you into an affectionate companion.
Pelaverga is reminiscent of love in more ways than one. The grape varietal is known as 'Basadone' in local dialect, which means 'Baci donne' in official Italian and 'Kiss women' in English. Locals claim that Pelaverga bears this name in Verduno because of its aphrodisiac qualities.
Pino Donaggio's selfless "Io che non vivo (senza te)" or "You Don't Have to Say You Love Me" in English is a seamless match. "Io che non vivo (senza te)" was first introduced at the 15th edition of the Sanremo Music Festival by Pino Donaggio and since it has been translated into dozens of languages and covered too many times to keep count. Indeed, "Io che non vivo (senza te)" is universal in its message. The song is supple, yet lively; composed, yet displays moments of raw emotion. The same can be said of Pelaverga. Simply put, "Io che non vivo (senza te)" together with Pelaverga is endearing.
---
[i]http://flavourjournal.biomedcentral.com/articles/10.1186/s13411-015-0043-z
[ii] Considine, J.D. (2004). "Miles Davis". The New Rolling Stone Album Guide. pp. 214–217.
[iii]http://www.rollingstone.com/music/lists/500-greatest-albums-of-all-time-20120531/elton-john-honky-chateau-20120524