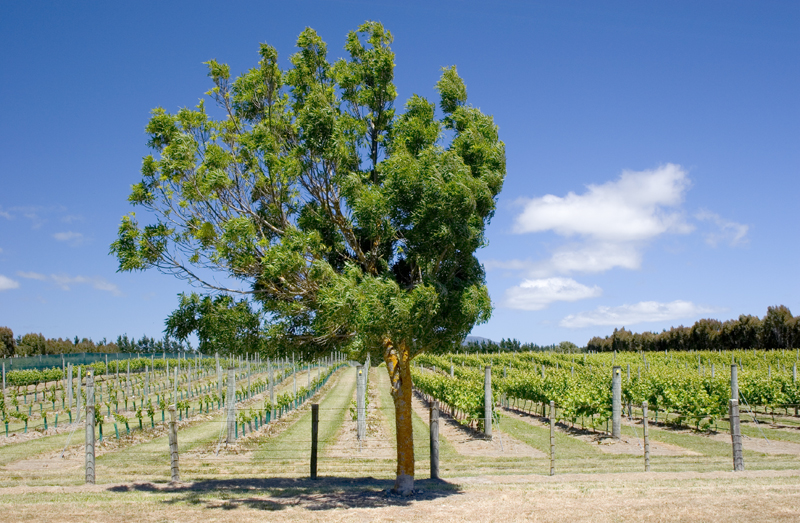 Marlborough, New Zealand, lies at the north end of the country's South Island, which developed a reputation starting in the mid-1980s with Sauvignon Blanc. But across Cook Strait, another "borough"—Martinborough--was making waves with a far more difficult grape, Pinot Noir.
While Marlborough attracted money and big projects, Martinborough was and is still primarily a home for small boutique wineries. A handful of pioneers began planting vines there at the end of the 1970s: Neil McCallum in 1979, Larry McKenna in 1980, quickly followed by a handful of others. McCallum has since retired, and McKenna moved on from his first project, Martinborough Vineyard, to found Escarpment in 1998. A change of name, but it's no mistake that together the two wineries' names – Martinborough Escarpment - sum up the area's identity and most relevant geographical feature.
The region around Martinborough, Wairarapa, also grows notable wines, but Martinborough stands out because it "stands up." The (one-horse) town and its vineyards are elevated on an escarpment that overlooks the surrounding area. That creates drainage, so the vines' roots go deep for water, lending concentration and focus to the wines.
Not that the area sees a lot of water in the first place. Mountains to the west act as a rain shield, making Martinborough the winegrowing region with the lowest rainfall (and with that, lots of ripening sunshine) in the country.
McKenna was a leader in singling out Pinot Noir as the area's signature grape, basing his decision on a 1978 scientific study that said Martinborough resembled the conditions in Burgundy, Pinot's French home, more than any other place in New Zealand. The soils may be different – gravel rather limestone – but the terrace offered conditions similar to Burgundy's hillsides. Burgundy's is a continental climate, cooled by its latitude; Martinborough, open to the south to Palliser Bay, is maritime, cooled by winds of the chilly South Pacific (that of Antarctica, not Tahiti). Sunny, but not too warm: great for Pinot.
Other parts of New Zealand have also embraced Pinot Noir, including Marlborough, planting it alongside the ubiquitous Sauvignon Blanc vines, but Martinborough's Pinots remain distinctive in terms of quality and style. While still elegant, they typically possess a power and complexity that singles them out. Their fruit aromas are darker, and an earthy character comes through more readily, than in other parts of the country. Instead of the mushroom-y tones that characterize many Burgundies, Martinborough Pinots lean toward notes of meat and game.
For most wine regions of the New World, the process of discovering which varietals are best suited for growing takes years of trial and error; Martinborough is the rare one that got it right straight out of the gate.
Jim Clarke is a wine and beer writer and sommelier based in New York City. He writes for a number of trade and consumer magazines including the World of Fine Wine, Sommelier Journal, and Wine Enthusiast.