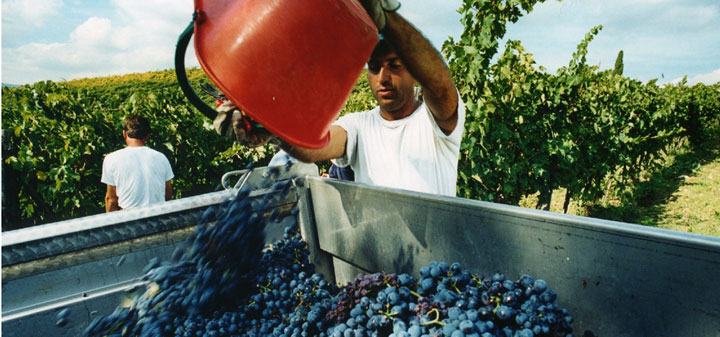 Chianti is probably the most recognizable Italian wine variety in the States. Even as a college student, well before I learned anything about wine, I knew enough to correct a misguided friend who asked for "chee-yan-tee."
Chianti continues to be affordable, and can taste like it: The wine's defining characteristic is the Sangiovese grape, but regulations continue to change in response to market demands, so its stylistic variety—and variable quality—make it an unsafe bet without knowing the producer beforehand. But for those who know where to look, the genre holds great values.
Chianti Classico is the original region, nestled in between Florence in the north and Siena in the south. Today it's surrounded by a number of Chianti sub-regions like Chianti Rufina and Chianti Colli Senesi. Some of these are producing high-quality wines—even some wines labeled with the general "Chianti" designation, made from grapes grown in multiple sub-zones, can be enjoyable--but Chianti Classico remains home to the majority of the best Chianti wines.
All Chianti Classicos must be 80 to 100 percent Sangiovese. Traditionally it might be blended with Colorino (for color) or Canaiolo (for softer tannins and fruitiness), but neither of these is prone to hide Sangiovese's basic character: light color, mellow but drying tannins, and firm acidity, with a mix of cherry and earthy notes. More recently, producers have blended with so-called "international varieties" like Merlot and Cabernet Sauvignon in an attempt to play to American palates. But these versions tend to overwhelm the Sangiovese, resulting in a darker wine and rounder, riper dark fruit, instead of the light to medium-bodied, food-friendly wines that the Chianti is known for.
Even pure Sangiovese expressions can differ vastly. More so than some varieties, the grape is very responsive to local conditions, and in Chianti those conditions are tremendously diverse. Across those iconic rolling hills of Tuscany, slopes, sun exposure, altitude, and soil types vary a lot. Growers today are matching the many Sangiovese clones and winegrowing techniques to individual sites, rather than treating each vineyard in cookie-cutter fashion, promising a new golden age for the wines of Chianti. Instead of trying to dress up Sangiovese with other grapes, they're working harder on growing the best Sangiovese, and making the best Chianti, they can.
Jim Clarke is a wine and beer writer and sommelier based in New York City. He writes for a number of trade and consumer magazines including the World of Fine Wine, Sommelier Journal, and Wine Enthusiast.