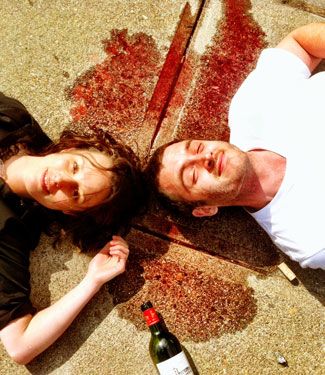 Chef Tony Maws consistently draws accolades for the bold nose-to-tail tasting menus and meaty brunches he serves at Craigie on Main, his local-ingredient-loving restaurant just off Cambridge's Central Square. But the wine list, presided over by general manager Carl York and Emily Larkins, is just as eclectic—expansive, playful, and at turns, obscure.
What He Seeks in Wine: "The most important thing to me is someone wanting to get to the bottom of their glass, the bottle, or whatever it is they are drinking. I also have a crazy thing for wine that's old and smells like mushrooms and smoke. If I can taste it forty-five seconds later, if my mouth is still watering and the flavors run and run and run forever, I'll think about it all day long."
What She Seeks in Wine: "I am especially enamored of those bottles with energy, brightness, and zest. Energy comes from acidity and this, beyond all other aspects of the structure, is the most important factor to consider in relation to the rest of the wine's composition."
His Aha Moment: "When I studied abroad in college, the thing that resonated with me the most—besides how beautiful Avignon was—was the culture of being at dining room tables with wine and food for hours."
Her Aha Moment: "I studied Art History and Business in college. Art history appealed to the traveler, artist, and free-spirited side of me, while the business education was a necessary but complementary aspect to my development. When I started out as a server, I became fascinated with the culture and history of the wine I was selling, and I also enjoyed the game of selling. I found the intersection I was looking for."
One of His Favorite Pairings: "I prefer to sit with a bottle of wine for hours, rather than encounter multiple tiny pours over the course of a meal. If you want to know what two things that, when paired together, will remove me from any sort of social moment and leave me ignoring my surroundings, it's probably old SGN Gewürztraminer and pungent washed-rind cheese like Vacherin Mont d'Or."
One of Her Favorite Pairings: "I'm glad you didn't ask me to name a perfect pairing because then I'd have to go on a rant about how they don't exist and that too many people need constant heightening stimulation—and why that disrespects really good wine. That being said, I recently had an oyster, leek, and potato chowder with hackleback roe that was absolutely delicious next to René Geoffroy's 2006 Les Empreinte Champagne."
His Most Memorable Vineyard Visit: "For weirdness, it is western Washington: never-ending desert with huge green squares of vineyard set on hillsides."
Her Most Memorable Vineyard Visit: "I stayed on a farm in Blenheim, New Zealand, for a couple of weeks, and found myself living among a German winemaker, a Spanish winemaker, and a wine chemist from Moldova. They were all spending a harvest in New Zealand, trying to learn something that would add to their understanding of the craft. I knew nothing about wine except that it could be delicious, and they were experts. I never felt the prejudice, snobbery, or pretension that so many wine novices can experience when they go into a restaurant or wine shop."
Alia Akkam is a New York-based writer and editor covering food, drink, design and culture.