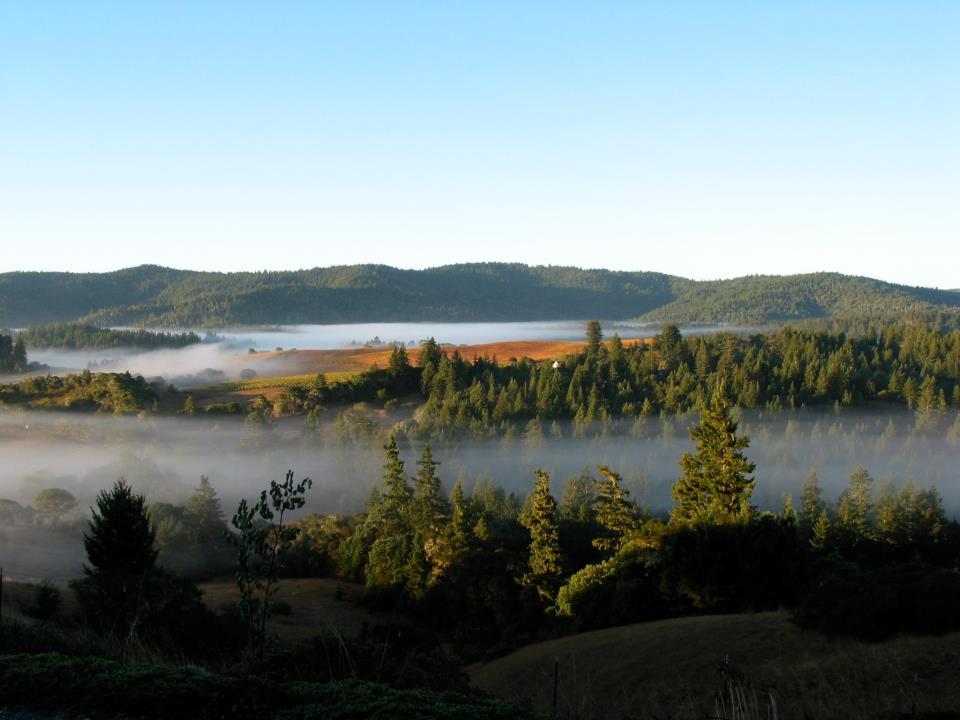 As you drive north from San Francisco, wine tourism of the white tablecloth, luxury resort variety plays itself out somewhere just past Healdsburg. The grapevines don't know that, though, and if you follow Route 128 over the Yorkville Highlands you'll find yourself in Boonville, the start of the Anderson Valley--California's cool climate secret.
Anderson Valley isn't a big player – its 2,200 acres of vineyards are dwarfed by Sonoma Valley's 60,000 – but it's in the right place. The valley's narrow shape draws in fog from the Pacific, yielding chilly evenings and mornings – the sun has to burn off the fog before it can warm up the vines. Many of the vineyards are on the hillsides, too; an 1,000-foot elevation cools things often, even in sunshine, and the slopes make for good drainage.
(map via Handley Estates)
Pinot Noir is one of a handful of red wine grapes that like it cool, so it's found a successful home here. While some California Pinot Noirs have grown riper and riper, with higher alcohols and dark fruit aromas, Anderson Valley continues to produce light- to medium-bodied Pinots with classic red fruit tones and enduring elegance and grace. Chardonnay, Pinot Noir's usual white companion, also grows well here, and shows the same sort of restraint.
But it's the Gewurztraminer grape that has really taken hold. In fact, "Anderson Valley Gewurztraminer" should roll off the tongue as easily as "Napa Valley Cab" does. (Okay, that may be asking a lot from a word like Gewurztraminer, but you get the idea.) Most of the valley's Gewurztraminers show the grape's signature floral and lychee aromas, but local wineries tend to pick early enough to make dry, fresh wines instead of the richer style often found in Alsace. (For that matter, Alsace's other popular varieties, Riesling and Pinot Gris, also do well here.)
There are only twenty-five wineries in Anderson Valley, and most are boutique projects with smaller yields. But the Valley's reach has expanded into other AVAs. Some of neighboring Sonoma Valley's top producers, including Lioco, Copain and Littorai, have fallen hard for Anderson Valley fruit, and frequently buy grapes to vinify under their labels.
Obviously they know a cool thing when they see it.