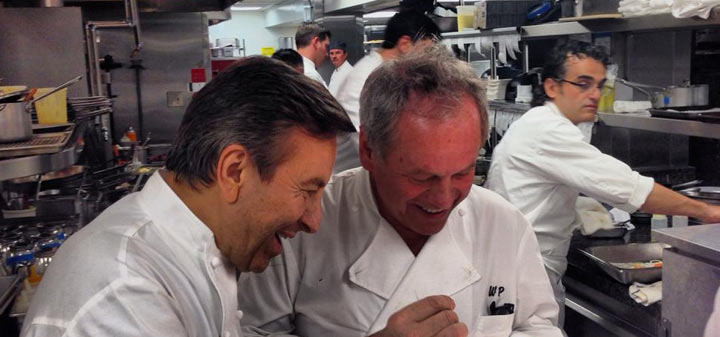 If Food Network is looking for an idea for a new show, I have a suggestion: "Superstar Chefs' Smackdown." It's a concept with great potential, which I base entirely on my recent evening at Los Angeles's posh Hotel Bel-Air. Since the multi-million dollar renovation of the property two years ago, the executive chef has been none other than Wolfgang Puck. In October he asked a friend passing through town on a cookbook tour to cook there with him, and that chef turned out to be none other than Manhattan's Daniel Boulud.
These two culinary masters are great friends, but that doesn't mean that they don't try to outdo each other, just a little bit. As the host chef, Wolfgang took the reins and did four of the seven courses, leaving Daniel to cover the remaining three. It was a little like being on the best date ever with two competing potential boyfriends, if they were also among the best cooks in the world.
Bel-Air Food & Beverage Director Stephane Lacroix did a superb job of pairing wines with the dueling dishes. Interestingly, all of the wines were from the Ca' del Bosco winery in Italy's, since owner Maurizio Zanella was also in attendance--a happy accident if there ever was one. According to Lacroix, "Both Chef Daniel and Chef Wolfgang are quite fond of Zanella's wines, and all three of them share the same philosophy: Sustainable ingredients that express their site and provide guests with a unique experience."
So with Puck's smoked chicken liver "pastrami" and white truffle "Toad in the Hole" came a crisp sparkler, the Cuvee Prestige, while the 1994 Cuvee Annamaria Clementi was a wonderful counterpoint to Boulud's caraway-crusted snapper with Osetra caviar in a cucumber dill broth. We switched to a 2009 Chardonnay for Puck's Santa Barbara spot prawn done with Thai overtones; Boulud countered with a slow-baked turbot with a cauliflower gratin, Romanesco sauce and a sprinkling of Marcona almonds. The 2007 Pinero was ideal with that.
Two of Zanella's celebrated Rosso del Sebino wines came out with meatier dishes: A 2006 with Puck's sweetbread-stuffed roast quail garnished with more white truffles, some Jerusalem artichokes and Brussels sprouts, a fantastic fall dish. Boulud's team rallied with a duo of beef--braised Black Angus short ribs and seared Wagyu tenderloin with porcini and a chermoula-spiced carrot puree—served alongside the 1997 vintage.
Those of us still able to lift a fork at that point (I'm well trained, after all) rallied for Puck's final flourish: Petite Scotch whiskey chocolate cakes with "popcorn" sherbet punctuated by actual airy kernels.
Daniel Boulud had his say here, too, though, since he selected the pairing for this course, not a wine but a single malt scotch from The Dalmore. Lacroix explained that Boulud had been involved in creating this special blend at the distillery, and that "it has been aged in Muscatel, Madeira, and Port barrels." It was indeed smooth and complex, displaying, as Lacroix put it, "notes of honey, spice, and chocolate," which so nicely matched the ingredients in Puck's little cakes.
At this point it was either surrender or see if the Bel-Air had a room for the night. I chose the former, and finished the evening with a brief stroll around the hotel's gorgeous manicured gardens. After all, I had to walk off some of the calories if I'm going to co-star in this new TV series as the official taster. (I mean, it is my idea.) I just hope Food Network gives me a gym allowance.
WHAT A PRO RECOMMENDS:
Bel-Air Food & Beverage Director Stephane Lacroix knows that man (and woman) cannot live by Ca' del Bosco alone. We asked him for some other choice picks from wineries around the world. Here, the crib sheet:
Kingston Family Vineyards, Casablanca Valley, Chile: "Great Sauvignon Blanc, Pinot Noir, and Syrah."
Walter Hansel Winery, Sonoma, California: "Elegant Pinot Noir, Sauvignon Blanc, and Chardonnay at a great price."
Domaine Baumard, Loire Valley, France: "Outstanding Cremant de Loire, Dry Savennieres, stunning sweet Coteaux du Layon and Anjou Rouge."
Barbara Fairchild is a nationally recognized culinary authority with more than 30 years of experience in food journalism.