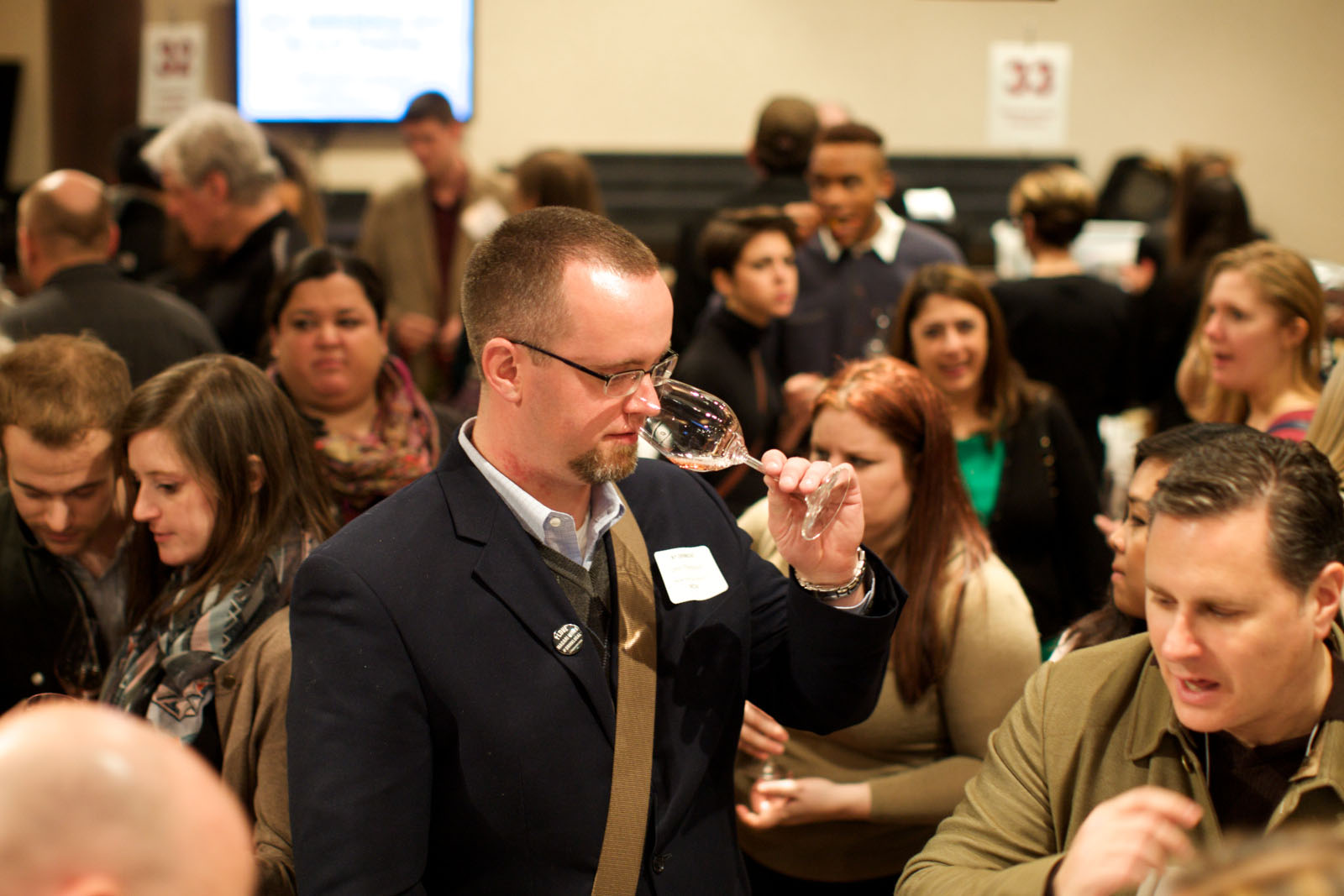 If you're looking for an advocate of the "Drink Local" ethos, put Lenn Thompson of New York Cork Report high on your list of people to know. In our latest SpeakEasy interview, we chat with Thompson about a camp for local wine lovers, the pleasures of Finger Lakes Riesling, beer, and a quick side trip to California by wine glass.
You're the VP of Drink Local Wine's Board of Directors. Can you tell me about your Taste Camp event coming up in October in the Hudson Valley? What makes the region--and the event--unique?
This will be our 6th TasteCamp event and the first with Drink Local Wine as the lead partner. The concept of TasteCamp has always been a fairly simple one – to immerse a relatively small group (typically around 40 people) in a wine region that is new to them through a series of tastings, winery visits and vineyard walks.
The first-ever TasteCamp grew out of my experience at the very first Wine Bloggers Conference out in Santa Rosa, CA. My favorite parts were the locally focused things – the vineyard walks, the in-depth tastings of local wines (rather than the big outside sponsors) and the time spent with the other writers in between the formal events. I like to say that we took the best parts of WBC and kept the sponsorship creep out of it.
TasteCamp isn't a junket though. Attendees pay their own way – travel, hotel, meals – though we do accept local sponsorships to help defray those costs as much as we can. I feel like that ensures that the people who are coming are truly interested in the region and are open minded about it.
How are the Rieslings of the Finger Lakes distinct? And what other grapes, red and white, do you recommend people explore?
I could compare Finger Lakes Riesling to those from German, Alsace or wherever – but I don't like to make those sorts of comparisons. Finger Lakes Rieslings stand out because they are Finger Lakes Rieslings and they are delicious.
The fact is that the prevailing style is still very much up for debate. You'll find everything from austere dry renditions to labor intensive, TBA-style wines and every style in between. Some of the dry Rieslings suffer from what I call "lemon water syndrome." They are tart and refreshing, but there just isn't much else there. Little concentration or complexity.
In general, I think the wines with a bit more residual sugar (even if it's only 10 grams or so) express the region better. Over the past few years, a richer, sometimes significantly sweeter style has emerged as well, often with low alcohol as well. The one thing that all the best wines, regardless of style, seem to have is nervy acidity.
The region has certainly earned its place as America's premier Riesling region, but Riesling isn't the only show in town. There are some outstanding sparkling wines being made. Same with Gewürztraminer. Many don't think that it's warm enough in the Finger Lakes to do reds well, but that's an uneducated opinion. In the right spots, with the right clones and with the right hand in the cellar, Pinot Noir can be outstanding. One of my favorite grapes, though it's perhaps not as "noble" as other red grapes, is Blaufrankisch. Some of the best that I've tasted have been from the Finger Lakes – even if they call it Lemberger, unfortunately.
You seem to be drinking a lot of (local) beer in addition to wine. How is your appreciation of beer different than wine? Do you find that it makes you look at wine differently? What could wine producers learn from beer producers?
One of the things I like best about beer is the single-serving packaging – not that I only have one, typically. Honestly though, I drink a fair amount of beer because I don't write about beer. Most any wine that I drink, I'm hyper-focused on it. I'm swirling. I'm sipping. I'm taking notes – either on paper or in my head. As much as I love wine, I sometimes can't step back from the analysis and critique mindset. Beer is different. I can drink it, enjoy it and not feel any pressure to speak intelligently about the experience.
It does remind me of the simple joy of drinking wine too, though. It's a good reminder that not every beverage needs to be dissected and picked apart, teasing out some greater terroir or meaning. It's okay to just drink with friends and be happy.
GET A TASTE OF THOMPSON'S TOP TEN DESTINATIONS WHEN IT COMES EATING AND DRINKING ON LONG ISLAND.
What can wine producers learn from beer producers?
I love the whole collaboration ale phenomenon going on in the craft beer world right now. Breweries that are competing for my business are actually working together to make new, interesting beers. I don't necessarily want wineries to work together on wines, but the idea of working together, not acting as competitors all the time on your individual island, is appealing. I don't see that level of cooperation in the wine world, generally.
Speaking of beer, you also use the app Untappd to "check in" the beers you enjoy. What are your thoughts on beer and wine apps? How can everyone from a consumer to an industry geek benefit from using them? What are they missing?
I'm actually a bit torn about Untappd right now – mostly because Delectable can recognize beer labels now. I'm slowly moving beyond Untappd and putting everything into Delectable now.

I like Delectable because it's easy to enter things – what's easier than taking a picture? – and it's a way for me to keep track of my tasting notes while also sharing it with my readers, friends and beyond. I've thought about moving all of my tasting notes entirely to Delectable, but I haven't made that leap yet. It might happen though.
In non-local wine news, you recently co-hosted a wine dinner with Randall Grahm at Brewology. Talk about the experience of meeting him, what you learned, and how what he's doing with his wine (and cider) fit in with the local ethos.
I've known Randall for years via social media and we have two of his wines on the list at the restaurant where I consult. It was a pleasure to finally meet him in person and spend an evening tasting through some of his wines, in context, with food, and listen to him talk about his winemaking philosophy and the wines themselves.
He spoke a lot about making wines of terroir and then admitted (I hate to use that word, but I think it fits) that while his wines are pretty good, he hasn't made wines of terroir yet. That was the nugget for me. Many local winemakers talk about terroir very early in their region's existence – perhaps for marketing reasons – and yet here is a well-known winemaker who is frankly a marketing genius – say that he's not captured it quiet yet.
Enjoy all of our SpeakEasy interviews:
Follow Grape Collective 's board SpeakEasy: Interviews with Wine Writers on Pinterest.