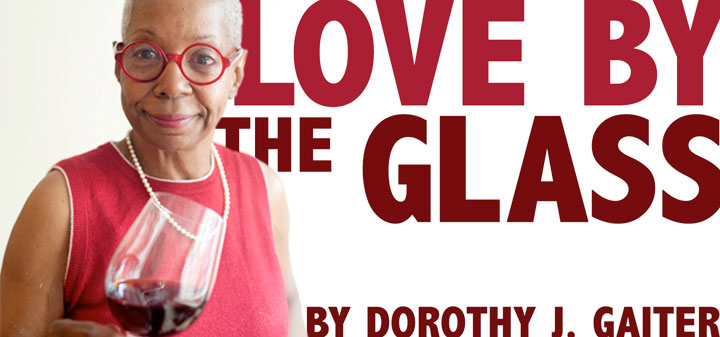 I got a nudge the other day that I'd better get cracking with plans for the next Open That Bottle Night, which occurs this year on Feb. 27. As it was last time, it'll be an open-to-the-public celebration at A Café, a bistro on the Upper West Side of Manhattan.
When John and I invented OTBN in 1999, about a year into our nearly 12-year run as The Wall Street Journal's wine columnists, we had no idea it would take off and become an international celebration. We were merely responding to a need that readers had.
Not a week went by that we didn't get a letter from someone telling us about a wine they'd had for a long time and asking when it would be at the peak of aged perfection. Sometimes the wine had been brought back from a marvelous vacation. Sometimes, it had been the gift of a departed relative or friend; the last bottle of Champagne from a long-ago wedding; or won at an auction. In one instance, the wine was from a case a mother had bought for her son's wedding and many years had passed without him getting close to getting hitched – she was ready to drink!
We answered all of these queries with the same advice throughout the year: Prepare a special meal on Saturday (in effect, any Saturday), gather some loved ones, and open the bottle. Talk about what the wine means to you. Share it. That will be the wine's peak moment.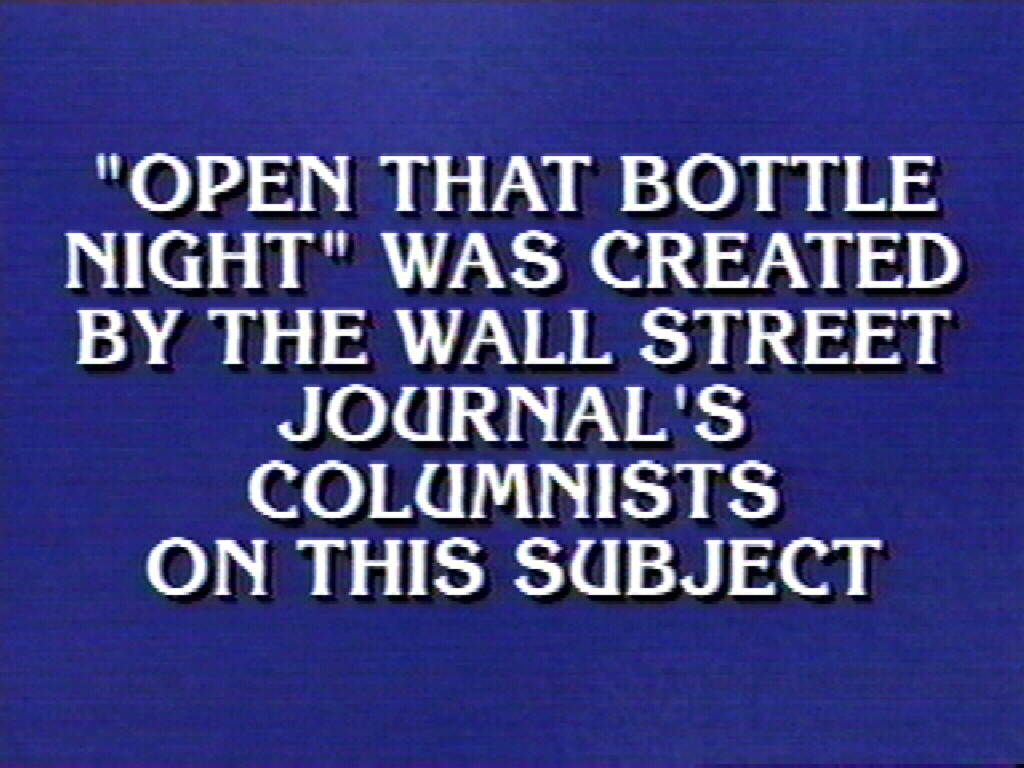 One day, it occurred to us that since so many people had the same question, we should just set a date when, with the courage of many, we would all open those special bottles. It's the last Saturday in February. (We, like so many wine lovers, also have our share of wines that have become too special to open. It happens.) Of course, every day should be Open That Bottle Night, but sometimes having an occasion helps, especially when the wine has deep significance for you.
Since we founded it, OTBN has become the signature fund-raising event for charities and the answer to a Jeopardy! question; restaurants have waived their corkage for the night; wine stores have partnered with restaurants for galas; rabbis and pastors have used it to bind their congregations. It's a lovely way to remind people to celebrate loved ones and life and the memories in the bottle. Here's the account from readers of the very first OTBN:
The nudge I received last week was from John B. Donovan, who writes about wine as Julien's Journal's Wine Guy in Dubuque, Iowa. Julien's Journal is a monthly magazine that's sold by subscription and by many stores throughout Dubuque. The Julien in the title is Julien Dubuque (1762 -1810), thought to be the first permanent white settler in the region, which was then named after him.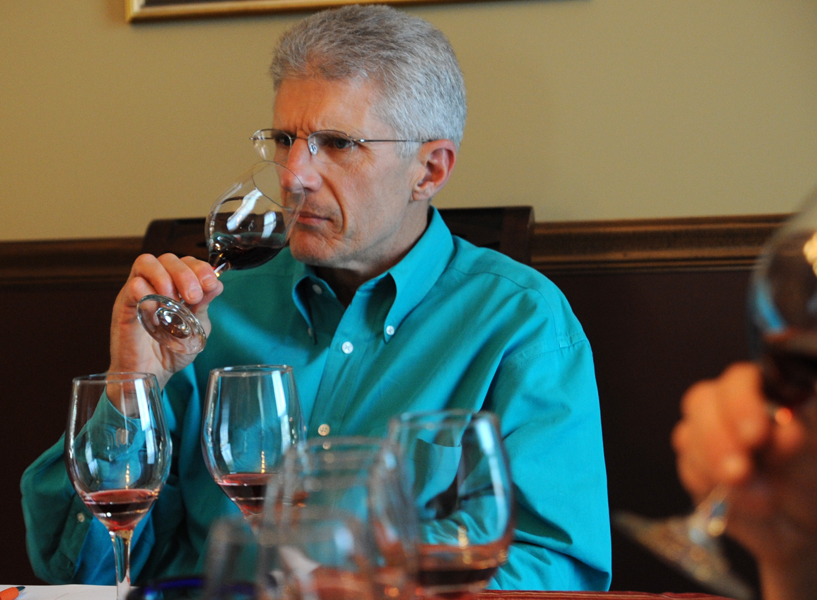 Donovan (photo right) is the executive director of the Dubuque Mercy Health Foundation, which raises money to support the Dubuque Mercy Medical Center's program and charitable needs. "I'm 67, Dorothy, and I'm still making a difference. It invigorates me to come to work. I absolutely love what I do," he told me when I called him a few days ago. In addition to helping people, one of his passions is wine.
I had dropped him a note in 2014 when I read that he was organizing what he thought was the first official OTBN in Dubuque. About two dozen people attended that celebration, in the basement of Chocolaterie Stam, a chocolate shop on Main Street, he said. Last year, he was in Winterberg, Germany on OTBN. This year, he's having an invitation-only OTBN and his list is at about 20 people. When we talked the other day, he hadn't decided between two wines: a 2004 Barnard Griffin Cabernet Sauvignon Partner's Reserve (Sagemoor Vineyard) from Barnard Griffin Winery in Richland, Washington; and a 2013 Sandhi Sanford & Benedict Pinot Noir, Sta. Rita Hills, from Sandhi Wines, which I wrote about last year.
Several years ago, he walked into a tasting at the Barnard Griffin Winery, not knowing it was only for members of the wine club. Gracious, they handed him a glass of wine and the rest is history. " I still get chills thinking of that first sip," he wrote me, adding on the phone that he bought a few bottles home and is down to this last one.
Of the 2013 Sandhi Sta. Rita Hills Pinot Noir, he wrote, "I was not a big fan of Pinot until the very first sniff and taste of this wine. It so turned my wine world around."
John and I haven't begun to think about which wines we'll open that night, but I've confirmed the location, which was so much fun last year. A Café, at 973 Columbus Avenue between 107th and 108th streets, has been our go-to BYOB place for years (acafeny.com). It has a $25 prix fixe menu, from 6 pm to 8 p.m., and never has a corkage fee. The food is organic French-Caribbean and always goes well with the special bottles we bring. (Sometimes, diners have come not knowing it's BYOB and Al, the manager, sends them to wine stores in the neighborhood. The Grape Collective's retail wine store is at 2669 Broadway at 102nd Street.)
So on Feb. 27, John and I will be at A Café from 7 until around 9:15 and we'd love to meet you, share our wines with you and hear about your wine. It doesn't have to be old or expensive, just special to you. For reservations, call Al, who manages A Café's sweet, art-filled dining room and provides the perfect playlist, 212-222-2033. Tell him you're reserving for Open That Bottle Night or email him at [email protected]. He's also the guy who will take your payment.
Hope to see you there!