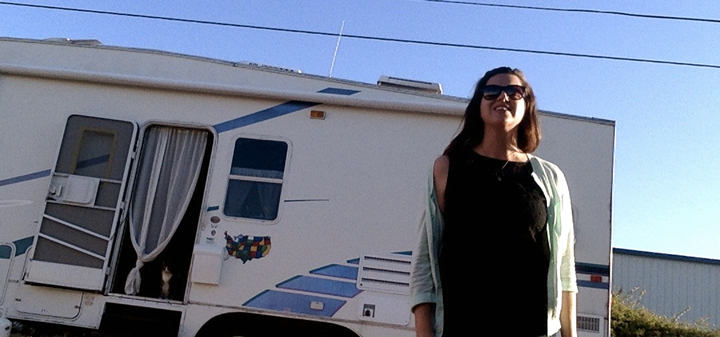 Editor's Note: Vardo in the Vineyard is a series following Amy Tsaykel's life as she resides in an RV parked atop a vineyard in Sonoma County.
"The very essence of romance is uncertainty." - Oscar Wilde, The Importance of Being Earnest
When I was 23 years old — long before I had put my lips to a proper Pinot — I had a summer fling with Rasmus, a dashing news editor who lived under a bridge. (Did I just say he lived under a bridge? I did. He did.) Rasmus and I met working at the local bookstore, and one day he brought me fancy chocolate and invited me to see "A Midnight Summer's Dream." It was all pretty romantic.
Operating from a sizable trust fund, my suitor was researching voluntary simplicity. His gritty, pared-down lifestyle made him wildly appealing; don't we each romanticize, just a little?
Here in Sonoma County, city folk migrate in increasing numbers. Emerging from the smog and asphalt, urbanites are eager to get dirty in a different way: they dream of a quiet cottage with a few acres of garden; or, they invest in a chateau and a multimillion-dollar vineyard. Inevitably, they all dream of making wine.
Why? Rural life is surely a simpler life and winemaking is the dream. "Small farms are, it seems, the new black," writes Tamar Haspel in the Huffington Post.
Hang onto that romance, neighbors. Come harvest season, you might need it.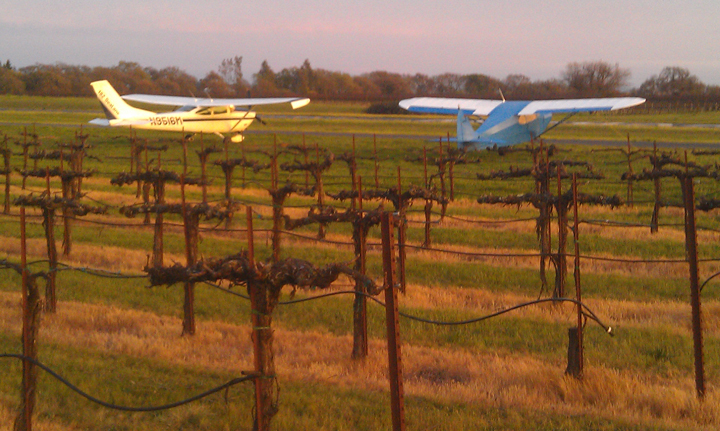 When I came from San Francisco to Sonoma County six years ago, I, too, was lured by greener grass — five rustic acres of it, complete with a hot tub beneath redwoods. I was seeking quietude, and found it. I soon began working at a local winery, which I now help operate. Life seemed nearly idyllic. If you'd told me then that I'd leave that idyllic plot to live in a 35-foot RV trailer, I wouldn't have believed you.
Yes, I live in a trailer. It is not the cute, retro kind you might have seen in Sunset Magazine. When it came to me (a true gift), it looked similar to something you'd see parked at Sonoma Raceway, perhaps outfitted with a double cooler of Bud Light. Slowly, and with some uncertainty, I am renovating and transforming the trailer. I am romancing the simple life.
In this era of tiny house mania, most reactions to my offbeat lifestyle choice are enthused: "I wanna see!" or "When's the trailer trash party?!" (Soon enough.) But no one asks how I kept myself warm when it was 20 degrees last winter and the heat failed. No one asks what I did when the toilet broke. (Don't.) No one asks how I clung to the slippery, wet trailer roof one stormy day to fix the maimed antenna.
But why should they? Isn't a little romance a good thing?
Certainly for me — and for many of my winemaking neighbors — a little romance has opened up a lot of possibilities. Embracing uncertainty has allowed me to celebrate unpredictability. Perhaps similarly, growers anticipate the weather each season.
For 15 years, Carolyn Coryelle grew Syrah on the remote Sonoma Coast. Carolyn, who had downsized her life as a Silicon Valley executive, spent her first few years on the property in a travel trailer. Of winegrowing, and of simple living, she says: "As I let go — of material stuff, expectations and more — I got lighter and doing new things got easier As my friend says, it's easier to ride the horse in the direction it's going... It's a great adventure!"
Perhaps masochistically, uncertainty is what I love most about harvest. As I walk the vines sampling grapes each year for my employer, I never know what to expect. What's the yield going to be this year? I don't know. When will the grapes ripen? I don't know. Why does this wine taste so... funky? Um, wow. I don't know.
Sometimes it's best not to know. This way, we stay curious and keen. My vardo (that's gypsy wagon, to the rest of you) in the vineyards has stories to tell, of wine, romance, and the simple life. Like any good story, isn't it best to let it all unfold slowly?
Meanwhile, share a drink with me.
House Wine
Tin Barn Vineyards "Joon" Rosé of Syrah Sonoma Coast, Coryelle Fields* comes from the very vineyard where Carolyn Coryelle first parked her trailer. Its name means "dear" in Farsi, with a nod to the legendary source of the Syrah grape in Iran. What could be more romantic? Read more about it here and purchase it here.
*I fully acknowledge that this is a shameless plug for my employer's wine. In future dispatches, I look forward to highlighting the work of my colleagues.