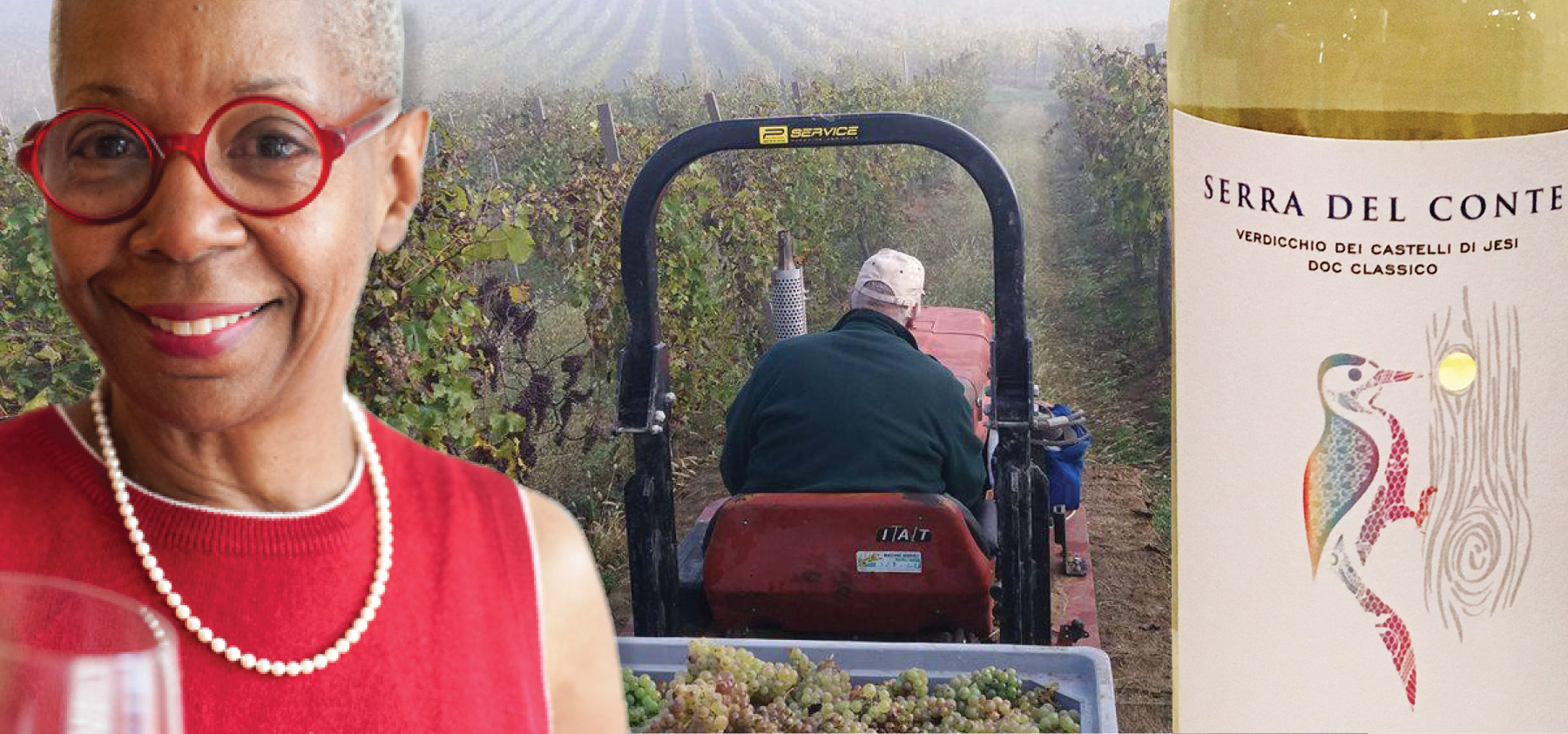 John remembers this as if it happened yesterday. Seriously. If we took his blood pressure while he recounted dinner at the now-closed Sweet's Seafood House at the South Street Seaport, we'd have proof that ordering a Verdicchio in the 1980s that came in a green, fish-shaped bottle really had scarred him. People actually snickered, he says.
Fortunately, that didn't put an end to our drinking Verdicchio, a dry, white Italian wine with high acidity, abundant earth and a pleasant, roasted-almond bitterness. If that sounds unusual, it is. It's been called the thinking person's Pinot Grigio and while I don't like that description—every wine can be made well—it can be somewhat challenging and not because of a strange-shaped bottle. (Those are mostly long gone.)
The Verdicchio grape is ancient and hails from the Le Marche region of central Italy, where it makes not only often ageable still wine but also sparklers and even passito, a dessert wine. The name comes from "green," as the wine can have a yellow-green hue. The two DOC zones for Verdicchio are mineral-rich Verdicchio di Matelica, which is inland near mountains bordering Umbria and reminds me of the heavy-metal band Metallica; and Verdicchio dei Castelli di Jesi, near the Adriatic Sea and which is the more famous of the two. The soils range from limestone to clay to sand, and the elevations and climates differ. According to lore, Hannibal's troops were so enamored of Verdicchio that the Romans they were attacking trounced them, thanks to the liquid assist. Several towns in Le Marche were gravely damaged by an earthquake last August.
A couple years ago, Falanghina, from southern Italy, was our House White. Occasionally we'd grab a Verdicchio, but it was largely a thing of the past that we now could smile about. Then, months ago, we had a 2014 Garofoli Verdicchio dei Castelli di Jesi Classico "Serra del Conte" DOC, $11, that made us take notice.
In our last broad blind tasting of Verdicchio for our column, Tastings, in The Wall Street Journal, in 2007, we'd written that while many wines say, "Look at me," Verdicchio says, "Hey, let's eat!"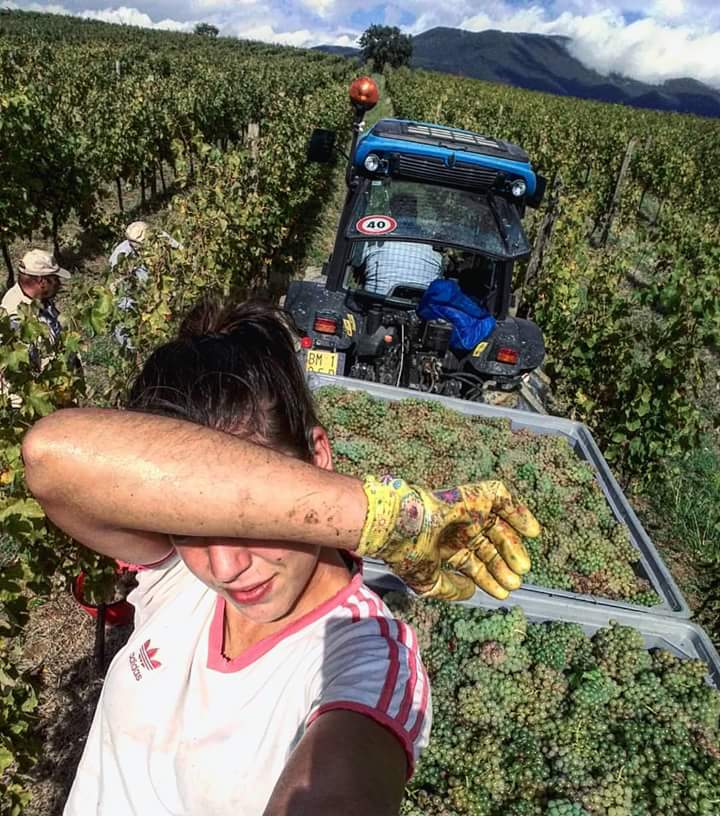 (Photo right the harvest at Cantine Belisario)
In this $11 wonder, while there was a sense of roundness, with juicy fruits, there was also an earthiness, a zesty acidity and nuts all in a light package that demanded food. Perfect with my eel and avocado rolls and John's awesome chicken dish. Garofoli's Serra del Conte label, 100% Verdicchio, all stainless steel production, is its drink-young line. Over the next few months, we had a few other Verdicchios, and they were good with a wide variety of foods, including red-sauce dishes.
Then last month, we had a 2013 Verdicchio Dei Castelli Di Jesi Classico Superiore "Podium" DOC, $25, again from Garofoli, again all Verdicchio, all-stainless steel. "Excellent, lots of character, easy to drink. Basil, sage, and citrus on an earthy foundation," we wrote in our notes. Thinking back over a couple years' experience, John said, "Verdicchio is reliable." Garofoli, established in 1871, is one of the oldest Verdicchio producers and is now led by fifth-generation family members.
Excited, John ordered more Verdicchio. The 2015 Cantine Belisario "Cabraccio" Verdicchio di Matelica DOC was a steal at $9.99. "Earth, almonds, honey, minerals, nice weight. This is a clean, beautifully made wine with an amazing acidity. Can age. A nice salad wine. How strange is that to say?" we wrote. Belisario, founded in 1971, is the largest producer of Verdicchio di Matelica DOC, according to its website.
Next we had the 2014 Fattoria Coroncino Gaiospino Verdicchio dei Castelli di Jesi Classico Superiore, $31.99. "Not a glass of wine at the bar. This is a serious food wine, a wine of presence. People who like cocktails, specifically martinis, would love this. There's a sense of complex elements, like aromatic herbs balanced with alcohol and fruit," we wrote. "Perfect with veal parmigiana."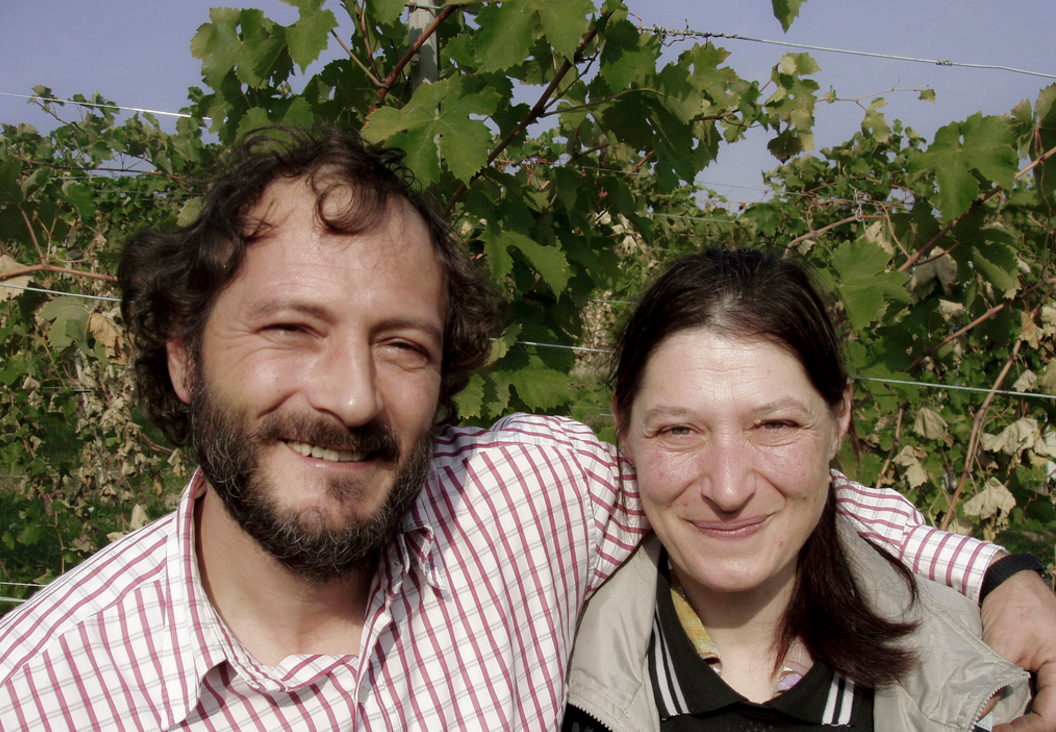 The Gaiospino, 100% Verdicchio, is Coroncino's flagship wine, and the winery's owners, Lucio Canestrari and wife Fiorella Di Nardo (photo left), recommend that it be decanted, I discovered too late. From 20% to 30% of the wine is oak-fermented and stays in contact with its lees until bottling, after about 18 months, the website states.
The owners of Coroncino, which was established in 1981 in the Jesi region, say Gaiospino can age for around five years. Well, get this: Last week John found the 2010 for $27.99. It was heavenly. It smelled of "sage, rosemary and cream," we wrote. It was dark gold with a lovely mouth-coating texture. If we had to guess, we might figure White Port or an aged Furmint (dry Tokaji Furmint) from Hungary.
"This is an example of why people need to be open to not just enjoying wine but to be fascinated by it," John said.
Wines, like so many things, go in and out of fashion. Sometimes popularity can lead to ruin. Sometimes a scarring event can put you off. If you're still making New Year's resolutions, resolve to reevaluate some of your long-held notions. It can be rewarding.
Dorothy J. Gaiter conceived and wrote The Wall Street Journal's wine column, "Tastings," from 1998 to 2010 with her husband, John Brecher. She has been tasting and studying wine since 1973. She has had a distinguished career in journalism as a reporter, editor, columnist and editorial writer at The Miami Herald and The New York Times as well as at The Journal.