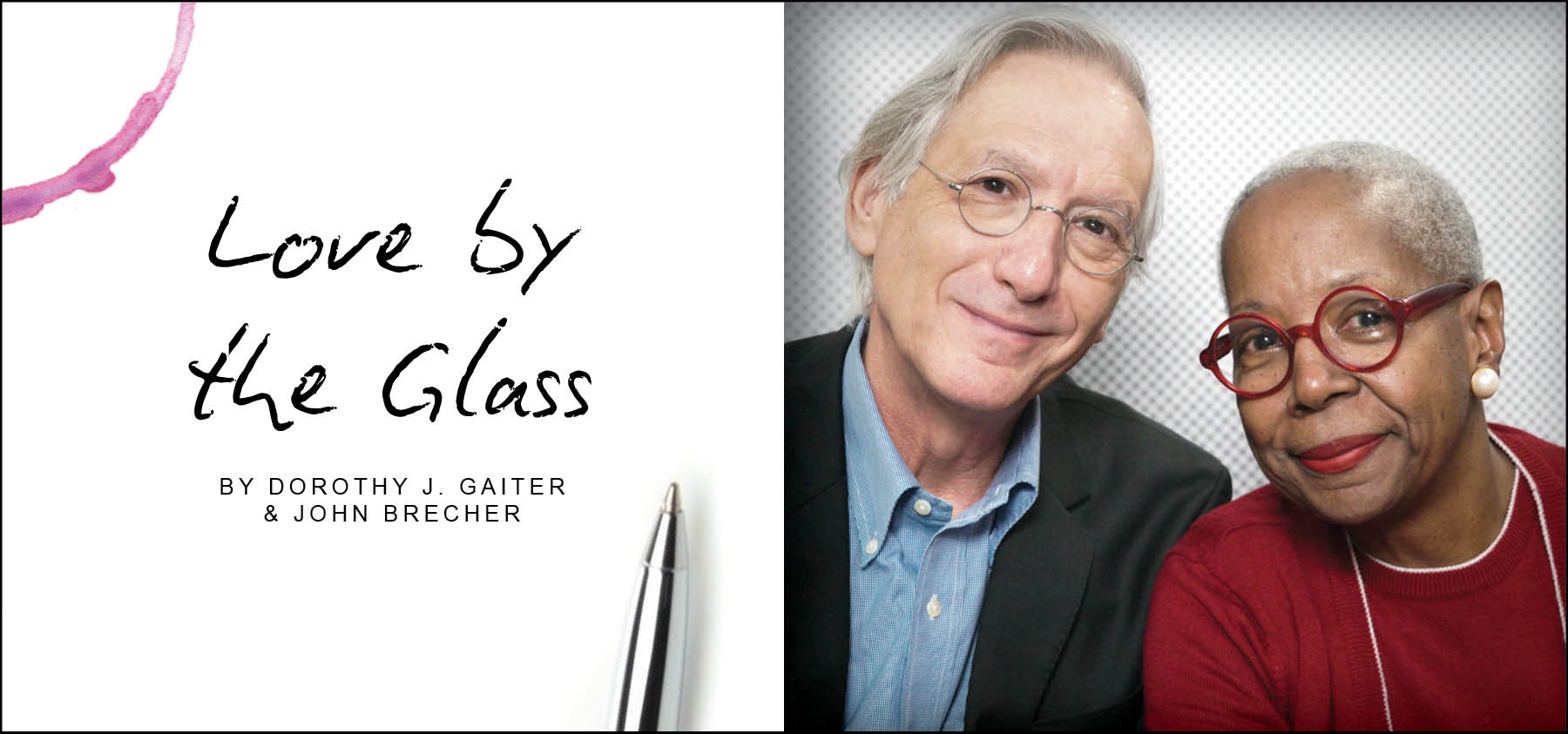 Wow. Was that a fast year or what? Maybe the news cycle had something to do with it. Or maybe it's that we spent much of 2018 thinking about what's happening in 2019: Our daughter Media is getting married and our daughter Zoë, a drummer, is preparing for a lengthy North American tour.
All the more reason to take a deep breath and consider what we want to do in the next year to improve our wine life. Hey, why not? Whether you are an expert or novice, you can always make your wine life better. Over the years, we've suggested a number of New Year's Resolutions like "drink more Riesling" and "buy stemware that is both good and affordable so you'll actually use it without fear of breakage."
This year, we decided to go another route. We wondered what kind of resolutions winemakers would suggest for themselves and for others. So we contacted several we'd interviewed this year and their replies highlight why we've always enjoyed talking with winemakers so much. We also want to take this opportunity to thank all of the winemakers we spoke to in '18 for sharing their passion, joy and – in some cases – heartache. One more thing: Notice how many of these winemakers mention that they want to try different wines next year. If they, who have already experienced so many wines, resolve to explore new ones, certainly the rest of us should commit to that goal, too.
Sarah McCrea, Stony Hill Vineyard and Long Meadow Ranch (Napa, California): "My wine resolution for 2019 is to go around the world in 52 weeks, opening a bottle from a different wine region each week of the year." (We love that idea and we'd urge you to steal it.)
Jed Steele, Steele Wines (Lake County, California): "Bring back the Zin! Time to refocus on California's old-vine Zinfandels as world-class wines."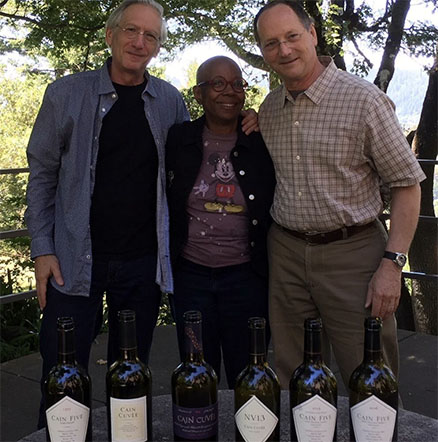 Chris Howell, Cain Vineyard and Winery (Napa). 1) Drink more slowly, and with attention. 2) For every wine you drink, learn the story -- of at least one wine a week. Every wine has (or should have) a story. 3) Drink a wine from a grower-producer – at least once a week.
(Photo right: Dorothy Gaiter and John Brecher with Chris Howell)
John Skupny, Lang & Reed Wine Co. (Napa): "My resolve for 2019 is to work toward keeping a more open mind about styles of wines that 'I think' I do not like! My perennial wine advice is, 'If you have a corkscrew, use it.'"
Chris Carpenter, Mt. Brave Wines and others (Napa and Australia). "Resolution: Rediscover Australia! Americans have forgotten that in the '90s we were collecting Aussie wines rather than buying them at the checkout counter at the grocery store. The brief hiccup in Aussie exporting of the so-called critter brands has thankfully slowed and the incredible wines that we haven't seen for two decades being sourced from some of the greatest vineyards and made by a cadre of badass winemakers are starting to slowly make their way back to these shores. These are wines that deserve to stand with the best from around the world and discovering them again will be as educating as it will be fun."
Merry Edwards, Merry Edwards Winery (Sonoma, California). "My New Year's resolution is Share Cellar Treasures With Friends! Oftentimes we put off opening a bottle because we are 'saving it for a special occasion.' Every time we get together with friends should be that special time. Also, young wine enthusiasts love tasting wines from their birth year, which can be an astounding experience. The history surrounding the birth of that wine is just as important as tasting the wine itself. With 45 years immersed in wine, I have lots to share!"
David Ramey, Ramey Wine Cellars (Sonoma): "Blind tasting! This is the single best way to learn about wine and to learn what you like. It doesn't have to be fancy or extensive -- even two bottles tasted blind side-by-side will highlight their differences. You decide which one you prefer, try to identify why, then move on from there. If you move up to opening four or six bottles at a time, don't worry about finishing them all that day -- just put the cork in and come back to them the next day. You don't need a lot of people for this, although that can be fun and educational. Just a couple at home can play."
Aurelio Montes Jr., Montes Wines (Chile). "Let's bring back MERLOT! To this day, Merlot is still one of the most drinkable wines in the world. However, it has been unfairly attacked in recent years. Why??? Well everyone knows…But today Merlot is coming back!! The most famous and prestigious Merlot is located in Saint-Émilion, France, but be careful!! Chile is also doing an amazing job. As a Montes Wines winemaker, I have been working with Merlot in Chile since 1987. We have found that our Mediterranean climate and soil in some areas are very unique and fantastic for this grape. Let's recover this wonderful variety."
Lorena and Rolando Herrera, Mi Sueño Winery (Napa). "Ours is to travel and explore all the appellations in the wine regions around the world. We would like to experience a harvest in Burgundy and Bordeaux. It's one of our dreams. Come explore Napa Valley's appellations!" (We would add that there are American Viticultural Areas all over the U.S. Find one near you and visit a winery. Here is Wikipedia's list of AVAs and here is a map of Napa Valley's.)
(Photo left: Dorothy Gaiter with Lorena and Rolando Herrera)
Fred Loimer, Weingut Loimer (Austria). "Changing to Biodynamic principles was and still is the biggest input in my (wine) life in the last 15 years. Biodynamic is not just changing your work, Biodynamic is changing your life!"
Kathleen Inman, Inman Family Wines (Sonoma). "Drink more bubbly! I think we should remove the perception that sparkling wines are only for celebrations. I think they MAKE EVERY DAY a celebration."

Véronique Drouhin-Boss, Domaine Joseph Drouhin (Oregon and France). "My wine resolution is to keep my Coravin on my kitchen counter so I allow myself to taste many wines that I am interested in trying. This will allow me to travel through many countries from home and on multiple occasions as I can taste the same bottle for quite some time. (Of course, occasionally the bottle will get opened and enjoyed with family and friends or end up in a cooking preparation!)"
Richard Sanford, Alma Rosa Winery (Santa Barbara County, California). "I resolve to try wines from a grape variety unknown to me. We all seem to find a 'comfort zone' in selecting wines for enjoyment. There is a whole world of wine out there beckoning our call!"
Antonio and José Rallo, Donnafugata (Italy). "Take your time whatever you do and focus on quality! Great things are done by a series of small things brought together. Start 2019 with Ben Ryé, Passito di Pantelleria, a naturally sweet wine from unique Pantelleria, a volcanic island of heroic viticulture!"
Dan Petroski, Massican Winery and Larkmead Vineyards (Napa). "I always try to make New Year's wine resolutions but seem to always fail in keeping them. Last year I said I would drink more Madeira after dinner; two years ago it was Sherry -- you might be able to see a pattern emerging here that I want to expose myself to other wine-based beverages and become more comfortable and confident in my understanding and appreciation of them! That said, I haven't given much thought to my new resolutions as a wine drinker, but I have given thought to my resolutions as a wine maker. Although 2019 will be off to a fast start in the cellar, my hope is to become more patient, and to do that sometimes we have to take a step back. Wine is a long game with a storied past -- if we don't stop, take a look around and revisit some of those old storied wineries, we might just end up losing the enthusiasm for the wines that got us into wine in the first place."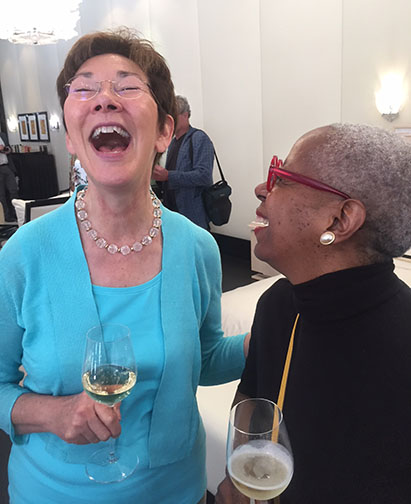 Sofía Araya, Veramonte (Chile). "Take that bottle of wine that you've been saving for an eternity looking for that 'precious occasion,' drink it now and make the precious occasion yourself! Any time with your loved ones, your friends or whomever is dear to you (even by yourself!) should be a moment to cherish and deserves a special bottle of wine."
(Photo left: Dorothy Gaiter having a laugh with Eileen Crane)
Finally, we did not ask Eileen Crane of Domaine Carneros in Napa for her resolutions because we just wrote about her in our most recent column, which included a great picture of her laughing with Dottie over a glass of bubbly. That brought a note from Crane: "This made me realize how much I enjoy laughing -- makes life so much more delightful. It took me a number of decades to realize this, but once I signed on to it, my life changed. I recommend it to everyone."
And, you know, that might be the best resolution of all. Have a great 2019 vintage.
Dorothy J. Gaiter and John Brecher conceived and wrote The Wall Street Journal's wine column, "Tastings," from 1998 to 2010. Dorothy and John have been tasting and studying wine since 1973. Dottie has had a distinguished career in journalism as a reporter, editor, columnist and editorial writer at The Miami Herald and The New York Times as well as at The Journal. John was Page One Editor of The Journal, City Editor of The Miami Herald and a senior editor at Bloomberg News. They are well-known from their books and many television appearances, especially on Martha Stewart's show, and as the creators of the annual, international "Open That Bottle Night" celebration of wine and friendship. The first bottle they shared was André Cold Duck. They have two daughters.
Read more from Dorothy J. Gaiter and John Brecher on Grape Collective