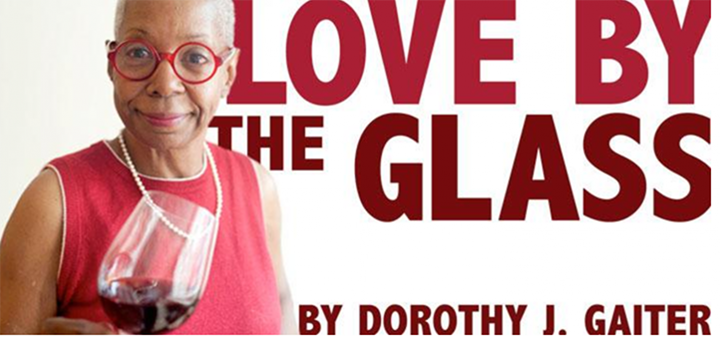 John and I have become so intertwined that sometimes we feel as though we're not experiencing something fully unless the other is there. Sharing amplifies things for us -- a rainbow, a sweet puppy, a cover of a song we love. We immediately want to pull the other over to see or hear it.
So it was a shock the other day when John picked up a wine list at the Mermaid Inn in Manhattan and, before I could survey it, ordered a wine for me to have with my oysters on the half-shell, the reason we were at this restaurant. John explains to waiters that he never eats raw oysters, he only likes watching me enjoy them.
In 44 years of dining out together, this was the first time either of us had unilaterally selected the wine. We usually go through this duet. Here is John to explain himself, and what, lucky for him, turned out to be an inspired choice, the 2014 Spindrift Cellars Pinot Gris from the Willamette Valley of Oregon, $40 on the list.
One of the reasons we enjoy eating out is perusing the wine list together. We talk about old friends on the list, point out new things to each other, whisper about some of the outrageous prices, try to figure out where the restaurant's wine passion lies (and if it has one). In this case, the list was small but well-chosen. The prices were pretty good for New York. I thought something new and different would be a nice surprise for Dottie. And I figured the sooner I ordered, the sooner Dottie could have some wine with her oysters. The clock was ticking on happy hour! In a quick look, it was clear that the only winery we'd never seen before was something called Spindrift from Oregon. And the wine was a Pinot Gris, which meant it was likely to have the kind of earthiness that would make it good with oysters. Over the years Dottie has described wining pairings with the bivalves. So: the right grape; likely from a small producer; not too expensive; and almost surely not sweet, which would be a killer with the oysters. It seemed perfect. So I asked her OK to take this one and pounced, knowing there was a chance I'd be sleeping on the sofa if it didn't work out. Whew!
John's selection was so inspired, in fact, that we ordered a second bottle (you can take home leftover wine in New York) as I moved after three dozen raw oysters ($1 each!) to a dozen fried ones, and he moved from a crab cake appetizer to cod.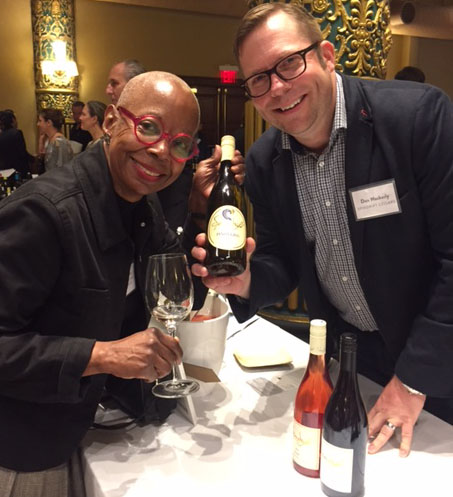 (Photo: Don Wackerly of Spindrift Cellars pouring the 2015 Pinot Gris)
I had the 2015 earlier this week and it while it also had nice minerality and weight, it tasted as though it had a touch less lively acidity. The tech notes indicate they have roughly the same acidity but are sourced from a different combination of vineyards. Both, winningly, smelled of honeysuckle and had hints of pears, white peaches, green apples, lemons and honeydew melons. Fabulous with seafood and, as is the custom with Pinot Gris, Thai-Asian-curry dishes. Both wines, the winery notes, were "whole-cluster pressed and fermented in 100% stainless steel tanks with a long, cool fermentation to retain fruit flavors and aromas."
While Pinot Noir is the Pinot that Oregon winemakers are wild about, we've also been fans of Oregon Pinot Gris for decades. Pinot Gris is a genetic mutation of Pinot Noir, as is Pinot Blanc, and the Gris version is the most-planted white grape variety in the state. The late David Lett of Eyrie Vineyards first planted it in Oregon in 1966, the first plantings of it in the United States. Lett had fallen in love with the version made in Alsace. Charles Coury of Charles Coury Vineyards produced wines at around the same time as Lett's first.
While Pinot Gris is the same grape as Pinot Grigio, regulations in Oregon call for labeling to say Pinot Gris. Pioneers like Eyrie, Adelsheim and Ponzi are just a few of the names we've enjoyed over the years. Pinot Gris is a wonderfully versatile grape, grown in many countries, and can be light-bodied and acidic to full, rich and spicy to lusciously sweet botrytis-affected dessert wines.
We're suckers for them—John needn't have worried about sleeping on the sofa—but we wouldn't consider them an easy sell, as they are in Oregon and among restaurant wine directors, it seems, everywhere.
In Oregon, "Consumers are really familiar with them. It's a go-to, easier kind of sell," Matt Compton, the winemaker of Spindrift, told me a few days ago. He and his wife, Tabitha, founded the 10,000-case winery in the town of Philomath in 2003. They named it Spindrift in 2006. "It's a great match-up with seafood, it shows the fruit well," he added. "It's got some nice body and structure as well, so it's not just light."
Compton, 42 (photo below left), is a farmer originally from Flemington, New Jersey, a member of the eighth generation of the family to live in that area. When he was little, his father, Dennis, moved the family to Wisconsin where he'd bought a dairy farm. Matt found that he enjoyed farming immensely. However, with a downturn in the economy, the dairy farm failed. After working at other Wisconsin farms, the elder Compton moved the family back to New Jersey.
Following high school, Matt took a cross-country road trip and fell in love with Corvallis, where a friend was doing graduate study at Oregon State University. There, Compton got a job working at the university's laboratory vineyard, Woodhall Vineyard, and taking classes when he could. Professors taught him how to graft vines and he helped them plant apples at another of the university's research farms. Winemakers mentored him. He made his first wine as a home winemaker in 1996, a Pinot Noir, and developed a reputation for his farming expertise.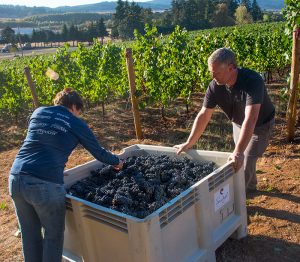 When the university hired him to be assistant vineyard manager at Woodhall, he told me, "I got the job because I knew how to farm, not because I knew Pinot Noir."
Compton is an accomplished chef who bakes bread to relax, and Tabitha, 42, director of sales and marketing for Spindrift, is a former equestrian instructor and sailing enthusiast. Spindrift, according to Wikipedia, is the spray blown from the crests of waves by the wind. They have three boys, ages 12, 10, and 8. Through their company, West Vine Farms, Compton managed several vineyards, growing fruit for his and other Willamette Valley wineries. He now only sources his fruit from sustainably grown, mostly dry-farmed vineyards that he either leases or manages.
In addition to Pinot Gris, Spindrift makes late-harvest Pinot Gris, Pinot Blanc, Vin Gris, Chardonnay, Gewürztraminer, Gewürztraminer Ice Wine, Riesling, Rosé from Pinot Noir (2016, $16) that is filled with rose blossoms and spice, and several Pinot Noirs (Pommard clone, among others, and mostly Alluvial soil), including a reserve. I had the regular 2015 Pinot Noir ($22) and it was a fragrant, lighter-weight, balanced version, with honest, rich fruit.
A few years ago, Compton's parents moved from New Jersey to Oregon, where along with Tabitha's parents, they help with the winery and the boys.
I asked Matt how his father, a farmer at heart, felt about Spindrift, his and Tabitha's agrarian enterprise.
"He's real proud," Matt told me. "He's excited to see that we were able to make it, to start it, and keep it going."
Dorothy J. Gaiter conceived and wrote The Wall Street Journal's wine column, "Tastings," from 1998 to 2010 with her husband, John Brecher. She has been tasting and studying wine since 1973. She has had a distinguished career in journalism as a reporter, editor, columnist and editorial writer at The Miami Herald and The New York Times as well as at The Journal. Dottie and John are well-known from their many television appearances, especially on Martha Stewart's show, and as the creators of the annual "Open That Bottle Night" celebration of wine and friendship. The first bottle they shared was André Cold Duck.
Read more of Dorothy J. Gaiter on Grape Collective.