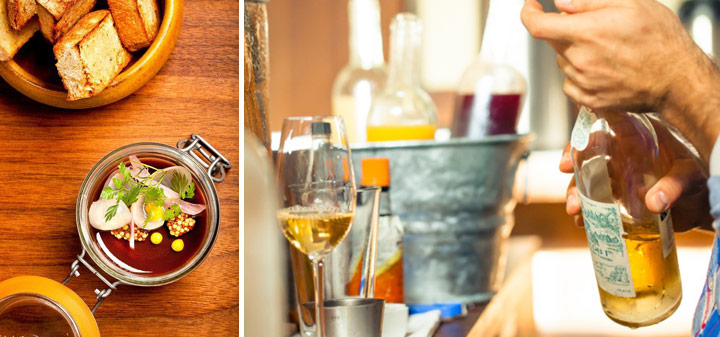 San Francisco is always a center of restaurant activity, and on a recent trip there I found a trio of delicious new entries that helps prove the point.
Tosca: I thought my eyes were deceiving me when I walked into Tosca. Is that really April Bloomfield in the busy open kitchen? Yes, it's true: The British-born, New York based chef and her business partner Ken Friedman have refreshed the decor of this North Beach classic (right in the heart of things on Columbus Avenue) and completely overhauled the menu. Think of it as Barbary Coast meets Brooklyn. The fried artichokes are crisp and delicious, and chicken liver fans (I'm one, particularly of Italian preparations) will appreciate the spiedini tricked out with Marsala, balsamic vinegar and salsa verde; use the great country bread to get every drop. The mussel soup was great too, and the pastas, short ribs and potatoes crisped in pork fat with garlic and rosemary are not to be missed. Save room—if you can—for the cannoli, accented with fennel-seed praline. 242 Columbus Ave.; 415-986-9651 or toscacafesf.com
Rich Table: Meanwhile, in the stretch of Hayes Street known as Hayes Valley that is being revitalized with stylish little restaurants and shops, this year-old restaurant is packing them in every night—and the place is small, so be sure to reserve. Chef Evan Rich (the perfect last name if you're creating a restaurant) is a veteran of the city's lauded Coi and Quince. He and his wife Sarah have created a small and appealing selection of interesting and terrific-tasting dishes. I studied the menu while sipping a lovely Vina Mein Albarino blend from Spain's Ribeiro region with Rich's clever sardine "chip": A thin piece of potato threaded with a whole fresh sardine and flash fried to perfection. What a great way to start dinner, which went on to include lamb tartare with apple; bucatini with pork belly and watermelon; and a terrific rainbow trout with flageolet beans and dried apricots. By the way, don't hesitate to order the wild fennel levain with house-cultured butter. You'll want to buy a loaf to go, too. 199 Gough St.; 415-355-9085 or richtablesf.com
Central Kitchen: Over in the super-hot Mission district, Thomas McNaughton, the young man who put Bay Area pizza on the map with Flour + Water, has created a food lab of sorts at Central Kitchen. It's a large industrial space with exposed beams and pipes that houses a salumeria as well as a separate, more formal restaurant. McNaughton and his partners aim for the place to be "part of the ongoing conversation about what 'Californian cuisine' means." This is some of the most creative cooking I've had all year, including starters like crispy duck rillettes with smoked dates and persimmon; coal-roasted carrots with buffalo milk custard, mixed grains and seeds; and marinated mussels with Brussels sprouts and duck cracklings. A standout main course was the hen roulade with cauliflower, potato puree, and oyster relish. It's a dish steeped in French tradition and technique, but McNaughton has made it fresh, exciting, and modern. Just like the San Francisco dining scene. 3000 20th St.; 415-826-7004 or centralkitchensf.com
Barbara Fairchild is a nationally recognized culinary authority with more than 30 years of experience in food journalism.