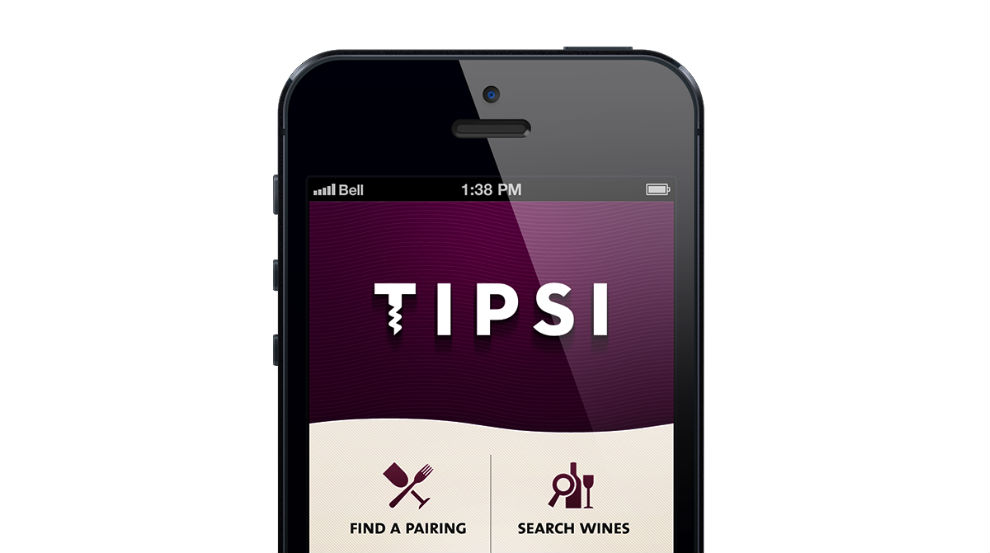 With a tech team that he largely considers "the real brains behind the operations" alongside him, Mike Bell is confident that Tipsi, a new wine app that launched on March 25, isn't just another wine app in an increasingly crowded space. In fact, Bell doesn't even consider his product a wine app at all.
"Most people think about it from the consumer side," the CEO said. "But we're a consumer wine data company. Where we thrive is data."
Tipsi is currently available for free on iOS and is described to have been "conceived as a mobile sommelier at restaurants [that] provides PERSONALIZED and RESTAURANT SPECIFIC recommendations based on the actual available wine list." Bell has likened it to a "comination of Yelp and Pandora." Basically, taking into account personal taste history, meal pairing, professional ratings, and vintage charts, it tells you what you want to drink, and where you might drink it.
That functionality, in and of itself, isn't any diffferent from countless companies that have already attempted (and are still attempting) to monetize the technological tendencies of a $300+ billion industry. The difference is that Bell and his Co-Founders Aaron Linsky and Justin Osler believe they are responding to a huge and previously underserved demand by providing users with a constantly evolving piece of software that will not only immediately offer up important information and recommendations on the spot, but adapt with both ever-changing personal tastes and the industry-at-large. And with that particular difference, they may be onto something.
Completely free for both consumers and restaurants or brands to use, people are encouraged to utilize the product as much as possible, loading their own personal tastes or wine lists onto the database. When those personal tastes or wine lists change, the consumer and restaurants or brands update the database to reflect it. And eventually, by isolating specific data points, wine rules or generalized good years for certain vintages will be complimentary to real data and opinions, instead of operating as the definitive and only direction available. No more textbook recommendations, but thoughtful insights.
Although they emphasize their data-driven origin and continued execution, the personal touch that goes into it guarantee that the the product always considers the user experience as much as the algorithms that sort through all the data.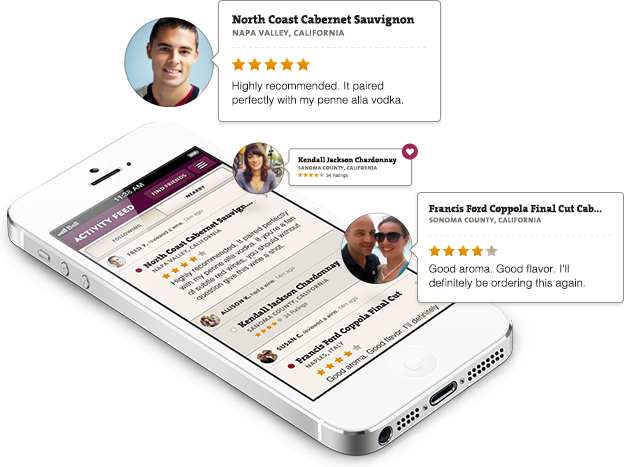 "It's frustrating when you don't know what half the things on the wine list mean," Bell empathized. "The delivery, type of content, and overall experience is wholly created by people who truly wanted a solution to such a frustrating experience." Among those people is lead sommelier Anani Lawson, formerly of Per Se and French Laundry, now Wine Director of the Lucy.
"Essentailly, what we are doing is building a platform," Bell explained. "We're not focused on bring in a revenue right away. We want consumers, restaurants, and brands to feel the value of being a part of the system."
However, revenue isn't being completely ignored either. Tipsi offers restaurants and brands a chance to direct message consumers, with the price-per-message depending on brand, visibility, customer loyalty — replacing a range for customer acquistion cost of $8 to $10 with one of $0.10 to $0.30. They then will also host events for a small fee, such as #TipsiTuesday every couple weeks where they plan to maximize low time at restaurants and work with importers and distributors to provide wines to consumers who participate in non-pretentious tastings and pairings." During these event, consumer will be encouraged to use the app and review the wines, populating the restaurant's database, offering future patrons feedback on wines they likely hadn't had a chance to try yet.
Then there are partnerships, with the likes of Wine.com and (soon enough) brick-and-mortar shops that will look to capitalize on the engaged e-foot traffic a product such as Tipsi garners. When users really love a bottle they're having, they're able to click through to and purchase it for themselve. And the tech team is making sure that the process is as seamless as possible, even though there is indeed a transfer from mobile sites off of Tipsi onto Wine.com.
With a few thousand downloads already made, mainly if not solely from press alone, Tipsi is off to a good start. And while Bell and his partners are thinking big, they look to optimize the current platform before moving forward, and that means making sure New York is covered from top to bottom — "hyper local is where we excel" — their 135,000 wine database are presently in 1,300 restaurants, all on Manhattan, south of 59th street as well as a good collection in the Upper East Side. They are looking towards Brooklyn and the other burroughs next. Then will be Washington D.C. and Chicago.
"Tipsi [in its current capacity] is great, but I love talking about what it can be and the larger vision," Bell said, unable to completely ignore the thinking big. "Again, there are millions of wines, hundreds of thousands of producers, so its a industry that is absolutely ripe for disruption through big data. Using tons of data and parsing things down to enhance the user experience is great... so we want to build a platform, not an app. We really think most parties in the current ecosystem benefit and I think thats important to our future growth. When wineries, restaurants, merchants, importers realize its a free platform to be part of, they get to participate in a unique consumer service, and it helps drive DTC, local or in restaurant sales and upselling, it just makes complete sense."
"Wine is not a commodity, it's a personalized tasted. Everyone is different, everyone likes what they like — everyone's right."