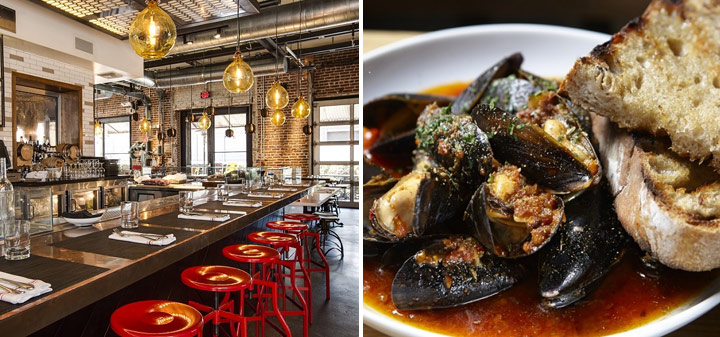 "There is no way this GPS is right," I said to my boyfriend as we turned down the darkened alley in downtown LA that was supposedly 7th Place. "How is there a restaurant here?" The lesson? Learn to trust that mechanical voice. Because at the end of that so-called street, there it was: Bestia, the best new Italian restaurant in town, and one of the hardest reservations to get. The space has that industrial chic look that so many places in this neighborhood have come to be known for, mainly because this was once genuinely a warehouse district. It still is to some extent, but the restaurants, lofts, and boutiques are taking over quickly. Here, exposed beam ceilings, old brick walls, cool light fixtures, and wooden floors set the stage for a thriving bar scene (thanks to a clever bunch of cocktails) and a dining area that breaks the sound barrier. Book a table outside and you'll be able to talk, hear, and still be part of the fun.
Executive chef Ori Menashe learned at the stoves of Gino Angelini's eponymous restaurant. Veal tartare crostino was an elegant starter, and the requisite kale salad had new life with a caper-anchovy vinaigrette, endive, arugula, and pecorino Toscano. The pizzas here are—dare I say it?—better than those at the highly lauded Mozza, and pastas like spaghetti with sea urchin bottarga or saffron tagliatelle with calabrian sausage ragù push the envelope in imagination and taste. For secondi, the Kurobuta pork chop is a winner: It came perched on creamy polenta with apple and quince mostarda, spinach, and kale chips; we couldn't eat it fast enough. Our bottle of 2011 Le Piane (a Nebbiolo blend) matched perfectly with everything. There are other interesting reds from Croatia, Austria, Slovenia, and France, too; whites also covered the map from California to Spain, Hungary, Germany and back again.
Nothing here is cliché or predictable: Ingredients like beef tongue, chicken gizzards, oxtail, and rabbit are presented in clever dishes with taste and style to spare. Menashe's wife, pastry chef Genevieve Gergis, will help you wrap things up with desserts like a date and walnut crostata with fig leaf ice cream; chocolate budino tart with salted caramel; or a light crème fraiche panna cotta with tangerines and a crisp little Meyer lemon cookie. You'll be making your next reservation as you leave, and next time, you can turn off the GPS.
2121 7th Place; (213) 514-5724; www.bestiala.com