Fritz Hatton, fine and rare wine expert and renowned wine auctioneer, states on his website: "Arietta is our name for wines born of a passion for music." While that certainly is true -- the name and label refer to the Arietta movement of the last Beethoven piano sonata Opus 111 -- how Hatton and his family came to own Arietta, which produces Bordeaux-style wines in Napa, is a story of passion and preparation colliding with good fortune.
And what a page-turner it is!
There's the late Robin Williams, standing side-by-side with Hatton in 1999, auctioning off wines in a lot with Williams' titillating, salacious banter so hilarious that bidders at the 19th annual Napa Valley Wine Auction stood on tables, screaming with laughter. There's the go-go 1980s, during which department heads at Christie's were "like divas." There's the "snitching" of prized grapes that launched Hatton's winemaking effort with iconic winemaker and fellow classical music lover John Kongsgaard. And while my classmates at the University of Missouri suspected that food service personnel laced our meals with sex-drive suppressing saltpeter—hey, it was the late '60s and early '70s--Hatton was sharing fine wines with classmates in a Yale dining hall.
Of course, you would expect someone who has been one of the country's most prominent wine auctioneers for more than 30 years to have a marvelous gift of gab. He was director of Christie's U.S. Wine Auction Department and is currently principal auctioneer for Zachy's. He has done hundreds of charity wine auctions to benefit causes from health and education to animal rescue. But Hatton, who made me guess his age -- I'll say 62 -- also appears to be a mensch. Looking like a benign Truman Capote, he beams when he mentions daughters Libby and Hattie and his wife, Caren, back home in St. Helena while he was in Manhattan recently for a dinner celebrating the 20th anniversary of Arietta. Arietta, now made at Chateau Boswell on the Silverado Trail, started as something of a sweet lark and now produces 3,000 cases of mostly red plus a single white blend.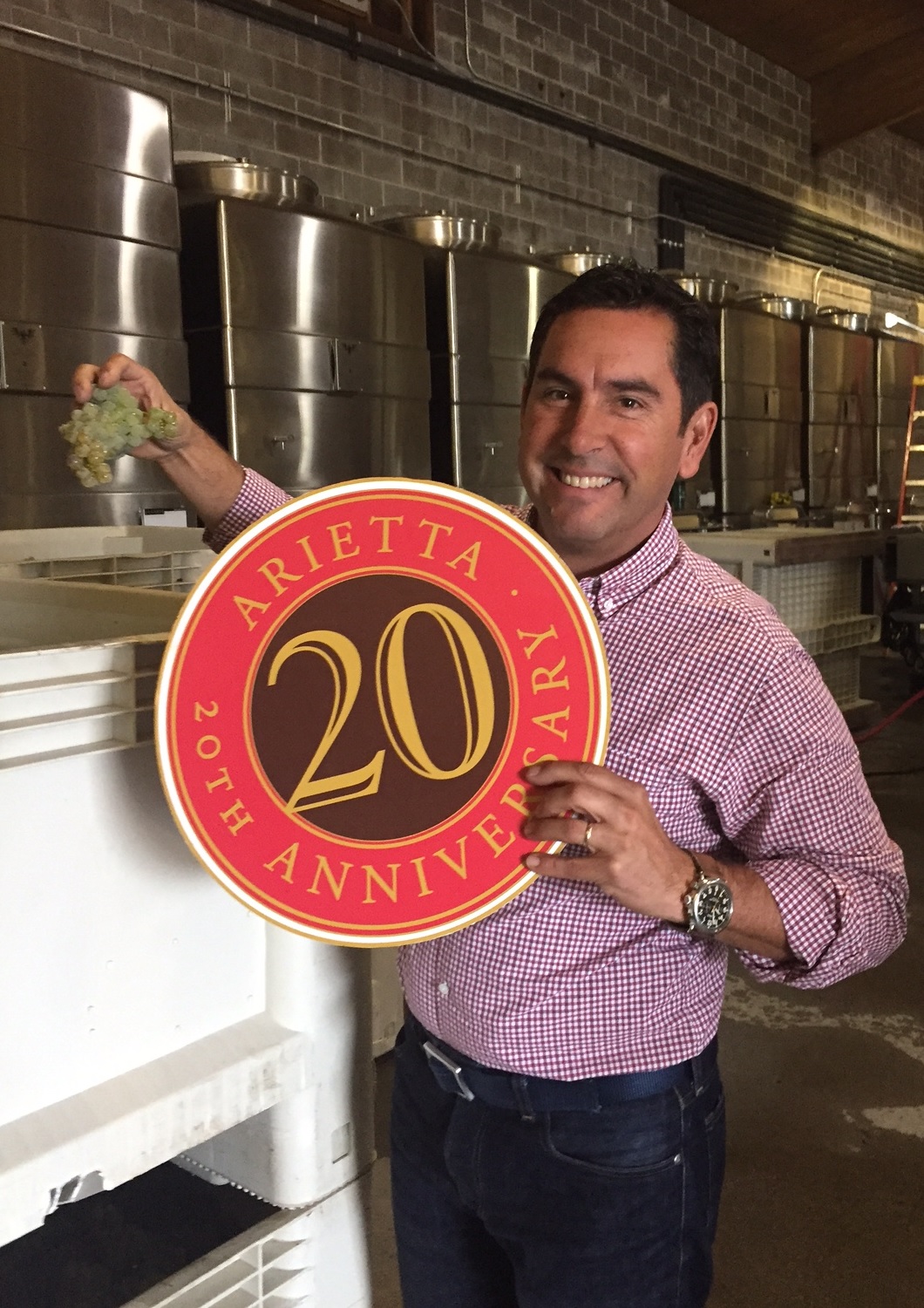 (Photo: Arietta consulting winemaker Andy Erickson)
Hatton opened three for the Grape Collective: His first-ever wine, the 1996 Arietta Napa Valley Red Wine (65% Cabernet Franc, 35% Merlot Hudson Vineyard fruit, since 2000 known as Red Wine H Block Hudson Vineyards); the current release version of it, 2014 Red Wine H Block Hudson Vineyards, grown by Kongsgaard friend Lee Hudson in Carneros; and 2014 On The White Keys, Arietta's first and only white wine, a traditional Bordeaux blend of Sauvignon Blanc and Sémillon, some grown by the famous Larry Hyde in Carneros. Arietta wines are made in small quantities and difficult to find. They range from around $60 for the Quartet to around $150 for the Red Wine H Block.
The 1996 was a triumph and he only had 15 left, he told me, many obtained by bartering with subscribers, who get first dibs on Arietta wines. (arietta.com.) "Rich, cedar nose, black cherries, black olives, minerals, earth, elegant tannins. Years ahead of it," we wrote in our notes. The 2014, we wrote, was "youthful and appealing, with notes of chocolate, black plums and cherries. Not as intense as I expected." The White Keys, we wrote, was "a soulful wine, very much like our favorite white Bordeaux. Sensuous, with great weight and tropical acidity and richness. Lusty with warmth and air." More on the others later.
About that good fortune. Hatton hails from a long line of storytellers, successful entrepreneurs, civic leaders and philanthropists. William Hatton Park in Grand Haven, Mich., is named after his great-grandfather, whose automotive leather supply company equipped Pullman railroad cars and Detroit's growing auto industry in the early 1900s. Hatton told me his father, Julian Burroughs Hatton Jr., who died in 2013 at 86, was a Francophile and lover of classical music. According to his father's obituary, when Julian was at Harvard, he played the oboe with the Boston Pops and acted in the college's Hasty Pudding Show in 1947, for which his classmate Jack Lemmon, yes that Jack Lemmon, wrote the music.
Fritz began piano lessons when he was seven and it wasn't long before he fell in love with Beethoven and in time began developing an appreciation of wine. One summer during college, he helped a friend start a wine and food department in a fancy-food shop. For his work, he received a bonus of seven mixed cases of wine of his choice. He took them to Yale to share.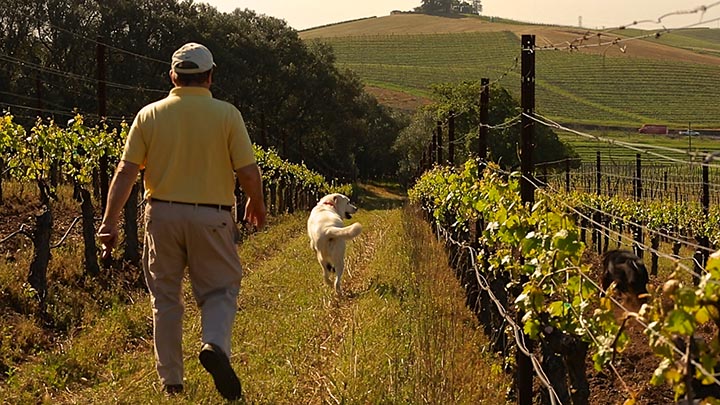 "Just walk though the dining hall line with a bottle and see if I was stopped" was his plan, he told me. "I did, no one stopped me and I opened the first bottle and just gave everyone a half a glass around the table. That was nice. Did it the next night and by the third night I was the Pied Piper.
"Others started to do the same thing and then the kids of better means than me started to appear with bottles of La Tâche," he recalled.
In 1974, he had his wine epiphany when his godparents served a 1966 Burgundy, a Corton Clos du Roi, which "was near the height of its powers then," he recalled. "It was that single bottle of wine that opens the heavens and tells you that wine is so much grander and more complex and it's such a -- kind of a great and grand and socializing experience."
He graduated from Yale in 1976, managed a wine shop for a while, went to Europe, and came back to work a couple summers in Aspen making the master tapes for the Aspen Music Festival, one of the nation's top classical music festivals. Then he went back to Yale to get a degree at its then-new school of management. After that, "to feed the habit," he said, he worked at a Manhattan wine shop. He was working there in 1980 when he heard that Christie's needed someone to help in "cataloging and warehousing wine for their first commercial wine auction in the United States, which they planned."
He got the job, but in 1981 that first auction and the new wine auction department had to be moved to Chicago. "The wholesalers and retailers weren't too happy about the auctioneers having their own auction license then, so they got an injunction to block the licensing of specialty wine auctions," Hatton recalled. While this was going on, "bigwigs" at Christie's headquarters heard that there was an MBA working in the trenches in the wine department" and offered him "a real job" as office manager. When his boss, director of operations, resigned three weeks later, he got that job.
In 1983, a Christie's executive asked him to take its in-house course on auctioneering. "We met once or twice a week for 6 or 8 weeks and then we were thrown up to the wolves," Hatton said. "We were put on the podium and they saw if we could survive 30 lots of basically selling junk to the dealers, the least expensive lots. If we survived that, we were given 100 lots, and if we survived that we were given a whole sales session."
I told Hatton that the job of being an auctioneer sounded terrifying. "The first auction truly is terrifying," he confirmed.
Commercial auctions are "much more mechanical, you have bids that are already received, you're dealing with a lot of pros," he explained. "Whereas with a charity auction, often you have to make it happen from the get-go. You have to describe the lot, get the audience excited by the lot and then get someone to start bidding. Then get someone else to bid against them and generate competition. It's actually quite a bit harder and it requires a lot more improvisation."
Fast-forward about 12 years as a manager for Christie's in North America and the Far East, and in the early1990s Hatton was missing classical music. So he asked for and received a year-long sabbatical from Christie's to move to California to resume studying classical piano. One year wasn't enough, so he resigned from Christie's and kept studying for two more years, during which he grew closer to the Napa wine scene.
In 1992, Hatton served for the first time as auctioneer at the Napa Valley Wine Auction, which is sponsored by the Napa Valley Vintners Association and raises money for local health and education charities. Someone suggested it would be nice to introduce him to Kongsgaard and his wife, Maggy, who direct an annual classical music series called Chamber Music in Napa Valley. Hatton and the Kongsgaards hit it off big-time, "like twins separated at birth," Hatton said. Kongsgaard, a fifth-generation Napa resident, had a masters in winemaking from UC-Davis, where he met Lee Hudson (Hudson Vineyards). Kongsgaard first turned heads with his unfiltered Chardonnay for Newton Vineyard, after stints in the 1970s with the McCrae family at Stony Hill and with Warren Winiarski at Stag's Leap Wine Cellar, as well as apprenticeships in Burgundy.
Kongsgaard also has civic leaders in his line. Kongsgaard's great grandfather, Lilburn Boggs, was governor of Missouri. The Thomas Kongsgaard Post Office in downtown Napa is named for Kongsgaard's late father, who was a Napa County Superior Court Judge for almost three decades.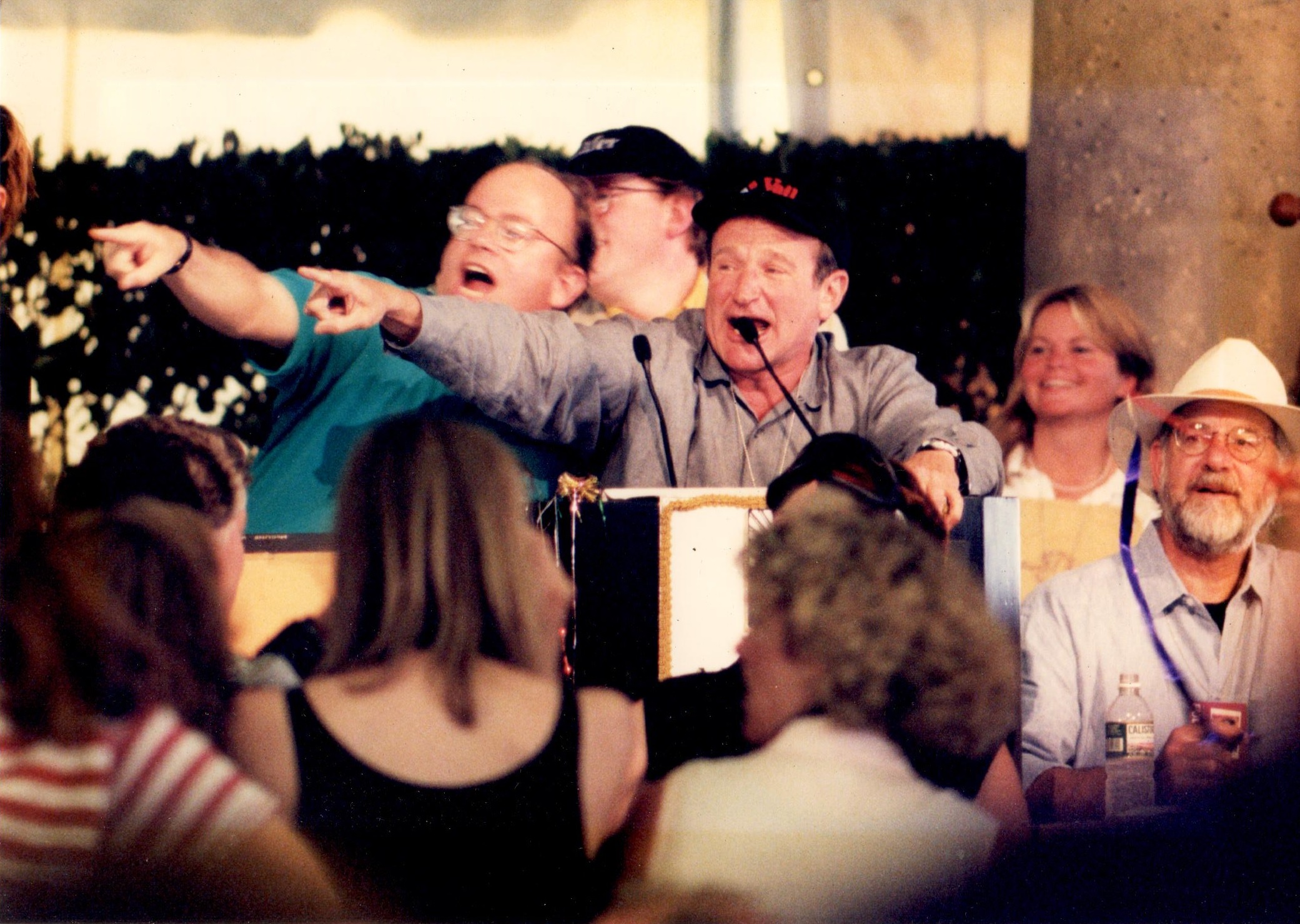 In 1995, as Hatton was deciding that he really needed a steady, paying job, Christie's called. New York's laws had changed. Would he head its wine auction department in New York City?
He said yes, but as he was packing, his phone rang. It was Kongsgaard, asking if he'd like to make red wine with him. "You have to let me know right away. I've got a chance to snitch some grapes at 6 in the morning," Hatton said Kongsgaard told him. "I said, so we're going to make some wine together and start by snitching some grapes? He's, 'Oh no, it's a time-honored tradition. We'll just take a little bit. We'll pay for the grapes.' I said, OK, how much is this going to cost? He said, '$200 for the grapes, $600 for the barrel.' I said, for $800, making some wine with my best buddy? Sure, absolutely, let's go for it."
Hatton returned to Christie's in New York and several months later, Kongsgaard called again with the suggestion that they make a commercial quantity, 300 cases, of a Cabernet Franc-based red from the volcanic-rich soil of Hudson Vineyard, which provided the grapes he used when he was at Newton, from 1983 until 1995. Michel Rolland consulted at Newton during a lot of those years. Hatton again was in, and the rest is history, with Kongsgaard driving the project.
It didn't take long for Hatton's future to become clear to him. He was headed West again. He'd met Caren on July 4, 1996, "two months before harvest," he told me. They had grown up in the same hometown, Spring Lake, Mich., but their paths had never crossed.
"July 4th," I said, venturing, "those must have been some fireworks." "You got that right," Hatton responded.
So he told his employer, "Christie's I'm very sorry, I've got to launch a wine brand, I need to go back to California." We got married, had a honeymoon and we showed up in San Francisco and sent out the mailer for this wine. This is the very first Arietta ever made, it's 1996. The Arietta 1996 red wine, and it is based on grapes from the block that John snitched," Hatton said. "We did not set out to imitate Cheval Blanc, but it is similar to Cheval Blanc in that it has a reverse blend. Cabernet Franc is the dominant grape always in this wine, almost without exception," Hatton said. He remained as a consultant for Christie's for a while longer and continues to do about 25 charity auctions annually.
As Kongsgaard was developing an itch to do something on his own as well as side projects, he realized that he'd have to leave Newton, so he did in 1995. Arietta was born in 1996. But that same year, the lawyer who founded the classical music series that the Kongsgaards direct asked Kongsgaard to make Italian varieties for him and his partners at a new project called Luna. Kongsgaard started making Kongsgaard wines—we can still taste our first Kongsgaard Chardonnay--and made Arietta at Luna. However, to afford land and build a new winery on Atlas Peak, the Kongsgaards in 2005 sold their interest in Arietta to the Hattons in "a very friendly transaction," Hatton told me. A parting gift? Kongsgaard hand-picked Arietta's new winemaker, Andy Erickson, who had been his assistant for many years at Newton and gone on to fame making Screaming Eagle, Harlan, Ovid and Dalla Valle.
Hatton and Erickson finalized the agreement over lunch and the Hattons decided it was time to make a white wine.
"We had a great afternoon session with Andy Erickson and his wife Annie [Favia, also a Kongsgaard assistant at Newton] and my wife Caren and I," Hatton said. "We lined up 45 bottles of Sauvignon Blanc-based wines from white Bordeaux to New Zealand to Santa Barbara to Sonoma, Napa, the Loire."
This tasting to decide on a style for the wine yielded two favorites, "Ojai Sauvignon Blanc on the one hand, one extreme, and the other extreme was Domaine de Chevalier Blanc 2001. One steely and dry with a mouthwatering Sauvignon Blanc and then Domaine de Chevalier Blanc, with the oak and the Sémillon. We thought, we want to have a wine that combines the two of them. We want a wine that has a bright start, but a big and grand finish." I'd say they achieved that.
In addition to the three wines I tasted, Arietta makes a wine called Arietta Red Wine Variation One, a blend of Hudson Vineyard Merlot and Syrah; tiny quantities of Cabernet Sauvignon from David Abreu's vineyards in Coombsville; and from four red Bordeaux varieties, Arietta Quartet, its entry-level wine, and about 35% of its total production. Sometimes it makes another wine, Arietta Merlot Hudson Vineyards. Arietta wines are made in small quantities and difficult to find. They range from around $60 for the Quartet to around $150 for the Red Wine H Block.
Hatton has led a charmed life. "Don't let me complain going to my grave," he said with a smile.
Dorothy J. Gaiter conceived and wrote The Wall Street Journal's wine column, "Tastings," from 1998 to 2010 with her husband, John Brecher. She has been tasting and studying wine since 1973. She has had a distinguished career in journalism as a reporter, editor, columnist and editorial writer at The Miami Herald and The New York Times as well as at The Journal.