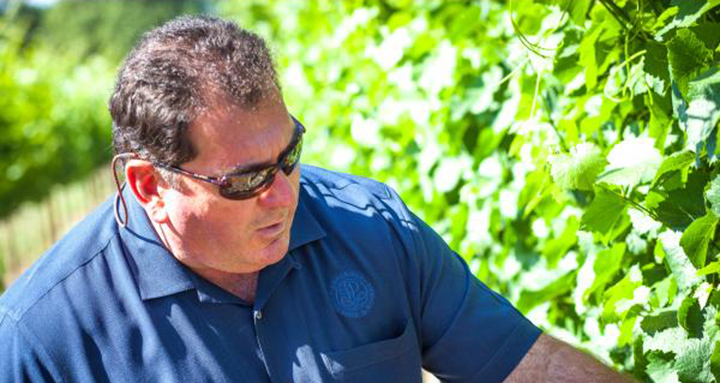 The Rochioli family's journey into wine began after Joe Rochioli Sr. purchased leased land in the Russian River Valley that he had been farming since 1938. Joe Sr.'s son Joe Jr., and grandson Tom now run the estate which makes Pinot Noir, Sauvignon Blanc and Chardonnay. The single-vineyard wines are in such high demand that there is a wait of up to 5 years to get on the list to purchase them.
Dorothy J. Gaiter talked to Tom Rochioli about the family business, falling in love with Pinot Noir and waiting lists. Also, read Dorothy Gaiter's column on Rochioli.
Dorothy Gaiter: Your grandfather, Joe Senior planted and then your father planted. You all were among the very first to plant Sauvignon Blanc, of all things.
Tom Rochioli: Correct. The first planting of that was 1959. My grandfather and my father together put that in. A little bit ahead of their time, they were getting away from the jug varieties. That all happened right after the hops. My family was quite involved in growing hops.
There's a hops kiln next to us and my grandfather ran all of that, but hops went out of favor there. To find the next crop, they were a little progressive in looking at fine grapes and not just the jug wines.
Among the first grapes they planted were Cabernet Sauvignon, Chardonnay, and the-
Actually not Chardonnay yet. No, Cabernet and Sauvignon Blanc. Cabernet was a complete failure. We just can't ripe out there.
Then, the Chardonnay was planted eventually?
That came later. That was my father. My grandfather died shortly after the Sauvignon Blanc- in sixty six. In 1968 my dad started to look for Pinot Noir clones. He did plant one first, that was the east block. Turned out to be quite a good vineyard but not like in 1969 where he selected our current west block field and that was a Wente selection, that was in 1969.
It was a French clone?
It was French. It was one of the newest to arrive and he literally went down to Wente vineyards and talked to Karl Wente and Wente said, "Hey I have a new one that's in from France, would you like to try it?" And he did it.
Your dad had been drinking French wines and appreciating them so he ...
He started to try a few that interested him. Pinot Noir wasn't that successful early on in California but he tried a couple of French wines and I'm sure there was a handful of American producers that were producing nice wines and he said, 'yeah I've got to give this a try.' A lot of the stuff was started because of a farm advisor saying, "It's such a cool climate only certain varieties can grow." We learned our lesson through Cabernet that that's true. Cabernet does not grow well there. It grows like crazy, never gets ripe.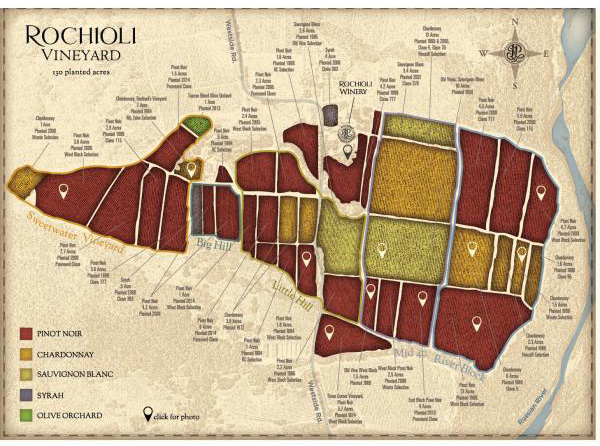 Big problem but your Sauvignon Blanc from fifty nine is still producing?
Still producing, although very limited. Yeah.
It makes just an interesting wine. I'm actually going through the process of trying to re-propagate that field with that selection. The trouble with that is, my father picked that after going to a UC Davis test site and tasted the grapes and they just exploded in his mouth and that's what I want. Unfortunately that block no longer exists so we don't know what it is. (Davis pulled it out years ago) I'm going through the trouble now of trying to re-propagate and now we actually have to bring it into the plant services lab and have it cleaned up and see if it's even the same. It's a project. It's actually detective work, it's kind of fun.
How long does that process take, something like that?
I started a few years, about four years ago, five years ago. My father and I went out and I let him eat the grapes and he said, "This is one, this is one, this is one." There's a lot of virus in those old vineyards. We selected visually the cleanest ones and we moved them. Now that vineyard, again five years old, last year I selected from it and we created a test block which is selected twice again, visual cleanliness, no guarantees of virus. This year I'm going to bring the it into the plant services lab and have it tested and hopefully have it cleaned up.
They'll test for virus?
For viruses and if it's really truly diseased to the point where you can't use it, there's actually a way to grow shoot tips and take the virus before it enters the plant. They'll recreate the plant that way. That's a process, that's going to take probably four or five years just to get that complete, to get vines enough to plant.
It's quite the process but it's worth it. That's something we don't if anybody ... Fact is, it could be everywhere but truthfully that's a very distinct vineyard and we don't see that type of Sauvignon Blanc that often. I think it's worth the effort.
What does it taste like? What are the properties of the ...
My father, in his words, he ate it and it tastes like figs. It exploded in his mouth, this distinct spicy fig. He just loved it. It's not a Muscat, it's not ... Also, the cluster structure is very small. It's very interesting. It's a very interesting clone and it's worth duplicating. It was so successful early on much like Pinot Noir. Some of the early wineries actually designated the Rochioli Vineyard onto the labels because it was such a special wine.
That's in the early seventies.
Joe Jr. and and Tom Rochioli
I saw that your latest single vineyard, Sauvignon Blanc, produced something like ninety seven cases. That's a really minute amount.
That was it. Half of the estate wine which we have in front of us here is from the old block but I've taken a section that I think is the best and then just made enough to make a hundred cases of wine. I use little barrel influence in this wine. Just a little different touch on Sauvignon Blanc but it's still pretty dramatic.
That's amazing. Your Pinot Noirs, those are transcendent. Your very first estate Pinot from nineteen eighty five. You released it in eighty nine, around there?
It was like eighty seven. It was on the cover of The Wine Spectator. Yeah, that was a stroke of luck, right there. But I'll take it every time.
Well, that takes more than luck.
It was wonderful.
What was so special about that year and your fruit?
Well eighty five was a heck of year, not just for us. There was Williams Selyem Winery, one of their top wines ever was an '85 Rochioli Vineyard and they started in '79 with a different label but they've catapulted into fame with some of the Rochioli fruits.
Davis Bynum as well.
Davis Bynum was doing it in the seventies, don't forget. Yeah, they were catching on early. We weren't a winery then, just a grower. We weren't even thinking in the seventies about wine. I started thinking about that in the eighties.
You went to college and then came back with the idea that you would actually put the family name on the label.
I went to college and actually worked for a bank for a year.
I saw that you worked for a financial institution... How did that happen?
I thought I didn't want to work on the farm anymore. I had to wear a suit and tie for a year and I wanted to be back on that farm again. After college I got recruited into a bank. It was agricultural and large loans, but my part was ag and wineries so I really got to see the nuts and bolts of a winery on the other end which is a financial end. I actually learned what not to do.
This was a bank in California, I guess.
Bank of America.
They had an agricultural branch that ...
At the time they had a division called the corporate banking group and it was agricultural, this was 1981, agricultural large loans in the wine industry. It was located in our area. That's why I took the job, because I didn't have to travel.
I read in your historical account that after some discussion and deliberation your dad agreed ...
It wasn't easy.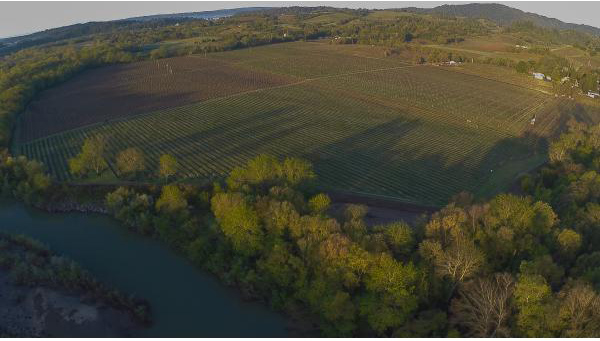 I was reading between the lines that it wasn't easy. Why? What happened?
Yeah, father/ son ... My grandfather came there in 1938 and the land was called Fenton Acres. My father had a brand going named Fenton Acres. He'd had wines produced and they were selling them. The problem was there was no marketing. They really weren't selling
They were delicious wines, too. There was just nothing to push them. When I came back, I was selling that wine and I just realized ... I'm here with Fenton Acres. Who are you? I'm Tom Rochioli, Rochioli vineyard. What about Rochioli Vi- ... Well, that's it. We're going to be Rochioli from now on so I did it. He agreed. It wasn't that bad. It was like, why? I said, "Well, because Rochioli is who we are." It worked out. He got it. It wasn't terrible.
It worked out. That's got to be the understatement of the century.
He was in agreement at that point so it did work out.
He must've been very proud of you for pushing that.
I think so. He's still going, he's eighty one and doing well.
He's eighty one? Does he still drink wine every day?
Yeah.
What's his favorite? Does he have a favorite?
He's Pinot Noir crazy. Okay. We all are. I slip him an Italian wine once in a while.
You and your wife went to Burgundy. You had a very inspirational trip. When was that?
That was in 1990. It was inspirational. It was the reason why we have a single vineyard program. The reason why is we were at Romanée-Conti , we were able to taste some of the most spectacular wines that they ever produced including a 1945 La Tâche and a 1964 Montrachet. This was in 1990.
Get out of here.
You talk about joining the church, I did. I realized, I make all these lots separate any way. I realized, why am I not doing this? It makes perfect sense. They're so distinct. That's where it started.
That's just amazing. I bet you can still taste those wines.
I never get them out of my mind. There's a texture and a look and mouth feel and it's indescribable and I've never had a wine like those two. Hopefully I will.
Just your description of those wines just gave me goosebumps. That's just the wonderful thing about wine that you can have a taste memory that you're hardwired after you have that.
It's so true. I make fun about seeing the Holy Grail. When we tried those wines it was an experience that you can't duplicate. You want to be like that. It never leaves you. For example, the Montrachet was this golden green, almost an oily appearance. For a wine of that age, it just stunned me. No oxidation, just this ripe mineral, complex ... It was structured still.
I wanted to pour it on myself. I didn't know what to do.
Swim in it. Oh my gosh.
It was fun. It was a great experience.
It's wild.
It sort of makes your heart stop, a wine like that. You take a deep breath and feel your limbs.
I'll never forget it. Oh yeah.
Holy cow. That's just amazing. You've been trying to ...
I go into these things thinking about that stuff. Of course I want to make wine like that, who wouldn't? I get excited about the different vineyards and making these wines. Sometimes you get close, it will be like that. I'm never going to say that but sometimes you get a wine that just ... Hey, you know what, I'm getting there. Not every year, but by God, it's worth trying every year.
A lot of people feel that way about your wines. You have a list, you have a waiting list. That's pretty impressive.
Not a lot of wine, very special wines that are rarer, you have a nice demand for them. I'm thankful for it. It's a nice thing. I guess I created a monster in a sense ...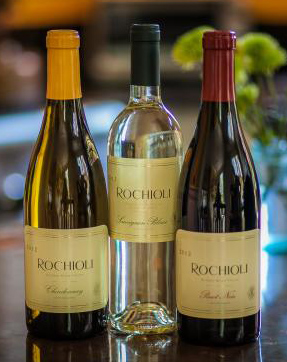 How long have you had the list?
That started happening right away. After '92 was the first release of the single vineyards so I would say come close to '95,'96 that list started. We just had more demand than we had wine.
Once you get on it, you're on it forever?
Yeah. Well, we don't hear from you for a year or two years you're not on it anymore and then we bring up more people. That's how we do it. We're very good about, 'hey I can't buy right now or whatever,' you're still on. We don't just hack people off the list. If you just go away we move you off. How else do you bring up people? We're at a four-year wait, possibly five right now. We bring up a few every year. Our customers are getting older. You lose some.
Yeah. I guess you can't pass it down to your children.
I'm sure you could. Maybe we should announce that.
Put it in the will, you'll have people contesting that. That's pretty darn impressive.
You have two children.
I have a daughter, Rachael, who's going to be 24 this year and my son, Ryan, is 21, just turned 21.They, I think, are coming back. I really hope so. She's selling wine right now and learning from the ground up. It's good for her. I think it's a good experience for her. My son's still in school. He's made wine with me the last two vintages, and this year will be the third. He seems to have the knack. He made his first wine last year. He turned 21 so he can actually drink his wine this year so it's going to be quite ...
Ryan's Vineyard, huh?
Made Ryan from Ryan's Vineyard (our unofficial name for it) and of course we have Rachael's Vineyard bottling that's on the single-vineyard list.
Rachael is a Chardonnay and Ryan's a Pinot.
I don't think Ryan's Vineyard will be commercially available but he'll have his private stash.
A case could last him a bit.
Probably a month maybe.
Rachael has Chardonnay and she's on the single list. How did you come to name that one after her? You have other sites, right? What was special about that one?
It's a very small site that's planted to the Mount Eden clone to Chardonnay. It's a heritage clone. Much of our Chardonnay single vineyard program is from heritage clones. That site, it's kind of a French tradition to name vineyards after your daughters and I did it. Honor your family type thing.
Does she boast about it?
Not much. She's pretty modest. She's proud of it. She likes drinking it.
What do you see going forward?
For us, I'm hoping ... Of course the next generation is probably the biggest thing on my mind. The family farms in our area are going away, much like a lot of the country. Especially in our business, to transfer all that to the next generation's difficult because of the land values. Real farmers are land rich and cash poor so the transition's difficult. We're going to do it. We've done a lot of preparation for that. I'm really looking forward to that happening because out on our road there's very few family farms left. I can count them on one hand.
That and we talked a little bit about the Sauvignon Blanc and I'm doing the same with some Chardonnay and some Pinot just trying to really dial in the property and the sites with the proper clones. I'm still reaching for the Holy Grail.
I have every faith in you getting there. You seem to be quite methodical and talented about it.
It's a labor of love I think.
Dorothy J. Gaiter conceived and wrote The Wall Street Journal's wine column, "Tastings," from 1998 to 2010 with her husband, John Brecher. She has been tasting and studying wine since 1973. She has had a distinguished career in journalism as a reporter, editor, columnist and editorial writer at The Miami Herald and The New York Times as well as at The Journal.