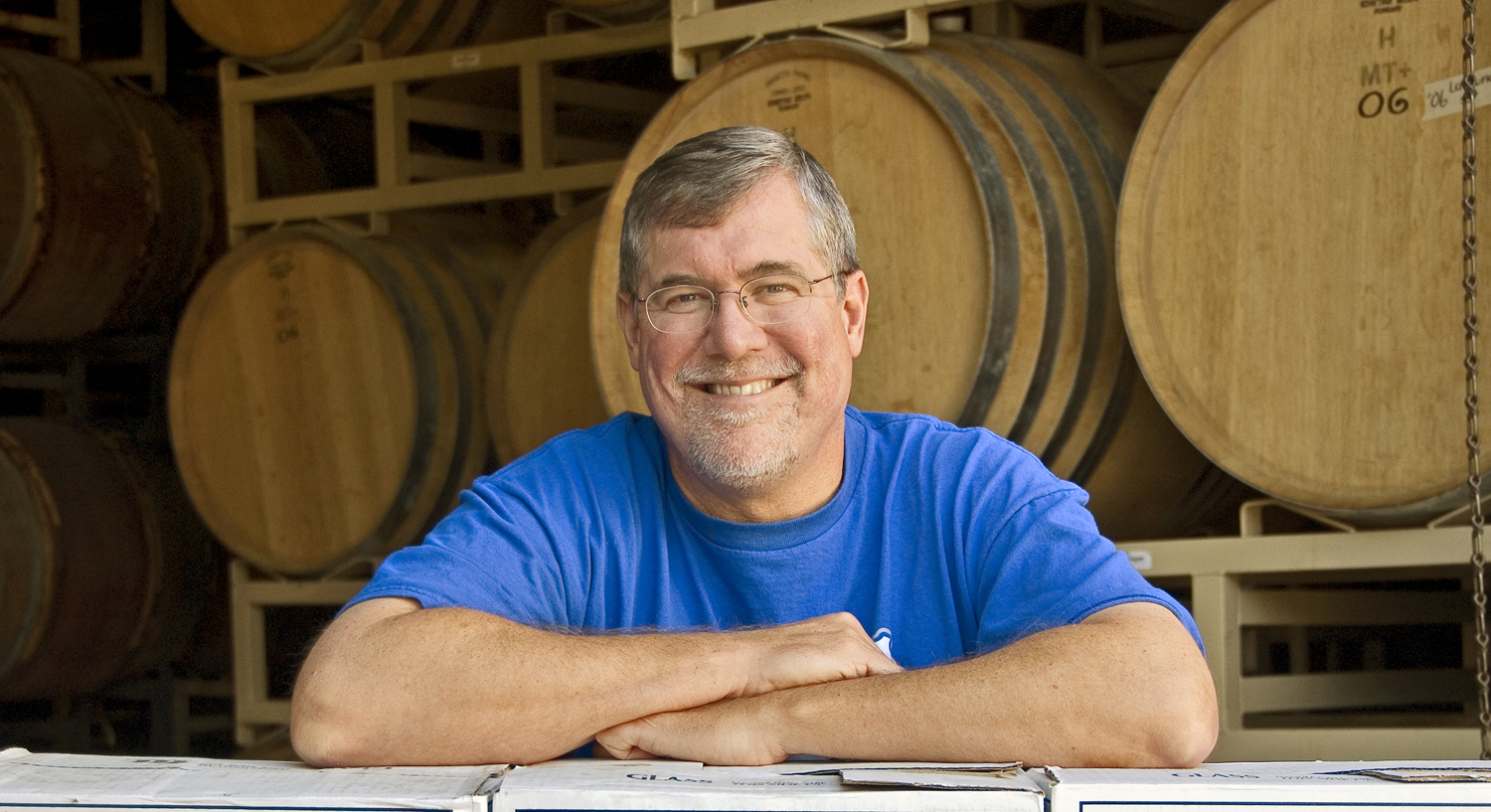 It took a lot of willpower not to call Bob Lindquist "Pilgrim." I was feeling a little like John Wayne---ok, my only black cowboy reference would be the brilliant Cleavon Little in "Blazing Saddles" but I wasn't going to go there, you know?
Lindquist, founder of Qupé winery in Santa Maria Valley in California's Santa Barbara County, is one of the original Rhône Rangers. They're devotees of Rhône Valley grape varieties like Syrah, Marsanne, Roussanne, Grenache and Viognier and one ranger, Randall Grahm (Bonny Doon), made Wine Spectator's cover in 1989 outfitted in a mask and full costume. Adding to the gunslinger posture I assumed is Lindquist's affliction. He's a lifelong, logo-wearing Los Angeles Dodgers fan! He even makes a $24 wine, currently the 2013 "Qupé Santa Barbara Syrah, Dodgers™ Club Series," of which he says, "This red bleeds blue."
Not exactly a Hatfield-McCoy rivalry; for my family, that would be Mets-Cubs. Nevertheless, as I, a Mets fan, stood in the doorway of Lindquist's public relations firm, I paused and in my best Duke voice sneered, "I'm a Mets fan. Are we going to do this?"
"The Mets are a very good baseball team," he said, standing and smiling. With that done, we began talking about Syrah, which at long last, he says, "has turned a corner" with consumers. He should know. Qupé is near synonymous with California Syrah, being one of four wineries to make one when it was founded in 1982, Lindquist told me.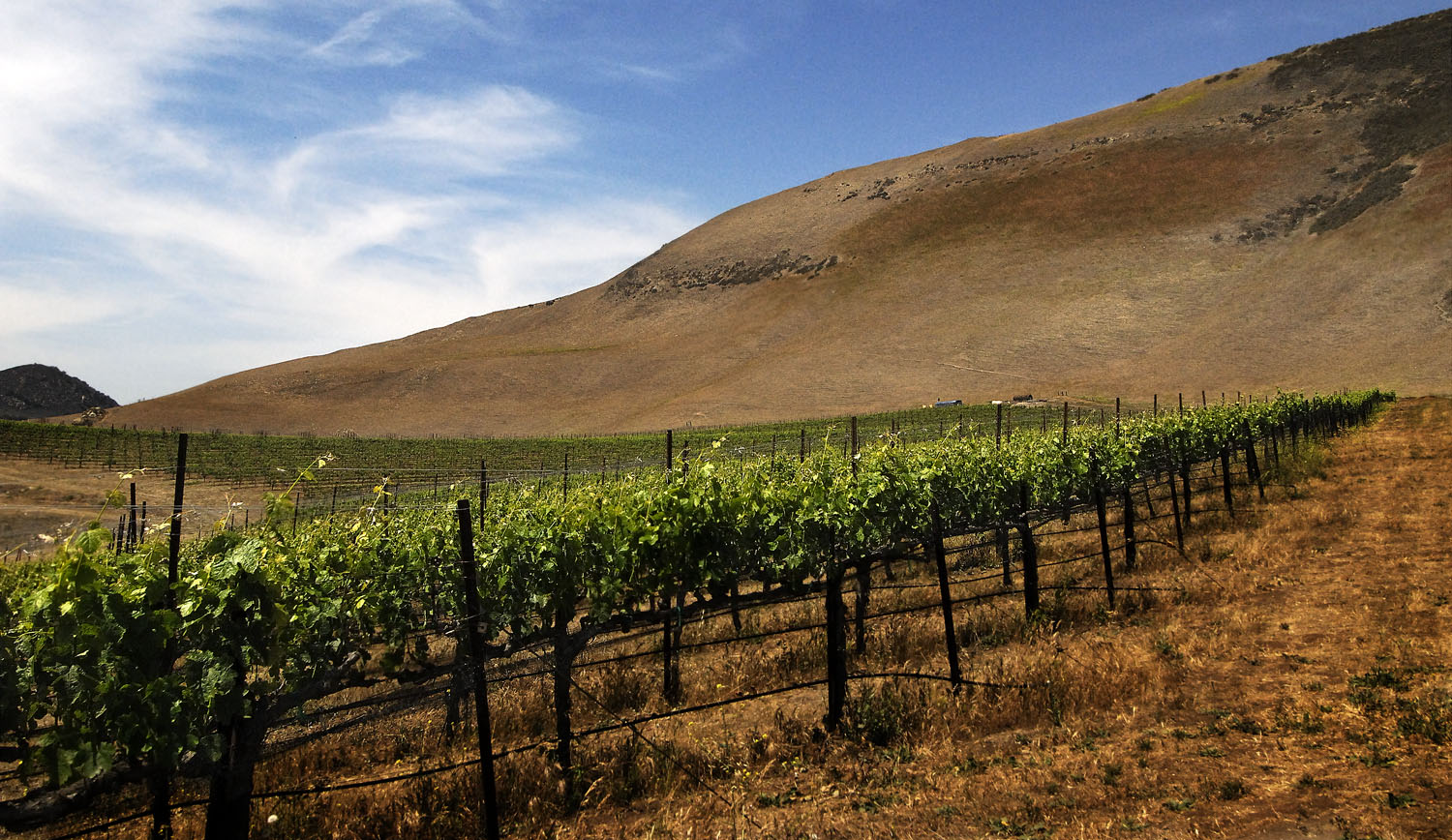 Nielsen figures make a good case for Qupé playing a big role in that turning of a corner, his representative pointed out, sending Nielsen charts from April 2016 that showed "Overall sales of Syrah in the $14.99 – $25.99 price range in the last 52 weeks is up 30%, last 13 weeks 20%, " with Qupé the top performing California producer.
The under $25 category happens to be where nearly half of Qupé's 40,000-case production is, its Central Coast Syrah, current vintage 2013. It is a lot of wine for $20, fresh fruit and earth. Great with anything from poached salmon to a rare burger. The 2012 Syrah, Santa Barbara County, $30, was more than a $10 step up in quality. It had a purity of fruit, a lightness, with charm to spare. Pair it with anything. The 2011 Syrah, Bien Nacido Vineyard, at $45 had more weight, depth and complexity. A long, black-fruited finish. Elegant. Rare lamb.
In a Tastings column we wrote for The Wall Street Journal in 2004, in which we tasted, blind, 50 American Syrah, two of our seven favorites were from Qupé: 2000 Bien Nacido Hillside Estate, from vines planted just for them, and 2000 Bien Nacido Vineyard. Wines to serve friends, we wrote. That's still true.
"It's such a great grape. It has that depth and richness and spiciness. It's really unique. All of the great red grapes are unique, but there was always something special about Syrah," Lindquist told me.
Lindquist, 63, says that Qupé was the first winery in Santa Barbara County to make a Syrah, and it was also the first winery, he says, to use Syrah from the famed Bien Nacido Vineyard. Syrah is a versatile grape. It can make reds of incredible elegance, almost ephemeral wisps of violets, white pepper, raspberries and granite. It also can make over-the-top, huge wines of dark chocolate, black pepper, and blackberry jam. You can pay a little for it (Yellow Tail Shiraz, same grape) or many hundreds for a single bottle (Chave). Plus cool-climate Syrah is different from warm-climate Syrah.
While his Chardonnay pays the bills and he says he loves it, Lindquist's reputation was built on Syrah from organic Bien Nacido Vineyard in Santa Maria Valley. He makes single vineyard Syrahs from special blocks of Bien Nacido grapes and other Syrahs from blends of other Bien Nacido grapes and fruit from other vineyards: the organic Ibarra-Young Vineyard in Los Olivos; French Camp, in Paso Robles; and the biodynamic Sawyer Lindquist Vineyard in the Edna Valley, known as SLV. Lindquist's wife, Louisa Sawyer Lindquist, is the winemaker and co-owner with him of Verdad winery, which specializes in Spanish varieties, especially Albariño.
The Rhône Rangers in California and elsewhere and several winemakers in Washington have been devoted to Syrah for some time now. However, hopes for it seem to come and go. Some say it's the name. Syrah and Shiraz are the same grape, but they are different from Petite Sirah.
Last year, the Rhône Rangers organization awarded Lindquist its Lifetime Achievement Award because of what he's done to propel the American Rhône wine movement. Qupé has also been in Wine & Spirits Magazine's top 100 Wineries lists 14 times. Among Lindquist's other passions is the rock group The Kinks. And there's the matter of the purloined vines. More on those later.
First, a little history. Lindquist was born in Columbia, Missouri, where my alma mater, the University of Missouri, is located, but he grew up in California, where having been bitten by the wine bug it was easy to jump in with both feet. One great stroke of luck was being hired by and fired from a wine store in Los Olivos operated by John Ream, whose father, Marshall Ream, co-owned Zaca Mesa Winery. Jim Clendenen was Zaca Mesa's assistant winemaker at the time, and he and Lindquist became fast friends.
Several weeks before The Kinks were to perform near him, Lindquist asked and received permission from John Ream to be off that Sunday.
"They're one of my favorite bands and they hadn't toured for a while. John said he'd cover for me and it was on the calendar," Lindquist told me. "A few days before it, I reminded John and he said, 'Sunday is the opening day of dove-hunting season. I'm going dove hunting. If the store doesn't open on Sunday, you're fired.' I told him, well, I'm going to the concert. When I came in on Monday, he handed me a paycheck and shook my hand. We'd had differences before that.
"That afternoon, the father called me. Jim had gone to the concert with me and had talked to the father about what had happened. The father said, 'I'm embarrassed. We'd like to hire you at Zaca Mesa and I said I'd like that, I accept, but can I have a week off first," Lindquist recounted.
Cheeky, right? Not really. "I had worked for the son for nine months without a break, without a weekend off, except for that Sunday, and harvest was coming soon. I knew if I didn't get a week then, it would be a long time before I could. I had a young son and a daughter on the way." He had been working "All Day and All of the Night."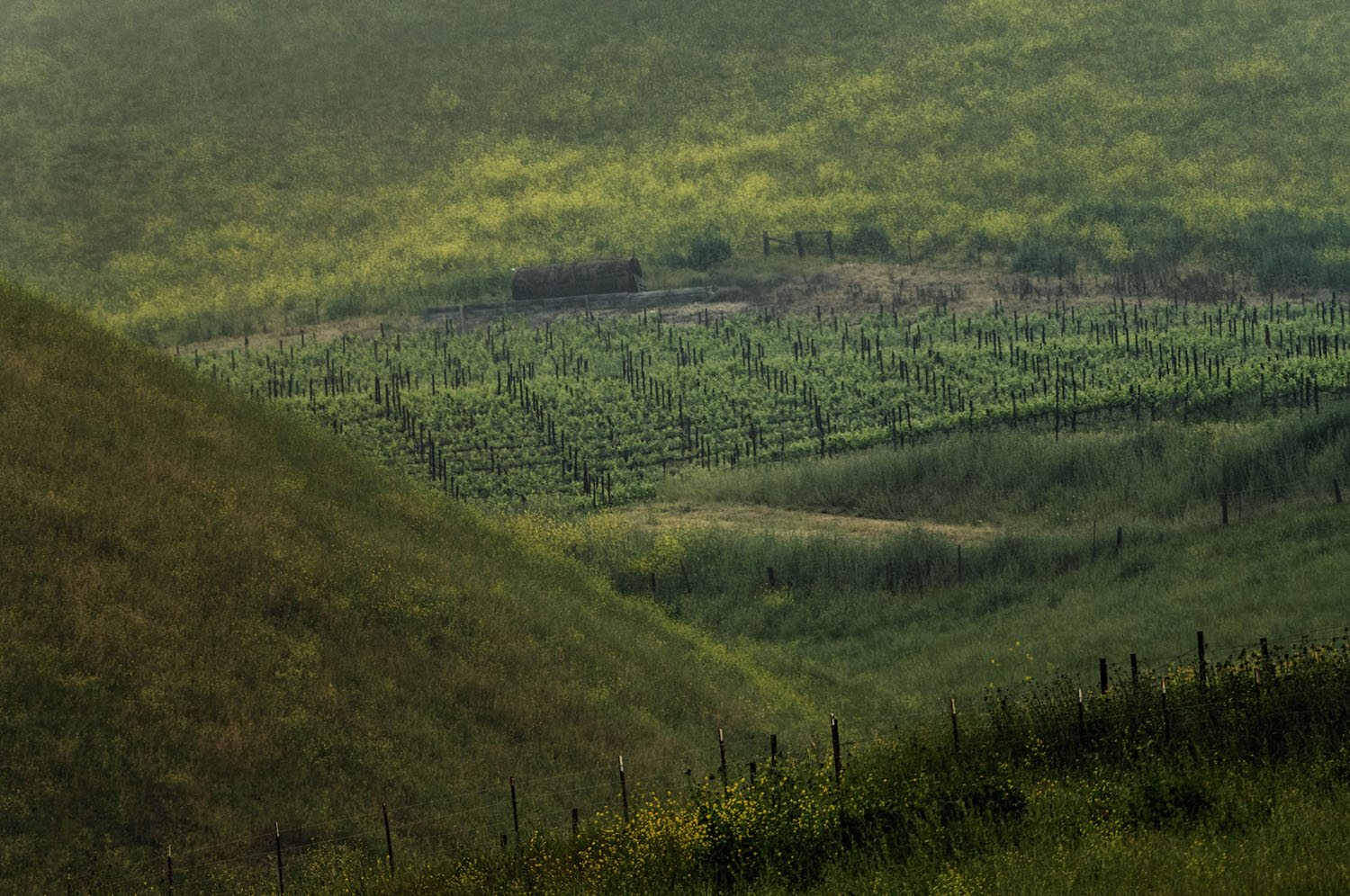 So that's how Lindquist became a tour guide at Zaca Mesa in 1979, a time when by his account "there were zero tourists." But there, Clendenen taught him plenty and got him involved in a tasting group where he had his first Rhônes. Also teaching him were Zaca Mesa's winemaker Ken Brown and its enologist, Adam Tolmach, all of them quite famous today. One day Clendenen sent him to the shop of Kermit Lynch, the legendary importer, to pick up some wines. When Lindquist enthused about Rhône wines, Lynch told him that winegrowers in the region should be planting Rhône varieties, Lindquist recalled, and "introduced me to some of the best at great prices."
In 1981 Clendenen and Tolmach left Zaca Mesa to work harvests in Burgundy and Australia and when they returned in 1982, they started their own winery, Au Bon Climat, which Tolmach left in 1990. Both men told Lindquist he should start making his own wine and he did, producing his first two vintages at Zaca Mesa using its facilities and bond. He wanted a name for his winery that honored the Chumash, the earliest settlers of the region, and settled on qupe, which means poppy, the state flower of California. He added the accent and pronunciation.
Why Syrah?
"I was starting my own business and wanted to find a niche. Very little was being done with Syrah. There was a lot more Petite Sirah, but not a lot of Syrah planted so it seemed like the upside was real, real high," Lindquist told me.
In 1989 Lindquist and Clendenen built a winery together with a lease agreement with the owners of Bien Nacido, where to this day they continue to make their own wines. Clendenen has another label, Clendenen Family Vineyards, and the men continue to teach others, including Gavin Chanin of Chanin Wines and Lutum, whose father, Anthony, worked briefly with them at Zaca Mesa.
Now about those liberated vines. Lindquist had met one of the Miller brothers who owned Bien Nacido Vineyard in 1973, and the brother asked his advice. He had seven acres of Riesling and no one was drinking Riesling so he wanted to graft it over to something. The only Syrah available, Lindquist said, was being grown by Gary Eberle. Lindquist says that while Eberle was a student at UC-Davis, he had helped himself to some budwood while pruning vines in a test block that came from Chapoutier, of Rhône Valley fame. A professor had brought them over in the Sixties. Because they were undocumented, the clone became known as Estrella River clone, named after the Eberle family vineyard at the time, and it is widely planted today, Lindquist says.
In the 1990s, after Syrah started getting attention from consumers, bad things began to happen, Lindquist says. As with other suddenly popular varieties, everyone and their mother thought they could make it and knew where to plant it and of course they couldn't and didn't. Some well-known winemakers entered the fray with big-ticket Syrahs and had to retreat, lowering their prices.
"When they did that, a lot of the Syrah market took a hit. Here was a lot of really good Syrah that all of a sudden was discounted and it hurt the image of Syrah," Lindquist told me. "At the same time Australia was trying to make inroads into California and they had fits and starts of success. A lot were Parkerized and they found a home that way. Some were big, huge fruit bombs that didn't have a lot of depth, Lindquist says. "Joe Consumer was drinking Yellow Tail Shiraz at $7.99 and thinking this is what Syrah must be about."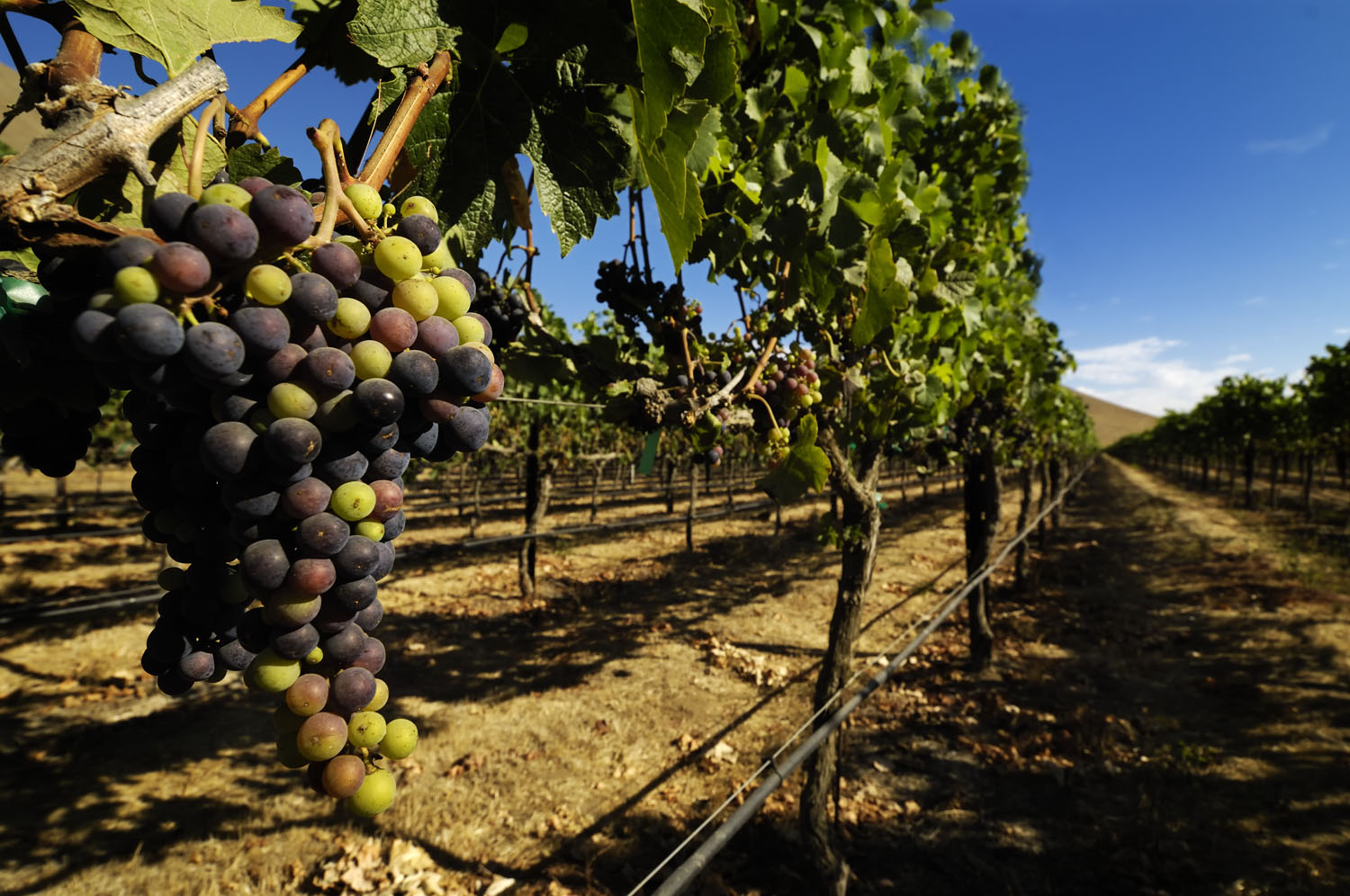 At the same time, "the great wines of the Northern Rhône were scarce. There isn't enough of them made to spread around to the average consumer. They're rare and precious and they were Parkerized as well at the same time," he said. "That bottle of Chave for $9.95 that Lynch sold me quickly escalated to $50, then $150 and now $250."
But Lindquist is still standing, a survivor. He has two adult sons in the wine business, (Ethan of Ethan Wines and Ethan and Luke with Cliff Korn in No Limits Wine), but they prefer to work on smaller projects, not an enterprise the size of Qupé. "I needed a succession plan so I started looking a while ago for a financial partner and Raj Parr put me together with Charles Banks. He loves the pursuit of deals as much as he loves the wine business and he's a total wine geek," Lindquist says. "His favorite red variety is Syrah.
"He completely leaves the winemaking to me," Lindquist says, "so I basically do everything I did before but now Charles and his company do sales and marketing." That sounds like a sweet division of labor.
An underdog grape swings for the fences. Hey, I'm a Mets fan. It's in my nature to be optimistic, but...
Dorothy J. Gaiter conceived and wrote The Wall Street Journal's wine column, "Tastings," from 1998 to 2010 with her husband, John Brecher. She has been tasting and studying wine since 1973. She has had a distinguished career in journalism as a reporter, editor, columnist and editorial writer at The Miami Herald and The New York Times as well as at The Journal.
----
As of publication the Qupe Syrah is available at Grape Collective for $18.99.