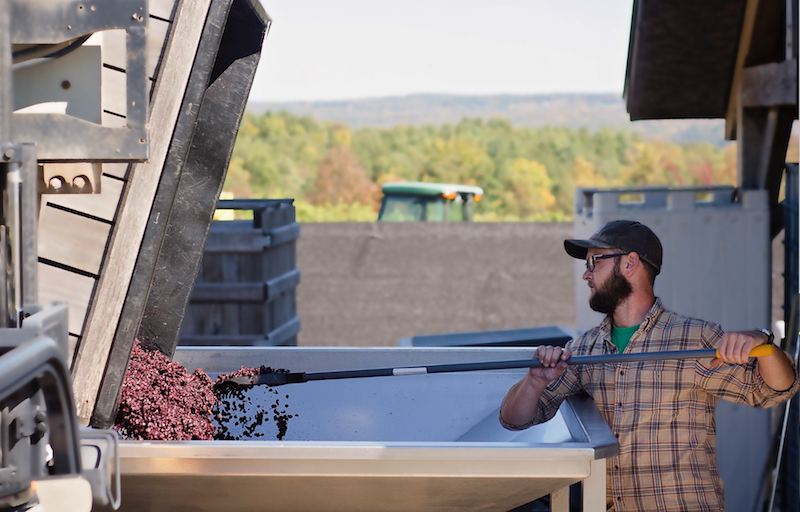 If Nathan Kendall hadn't been sitting on his idle tractor when I pulled in at his winery, I'd have sworn it was the wrong address. The home of N. Kendall wines is a grey garage tucked under tall, shading trees on a humble village street. There's not a sign or vine to let you know you've just turned up at the workplace of one of the most notable young winemakers in the country.
It's high harvest on this bright, late-summer Sunday, but Kendall is in from the vineyards. He hops down from the tractor, with a warm, soft-spoken greeting. He wastes no time leading the way into his compact winery. Under florescent lights and a high, corrugated metal ceiling, the tools of his trade wait expectantly to be pressed into service. A DIY rig that holds a dozen thick, upended bottles elicits a warning: "Be very careful," Kendall cautions, as I near what turns out to be an edgy, still-under-wraps experiment in turning native grapes into sparklers, "I wear a blast mask when I work those. You never know what they'll do under pressure."
We sit down at a long table. Kendall lines up his Rieslings, a pair of Pinot Noirs and a Coravin. He sets out big-bowled glasses as fruit flies circle for their share. When he goes rummaging for a spit bucket, he returns with a worn plastic measuring pitcher. We get down to business. It's immediately evident why these bottles grace the lists of top wine-driven restaurants in Manhattan, tightening the NYC somm-FLX winemaker axis with every vintage.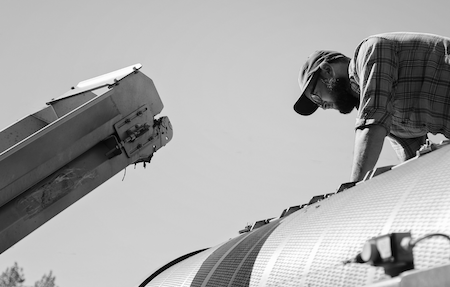 But it's clearly the unidealized work of winemaking, not the reflected glamour, that inspires and defines Kendall, and indeed the region. The Finger Lakes are -- at last -- being explored by a generation of winemakers whose local roots, global perspective, and technical training are fusing to generate an electric sense of possibility for the region. Kris Matthewson at Bellwether, Christopher Bates of Element, Ian Barry of Barry Family Cellars are among the bright talents who constitute Kendall's peers. As a unit, they emit a thrilling sense of potential being realized in real time, undergirded by a resolute commitment to producing distinctive wines of place – all without taking themselves too seriously. It's the perfect place to put a finger on the pulse of what Kendall calls "the serious cultural shift" in wine right now.
What distinguishes Kendall is the tiny scale of his operation, his dedication to the study of individual vineyards and what they give to his wines, his deliberate minimalism in the cellar, and his long view on both the past and future of Finger Lakes winemaking.
This combination of talent and attitude is attracting notice. Last year, Vinous declared his Rieslings "nothing short of brilliant." Rebelle head sommelier Kim Prokoshyn features his wines on her list for their "beautiful clarity and life." Master Sommelier and natural wine authority Pascaline Lepeltier, who met Kendall through fellow MS Bates, says, "I appreciated immediately Nathan's way of thinking and the way he wanted to pursue his vision of committed farming (influenced by Steve Shaw) and that he desires to try to make complex, true-to-their-place wines in the most simple way."
Kendall, 33, grew up in Dundee, New York (population 1,725). His first wine memory is of a late-harvest Riesling from Herman J. Wiemer, the German-born winemaker who brought Mosel-style Riesling production to the Finger Lakes in the 1970s. Kendall's mother worked in the Wiemer tasting room, and his family has a role in Hickory Hollow winery, also in Dundee. After studying business in college, Kendall set out to learn winemaking around the world, with stages at Cline Cellars in Sonoma, Coopers Creek and Waipara Springs of New Zealand, Bird in Hand of Australia, Adelsheim in the Willamette Valley, and S.A. Prüm in the Mosel. What he brought back with him to the Finger Lakes was a vision: "to really push the limits for Pinot, Riesling, and Chard to the point that I feel it's comparable to the greatest regions of the world."
By assiduously putting his global experience and taste models into practice, first under Ravines' winemaker Morten Hallgren, and with the constant mentorship of respected FLX grower and winemaker Steve Shaw, Kendall patiently learned what it means to grow grapes and make wine in the Finger Lakes. He set out on his own in 2011 with the N. Kendall label, and has been a one-man show since. Short of owning the vineyards, he does everything himself: picking, pressing, fermenting, raising, bottling and labeling. Because he controls the entire process and has kept production very limited (300 cases is his top output of a single cuvee to date), the wines are a direct expression of his vision, an achievement that is all the more impressive because he does not specialize in a single variety or style.
Making wine in the Finger Lakes is "Burgundian," in Kendall's words. Winters are long and harsh. Parcels are small. Yields are unpredictable. But these are precisely the conditions that give so much interest to the wines and such an engaging challenge to the winemakers.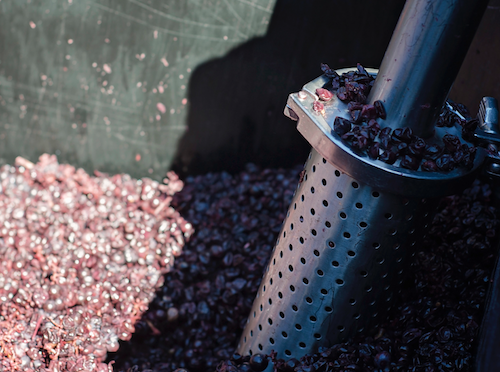 Most of the fruit Kendall works with comes from the rolling slopes of Seneca Lake, the largest and deepest of the Finger Lakes. When glaciers plowed these massive furrows, they left behind an array of soil deposits. This mix is perfect for a terroir-driven winemaker like Kendall. "I truly love the diversity of soils and how they express themselves in the wine. If you look at soil maps, you can have multiple types within the same blocks," he notes.

His embrace of this aspect of Finger Lakes terroir serves him well in an era of climate unpredictability. "It's important to have a diversity of sites in order to hedge your bets with difficult vintages." During the six years Kendall's been making his own wines, this has meant dealing alternately with flood and drought, the constant threat of late-spring hard frosts, and relentless disease pressure.
It's no wonder that Kendall would like to work with "as many vineyards as possible to see which ones perform the best." Vine age and clonal selection are important to him, as well. "When I worked in Oregon," says Kendall, "we would split up everything. Clones, blocks, vine age, soil types. In the end it was always the blends that I found most intriguing. You get the good qualities of all of them, playing together harmoniously."
In the cellar, he favors long, spontaneous fermentations, time on the gross lees for texture for his Chardonnay and Rieslings, with careful racking and gentle filtration. Kendall's green label dry Rieslings walk a tightrope of acid and bright fruit, while his blue-label Rieslings shade toward Auslesen in sweetness. Some vintages, like the 2013, gain depth and concentration from a percentage of botrytized grapes. Kendall doesn't let noble rot rule the day, though, and preserves a Mosel-like litheness and filigree elegance in the wine. Although his wines are delicious and difficult to resist as soon as they come to market, he builds them to age. As he says of his 2014 Riesling, "The wine is a baby. You could decant now and love it, or bury it in the cellar for a fair amount of time and be rewarded."
Wines have been made commercially in the Finger Lakes since the 1860s, and the region long enjoyed a reputation for excellent sparkling and sweet wines made from native grapes. But war, Prohibition, and shifting consumer tastes eroded the commercial viability of these bottlings. What remained was a localized market for mostly cloying wines that appealed more to tasting room tourists than critics and fine-wine consumers, who trained their sights on California's rising star instead.
It took a pair of European immigrants – Dr. Konstantin Frank in the 1950s and Hermann J. Wiemer in the 1970s – to transform the region's wine prospects. Despite discouragement from experts at nearby Cornell University's agricultural school, first Frank, then Wiemer stubbornly set out to prove cool-climate European varietals, foremost Riesling, could thrive here. Building on these early successes, a second generation of pioneers, foremost among them Kim Engle at Bloomer Creek, Steve Shaw of Shaw Vineyard, and Morten Hallgren of Ravines, have invested decades in determining the ideal vineyards, viticultural practices and vinification methods for Riesling, Chardonnay, Gewurztraminer, Cab Franc and Pinot Noir here. Now FLX Generation 3.0 looks out at the next horizon.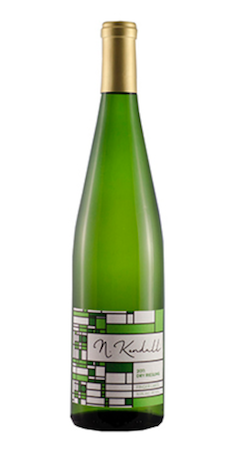 This is a pivotal time for Kendall: Beyond the acclaim his wines are attracting, he has undertaken a clutch of new projects. Most visibly, Kendall has begun to rebrand his wines under the Nathan K label, a change forced by the similarity of his last name with that of a major California producer. His 2015 single-vineyard Chardonnay cuvee is the first to emerge under the new name. Last fall, he took over winemaking at Hickory Hollow, where he got his start in the wine business 15 year ago. He is now the mind behind taking the winery to a new level as a premier producer of dry Riesling and a base from which to explore the potential of Gewurztraminer, Cab Franc and Merlot.
Kendall is strapped in and ready to ride the FLX rocket. But he's characteristically grounded in his perspective: "The Finger Lakes are rising, in the best way possible. Locals like me, who have known the incredible quality of wine in the region ever since that taste of late-harvest Wiemer Riesling are excited to see that the rest of the world is finally learning what we have known for so long. The hard part is that this will increase visibility and interest in the region. My dream is to farm my own grapes. I just hope that I can afford the land when we finally get there. I want to keep production very small so that I can be involved in all aspects of the process. All year in the vineyard, and harvesting beautiful fruit in the fall."
For more on wine from the Finger Lakes, check out:
Our interview with Christopher Bates of Element Winery
Our interview with Fred Frank and Meaghan Frank of Dr. Konstantin Frank Wine Cellars
Our interview with Kelby James Russell of Red Newt Cellars
Our interview with Fred Merwarth of Hermann J. Wiemer Vineyard
Our interview with Tom Higgins of Heart & Hands Wine Company
Our interview with Morten and Lisa Hallgren of Ravines Wine Cellars
Our interview with Shannon Brock of Silver Thread Vineyards
Our interview with John Martini of Anthony Road Winery
Find Nathan Kendall at Grape Collective.